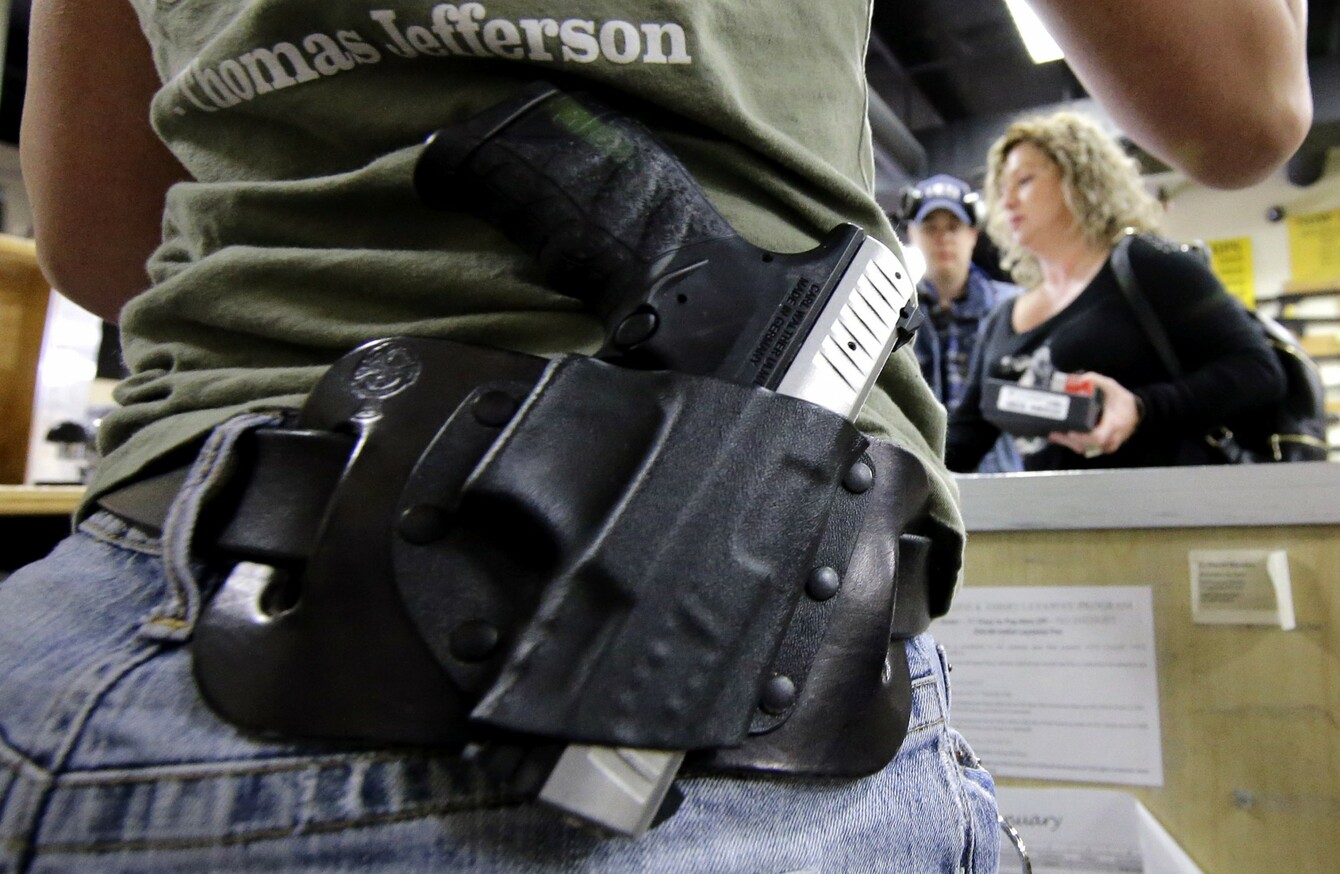 A woman wears her gun on her hip while working at the Spring Guns and Amo store in Texas.
Image: David J. Phillip/AP/Press Association Images
A woman wears her gun on her hip while working at the Spring Guns and Amo store in Texas.
Image: David J. Phillip/AP/Press Association Images
US PRESIDENT BARACK Obama has moved to expand background checks to cover more firearms sold at gun shows, online and anywhere else, aiming to curb a scourge of gun violence despite unyielding opposition to new laws in Congress.
Obama's plan to broaden background checks forms the centrepiece of a broader package of gun control measures the president plans to take on his own in his final year in office.
Although he can't unilaterally change gun laws, the president is hoping that beefing up enforcement of existing laws can prevent at least some gun deaths in a country rife with them.
"This is not going to solve every violent crime in this country," Obama said yesterday. Still, he added, "It will potentially save lives and spare families the pain of these extraordinary losses."
Source: The White House/YouTube
Under current law, only federally licensed gun dealers must conduct background checks on buyers, but many who sell guns at flea markets, on websites or in other informal settings don't register as dealers.
Gun control advocates say that loophole is exploited to skirt the background check requirement.
Now, the US Justice Department will issue updated guidance that says the government should deem anyone "in the business" of selling guns to be a dealer, regardless of where he or she sells the guns.
To that end, the government will consider other factors, including how many guns a person sells and how frequently, and whether those guns are sold for a profit.
Exemptions
The executive actions on gun control fall far short of what Obama and likeminded lawmakers attempted to accomplish with legislation in 2013, after a massacre at a Connecticut elementary school that shook the nation's conscience.
The new guidance still exempts collectors and gun hobbyists, and the exact definition of who must register as a dealer and conduct background checks remains exceedingly vague.
The administration did not issue a number for how many guns someone must sell to be considered a dealer, instead saying it planned to remind people that courts have deemed people to be dealers in some cases even if they only sell a handful of guns.
And the background check provision rests in the murky realm of agency guidelines, which have less force than full-fledged federal regulations and can easily be rescinded.
Many of the Republican presidential candidates running to succeed Obama have vowed to rip up his new gun restrictions upon taking office.
In an attempt to prevent gun purchases from falling through the cracks, the FBI will hire 230 more examiners to process background checks, the White House said, an increase of about 50%.
Many of the roughly 63,000 background check requests each day are processed within seconds.
But if the system kicks back a request for further review, the government only has three days before federal law says the buyer can return and buy the gun without being cleared.
That weak spot in the system came under scrutiny last summer when the FBI revealed that Dylann Roof, the accused gunman in the Charleston, South Carolina, church massacre, was improperly allowed to buy a gun because incomplete record-keeping and miscommunication among authorities delayed processing of his background check beyond the three-day limit.