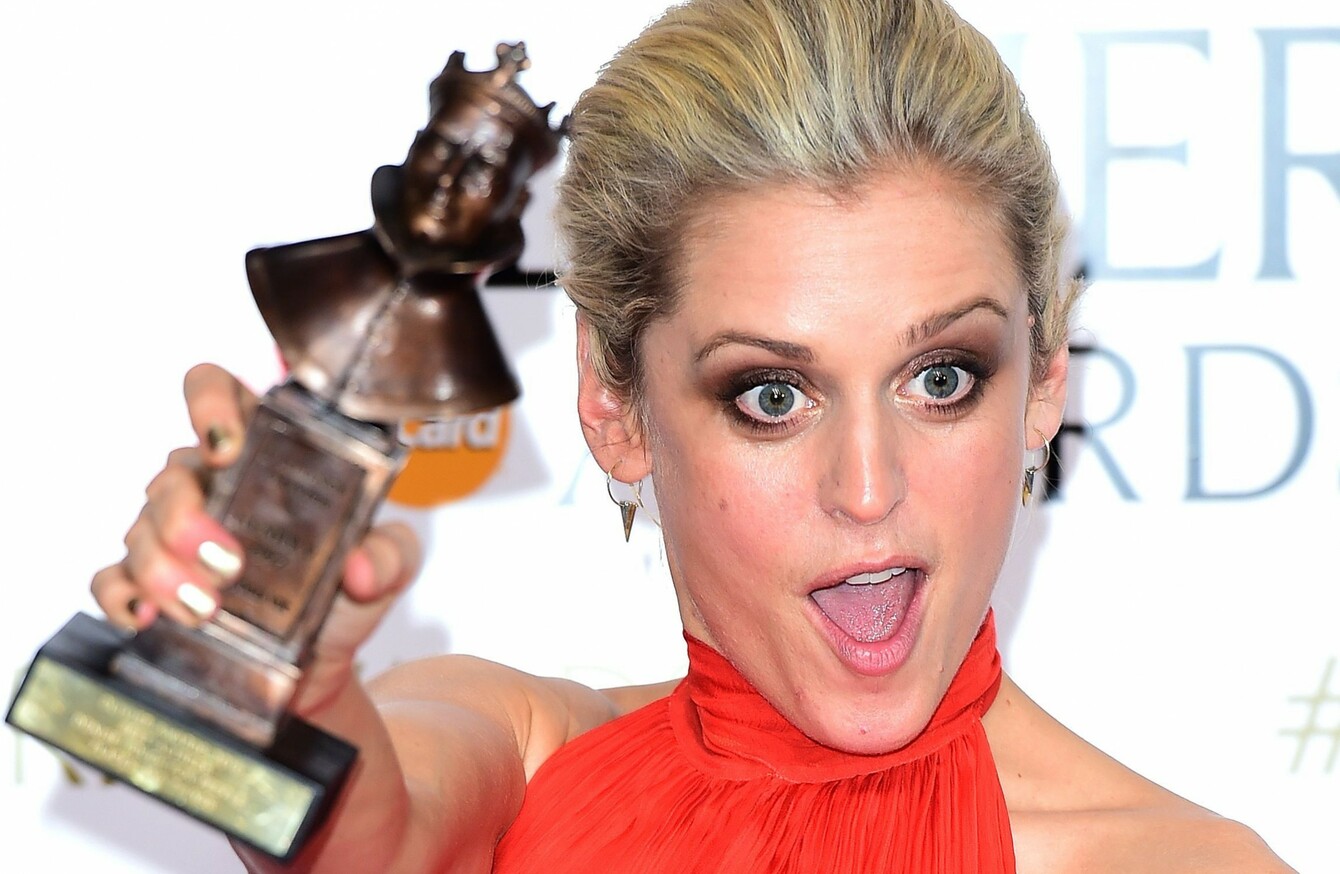 Denise Gough with the award for Best Actress for People, Places and Things
Image: Ian West
Denise Gough with the award for Best Actress for People, Places and Things
Image: Ian West
THEY'RE THE EQUIVALENT of the Oscars for the London theatre world, and last night's Olivier Awards were a big moment for the Irish.
At a ceremony at the Royal Opera House in London, Irish actress Denise Gough won the Best Actress award for her role in People, Places and Things, while Irish theatre company Fishamble: The New Play Company and actor/writer Pat Kinevane also won a coveted Olivier for their play Silent. Playwright Martin McDonagh won an Olivier for Best New Play for his work Hangmen.
Ennis-raised Denise Gough has starred in a number of films and TV shows, including Jimmy's Hall, The Bill and Silent Witness.
In People, Places and Things, she stars as Emma, a woman with an addiction problem who goes to rehab.
The play has been called "bold, timely and searching", with Gough singled out for being 'electrifying' and "stunning".
Kinevane and Fishamble's award was presented for Outstanding Achievement in an Affiliate Theatre, for their production of Silent which was presented at the Soho Theatre last year.
Silent is the story of the homeless man McGoldrig, "who once had splendid things. But he has lost it all – including his mind".
Artistic Director of Fishamble, Jim Culleton said:
We are so thrilled, honoured, and delighted to have won the Olivier Award for Outstanding Achievement in an Affiliate Theatre for Silent. It's especially thrilling to have been awarded this honour immediately after Dame Judi Dench, and for it to have been presented by Juliet Stevenson – two amazing performers.
Silent has previously been awarded The Scotsman Fringe First, The Herald Angel (Edinburgh Festival Fringe 2011) and The Argus Angel (Brighton Festival 2012).
President Michael D Higgins said that the awards "are a great recognition and tribute to Irish theatre" and congratulated the Irish winners.
I wish them every success – may I also convey my best wishes to the countless actors, actresses, directors, stagehands, playwrights, designers, choreographers and many others that make up Irish theatre.
Their work reminds us of the vitality and indeed importance of culture and of theatre in the life of our nation.
He said that theatre "offers us the opportunity to dream, to question, to learn, to experiment and to experience".
Theatre offers a critique and a mirror onto the society we have created.
Minister Heather Humphreys also congratulated the winners, saying:
"When we see Irish successes on this scale at ceremonies such as the Olivier Awards, it underlines the importance, and indeed the benefits, of providing funding to Culture Ireland, which helps Irish artists to bring their work overseas and helps to showcase Irish talent internationally."