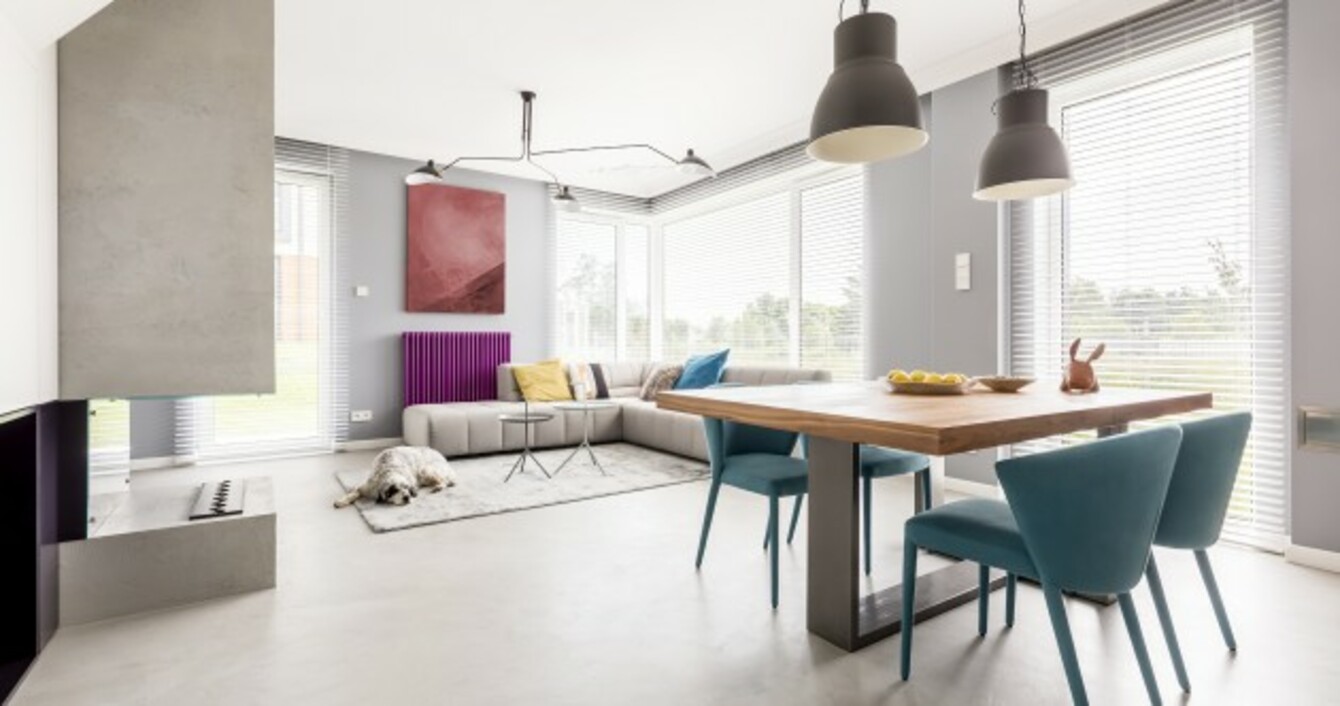 Image: Shutterstock/Photographee.eu
Image: Shutterstock/Photographee.eu
THE CONCEPT OF a large and airy room where the whole family can go about their individual activities yet remain connected, is pretty attractive.
When you get open plan design right, you'll have more space, cut down on having to weave from room to room, and an increase the natural light – which only adds to the appeal. But when you get it wrong, you risk having a disordered and cluttered space that's far from homely or comfortable.
So, for those making the move to open-plan living, we've taken a look at the mistakes you're probably making with your space – and how you can avoid them from the get-go.
Mistake 1 – Failing to do research first: Going in blind with absolutely no inspiration or idea of what you want can result in a space that's (clearly) far from well-thought-out. Instagram and Pinterest might become your new best friends throughout this whole design process. Look at the wealth of blogs and resources online, they'll back up your design decisions and show you new layouts that you may not have thought of before.
Mistake 2 – Thinking you should mix up flooring: Nothing will make a room feel more disjointed and lacking in flow than a mix of flooring. For a cohesive feel that will make an open-plan space seem intentional, a consistent base (like hardwood) will connect the whole room, while adding area rugs will help delineate a zone for each area of the open space.
Mistake 3 – Forgetting about zones: Speaking of zones, open-plan does not mean one-plan. Think about the function of each area and what you'll need it for. Softer furnishings in the lounge area may be more at home than in the kitchen area. Leave the couch to the lounge, too. Open-plan rarely has room for a mix of functions in one spot – keep each space decorated for its intended use and you'll avoid confusion.
Mistake 4 – Assuming the same light fixtures will work throughout: Lighting can play a large part in establishing a successful open-plan space and it's best treated as if there are still walls dividing each area. Again, this comes down to the function of each area and what you want to achieve – a reading nook will still benefit from a standard lamp, while pendants over the kitchen island will free up floor and counter space.
Mistake 5 – Choosing furniture that's too similar: An open-plan space doesn't need to be filled with furniture pieces that all embrace the same height and style, and if you're moving to an open-plan layout, you should be able to use furniture you already had in rooms that were divided by walls. Create subdivision through contrasting furniture and textures in the living, dining, and kitchen areas; but each area can have its own individual style, height and purpose. 
Mistake 6 – Not taking flow and footfall into account: It can be easy to put a lot of focus on the function of each contained space and forget about how you, your family and any visitors will move from one space to the next. Will the couch obstruct your travel to the kitchen when a pot of water starts to bubble over? Make sure any hazards or potential accidents are avoided by leaving enough floor space to move freely. However, this does not mean you have to place all of your furniture against the wall, leaving a dance floor type space in the centre of the room.
Mistake 7 – Forgetting about storage: You might have created more space, but it won't be much use if you have nowhere to store toys, utensils, books, ornaments and other bits and bobs. Choose storage pieces that double in function, like an ottoman with a lid or a roomy sideboard that works as a TV stand. Enough storage should keep a room that hosts a lot of activity, tidy and streamlined.
Mistake 8 – Relying solely on the open-plan space: Open-plan may be appealing, but completely denying yourself some privacy in a smaller room is something you might regret further on down the road. Another self-contained lounge, study or playroom might serve you well for those moments when you've seen just a little too much of your family and you need some me-time. Make sure you think about which room this could be before you start knocking down all of the walls on the ground floor.