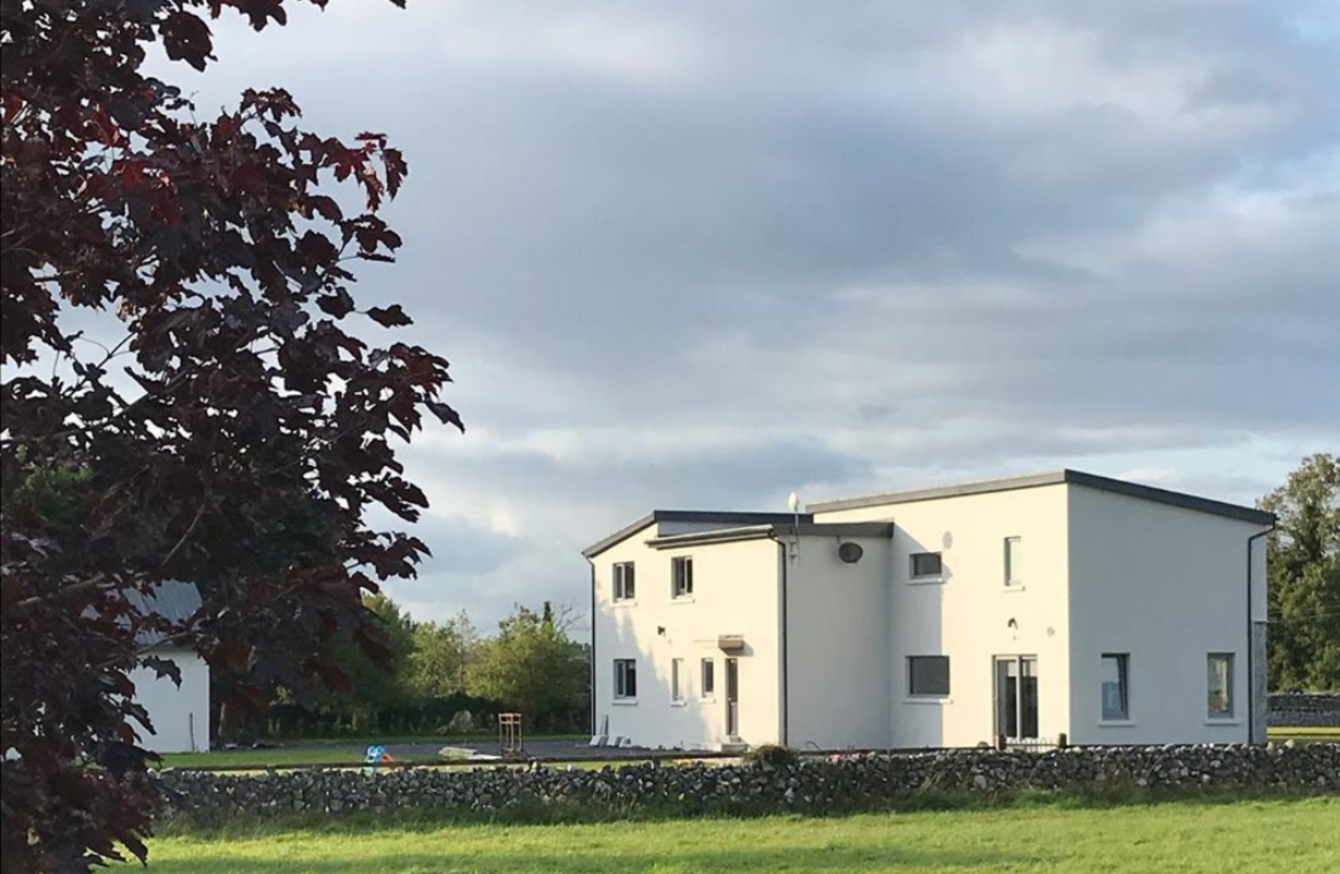 Modern timber-framed house in the Co Galway countryside.
Image: Sarah Casserly
Modern timber-framed house in the Co Galway countryside.
Image: Sarah Casserly
About your home
Where? In the countryside in Co Galway
What type of house? A modern timber-frame, two-storey house
How many bedrooms and bathrooms? Four bedrooms, a master ensuite, a main bathroom upstairs and a downstairs wet room
When did you move in? In April 2018, we moved into the ground-floor level, but we are still working on the upstairs.
About you
Name: Sarah Casserly
Age: 36
Occupation: Senior speech and language therapist working in Co Clare 
Who else lives there? My husband Michael and our two little ones – a two-and-a-half year old and a nine-month-old
What made you choose this home over others?
We wanted a modern two-storey house but something that would suit the site that was kindly gifted to us by my husband's parents. The site was actually where Michael's father grew up. The old house is long gone, but a rose bush from the garden still remains and blooms every year.
We have bungalows on either side of us, so we went for a low angled roof because we didn't want the roof line to be too tall with a pitched roof.
Luckily, we have similar tastes, so we designed the house ourselves and then brought our plans to an architect to tweak.
We have no corridors in our home. Every room comes straight off of the double-height entrance hallway. This means we have no wasted space and our living area is one room deep with windows on both sides, which gives a great brightness to the space all day long.
What is your favourite place in your home?
We love the open concept of our kitchen-TV room. We have a divider wall that Michael made with transparent shelves and built-in lighting, which gives some privacy and cosiness, but still keeps the open concept feel.
Is there any part of the home you don't like?
We love our home so much and I don't think there is anything we really don't like. We kept everything very neutral with greys and blues so we could add colour through accessories and art.
We have just started decorating upstairs and I'm glad we waited to be actually living in the house as our tastes have evolved as we have been living in the space.
For example, we initially planned to have walnut timber floors throughout the house but now we would like a bit of softness instead, so we are going to carpet the landing and stairs.
Is there any part of your home that makes it unique?
Our home is a timber-frame, geothermal heated house with a low pitch roof in the countryside, so it is unique alright!
We have no fire places in the house, which I thought I would miss but I actually haven't even noticed. The house is so warm and insulated and we have other focal points in our rooms.
Our living area and master bedroom are one room deep, so we have windows on all sides. We get the morning light and evening light in the spaces we spend most of our time.
Take us through an average day in your house, room by room.
I'm currently on maternity leave so our days are a little different to when I'm working.
6.15am: Michael is up and getting organised for work and out the door by 7am. My nine-month-old wakes up for breakfast, so we potter about the kitchen for an hour and have breakfast together. There is great morning light in our kitchen. 
8am: My two-year-old surfaces for breakfast around now. We spend the morning going between the bedrooms and the TV room where I have dedicated a corner for their toys – although the toys somehow end up in every corner of the house! We spend the rest of day between all the rooms downstairs – playing, snacking and doing housework.
12-5pm: We are usually out and about outside, or taking a little walk over to Nana and Grandad's house, or to our cousins. We also sometimes head for a spin in the car.
5pm: When we get back, we start to get organised for dinner around the island. The little ones are playing in the TV room and I can see them while I'm in the kitchen, which gives me great peace of mind. We usually have dinner together and some family time. Currently, Michael is busy working away on the upstairs in the evenings. Tiling our ensuite is the project at the moment. 
7.30pm: Bedtime for the kids. Michael and I spend some time chatting about the day, watching TV and tidying up the never-ending toys.
10-10.30pm: We usually head to bed ourselves around now. 
Is there anything you'd do differently if you were doing it again? 
We asked ourselves that question and we actually both said no. We love our forever-family home that we are creating.
However, it would be great to win the lotto and get the house completely finished and my husband could have a well-deserved break.