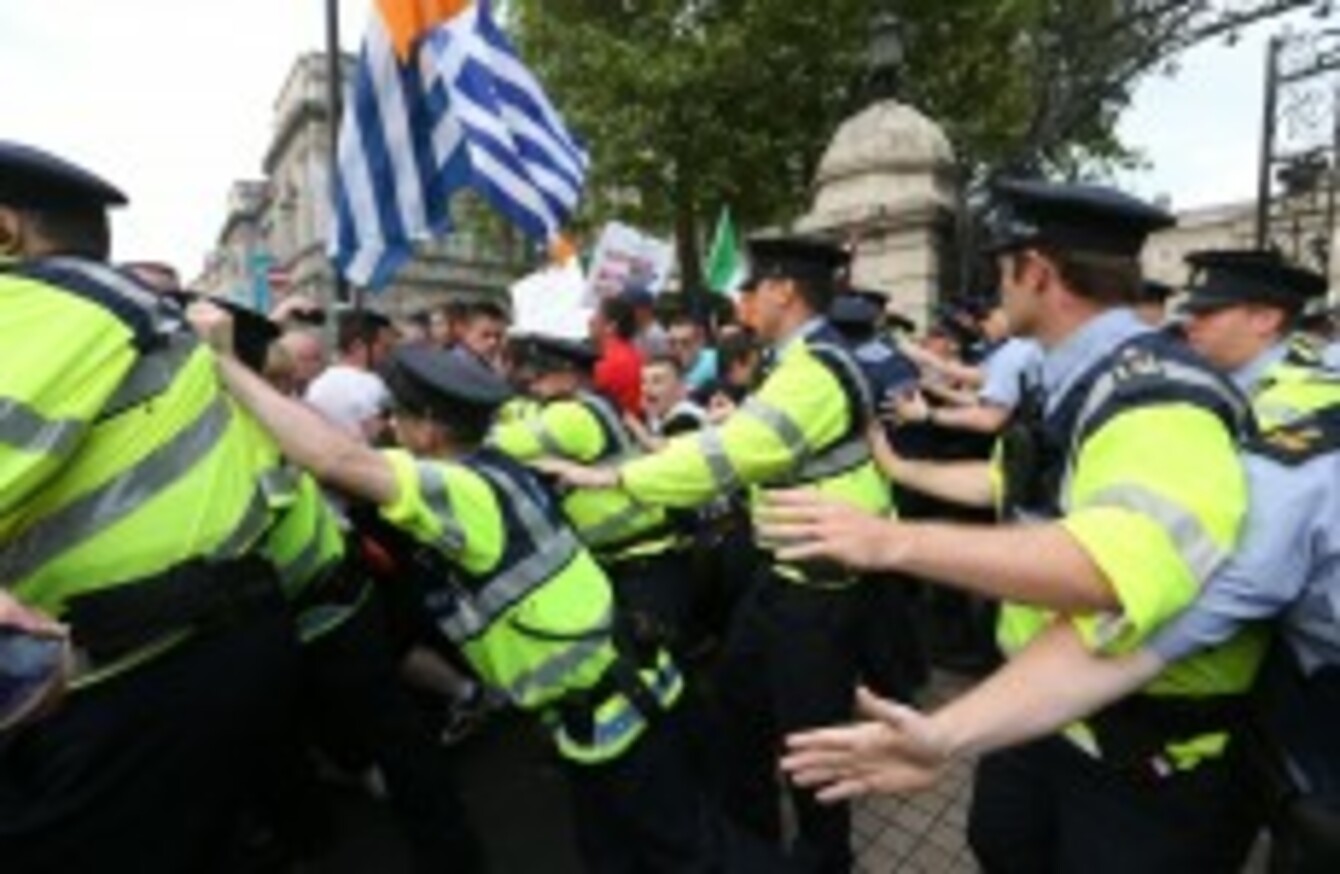 Image: Sam Boal/Photocall Ireland
Image: Sam Boal/Photocall Ireland
Updated at 7pm
A TOTAL OF 188 people have been held over water charge protests since November 2014, it's been revealed.
The figures come as Justice Minister Frances Fitzgerald acknowledged that gardaí do keep an eye on water protesters as part of 'Operation Mizen', but suggested that no bugging or video recording takes place.
In response to a question from Paul Murphy TD, Fitzgerald says Operation Mizen was established so that gardaí could prepare their response to various water protests.
She says she's been told by gardaí that the operation does not engage in "technical surveillance" but only collects "open source information" on social media.
"This is information that is generally and publicly available on the internet and social media platforms," the minister said.
"I am further informed that Operation Mizen does not engage in technical surveillance or lawful interception and no public representative or member of the public is subject to such surveillance by Operation Mizen."
Further questions from Murphy led to the minister revealing the number of people arrested over water protests and the amount spent by gardaí on surveillance technology.
Fitzgerald said that the most recent figures available are for the full-year 2014 and that €139,000 was spent throughout the year on surveillance equipment.
In terms of arrests, a total of 188 people have been held over water charge protests since November 2014.
The minister gave a breakdown of the offences and told the Dáil that it's the duty of the gardaí to preserve "peace and public order".
The arrests included 75 people who were held under Section 12 of the Water Services Act. The act specifically makes it an offence to obstruct or interfere with the work of a water services authority.
Some of the arrests involved the multiple arrest of the same people.
"The role of An Garda Síochána in such instances is to ensure, insofar as it is possible, that members of the public may go about their lawful business," the minister said.
"Indeed, the presence of An Garda Síochána is also essential to ensure the safety of protesters in such circumstances."
The 188 arrests were for the following alleged offences.