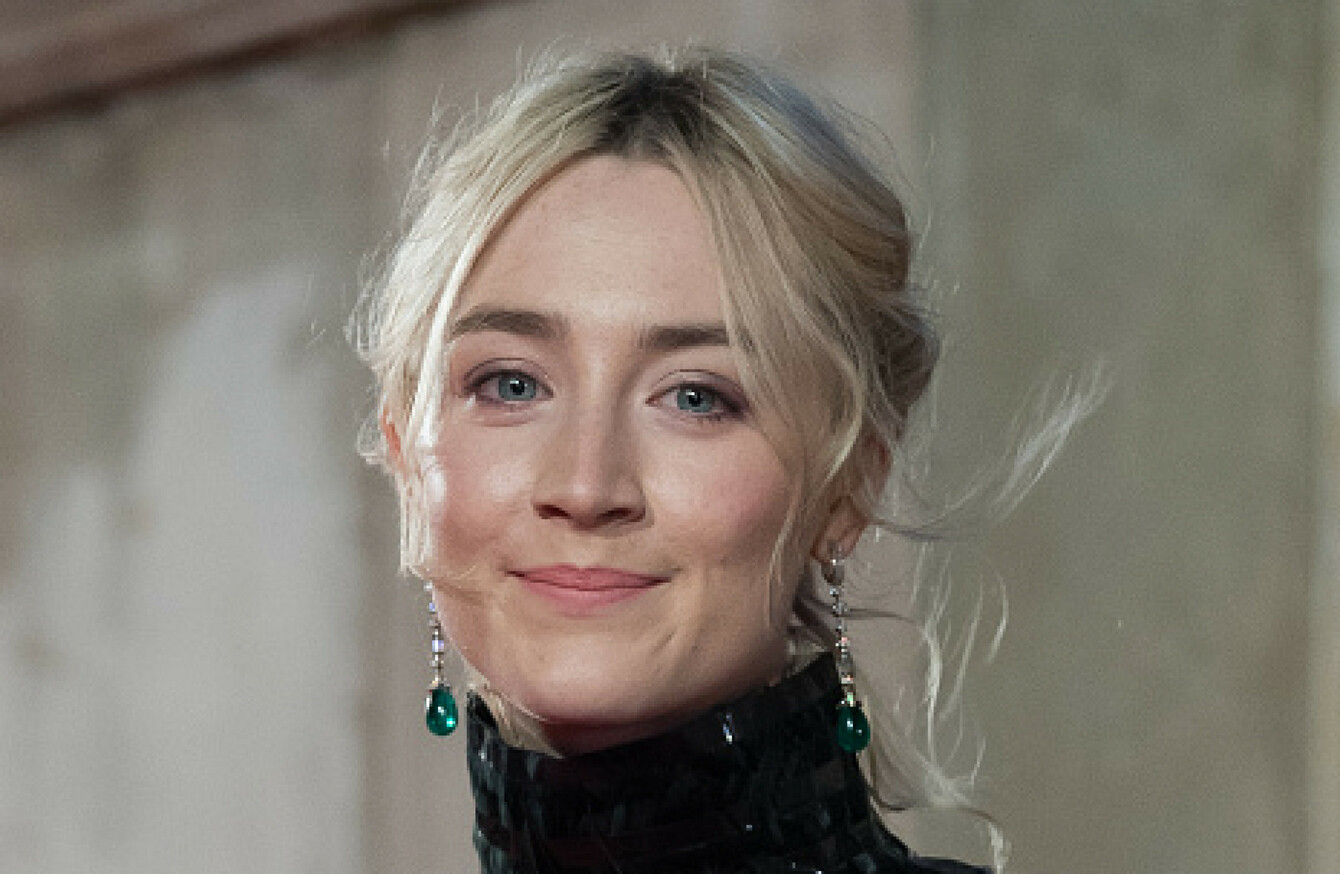 Saoirse Ronan
Image: Getty Images
Saoirse Ronan
Image: Getty Images
IN 2016, IT was #OscarsSoWhite with no people of colour nominated for Academy Awards in acting categories for the second year in a row, while in 2017 it was #EnvelopeGate when we saw the Best Picture award initially being handed to the incorrect nominee.
Somehow though, the Oscars brand remains trusted by the vast majority of people.
Ahead of tonight's ceremony, a survey of 2,000 adults in the US showed about 70% not only thought of the Oscars as trustworthy, but also innovative and visionary.
"It's a phenomenal achievement for the leaders of the Academy, not only because the brand has been highly discredited and distrusted over the past few years but also because of the politically charged environment in Hollywood," says survey author and celebrity branding expert Jeetendr Sehdev.
Phenomenal indeed, for that reason and when you remember the final scene of last year's event which saw confusion on stage as La La Land producers announced Moonlight as the real winners of the night.
So what to expect from later?
A much more low-key event, but nothing as sombre as the Golden Globes red carpet which saw almost every attendee dressed in black to launch the #TimesUp movement to advocate for equal pay and the end of harassment in the industry.
An AFP feature says that industry figures have tried to "strike a reflective, humble tone in light of a glut of recent controversies that have dogged Hollywood".
But advertisers – who haven't shied away – will expect at least some glitz and glam. As will viewers.
The red carpet event starts outside the Dolby Theatre at 3pm local time (11pm Irish time). Incidentally, its taking place in March – and not February as usual – because of the Winter Olympics which only ended in Pyeongchang, South Korea last Sunday. The games are a big event for television in the US and networks would not have wanted them to clash.
And the main show begins at 5.30pm local time (1.30am Monday, Irish time).
Irish viewers can tune in if they have a Sky subscription which includes its movie channels. Alex Zane presents the coverage, including interviews from the red carpet, on Sky Cinema Oscars from midnight. He will be joined by Countdown's Rachel Riley, comedian and actor Sanjeev Bhaskar, film critic Anna Smith and journalist Boyd Hilton.
Irish viewers will also be able to see E!'s coverage – but that's only from the red carpet, it doesn't get its cameras inside the theatre. The usual duo of Giuliana Rancic and Ryan Seacrest will be live from 10pm to 1am.
RTÉ 2 will show the 90th Academy Awards at a more sociable hour of 9.30pm on Monday evening.
For those who will stay up on the night, however, they will once again have comedian Jimmy Kimmel as host. He was widely praised last year but will have another difficult task this weekend as he has to navigate his jokes around the TimesUp and MeToo tensions.
The business end
The campaigning and the endless chat show appearances by nominees has ended – and there must be winners.
We have a considerable Irish interest this year.
For her role in LadyBirdy Saoirse Ronan has received her third nomination at the grand old age of 23 but faces tough competition from Frances McDormand of Three Billboards Outside Ebbing, Missouri, not to mention Meryl Streep in the The Post, Margo Robbie's much-lauded portrayal of Tonya Harding in I, Tonya and Sally Hawkins from The Shape of Water.
McDormand is one of seven nods for London-Irish writer-director Martin McDonagh's Three Billboards Outside Ebbing.
It has been nominated for Best Original Screenplay, Best Motion Picture of the Year, Best Achievement in Film Editing and Best Achievement for Music Written for Motion Pictures. Woody Harrelson and Sam Rockwell are also shortlisted in the best supporting actor category.
Cartoon Saloon's Tomm Moore and Nora Twomey are nominated for The Breadwinner in the Best Animated Film. The pair missed a party, held in their honour, in LA on Friday because of the snow in Dublin.
Also on the 'ones to watch' list for Irish viewers is Daniel Day Lewis who is nominated for his performance in Phantom Thread.
The audience, over the hours-long production, will be treated to musical performances of all the nominated Original Songs.
Oscar-winning rapper Common and Andra Day will perform Stand Up for Something from Marshall. Mary J. Blige, who is up for two gongs for Mudbound, will sing Mighty River.  She is the first person to be nominated for both a performance (for actress in a supporting role) and Original Song in the same year.
Coco's Remember Me will be given time on stage with Gael García Bernal, Natalia LaFourcade and Miguel performing.
Keala Settle will sing This is Me from The Greatest Showman, while Sufjan Stevens will perform Mystery of Love, which was written for Call Me By Your Name.
Emily Blunt, Sandra Bullock, Dave Chappelle, Eugenio Derbez, Ansel Elgort, Jane Fonda, Jodie Foster, Eiza González, Ashley Judd, Nicole Kidman, Matthew McConaughey, Helen Mirren, Rita Moreno, Lupita Nyong'o and Christopher Walken have all be announced as presenters.
Enjoy it all.
Here's a full list of the nominees:
Actress in Leading Role
Sally Hawkins (The Shape of Water)
Frances McDormand (Three Billboards outside Ebbing, Missouri)
Margot Robbie (I, Tonya)
Saoirse Ronan (Lady Bird)
Meryl Streep (The Post)
Leading Actor
Timothée Chalamet (Call Me By Your Name)
Daniel Day-Lewis (Phantom Thread)
Daniel Kaluuya (Get Out)
Gary Oldman (Darkest Hour)
Denzel Washington (Roman J.Israel, Esq)
Supporting Actress
Mary J. Blige (Mudbound)
Allison Janney (I, Tonya)
Lesley Manville (Phantom Thread)
Laurie Metcalf (Lady Bird)
Octavia Spencer (The Shape of Water)
Supporting Actor
Willem Dafoe (The Florida Project)
Woody Harrelson (Three Billboards outside Ebbing, Missouri)
Richard Jenkins (The Shape of Water)
Christopher Plummer (All the Money in the World)
Sam Rockwell (Three Billboards outside Ebbing, Missouri)
Best Picture
Call Me By Your Name
Darkest Hour
Dunkirk
Get Out
Lady Bird
Phantom Thread
The Post
The Shape of Water
Three Billboards Outside Ebbing, Missouri
Directing
Dunkirk
Get Out
Lady Bird
Phantom Thread
The Shape of Water
Original Screenplay
The Big Sick
Get Out
Lady Bird
The Shape of Water
Three Billboards Outside Ebbing, Missouri
Adapted Screenplay
Call Me By Your Name
The Disaster Artist
Logan
Molly's Game
Mudbound
Animated Feature
The Boss Baby
The Breadwinner
Coco
Ferdinand
Loving Vincent
Production Design
Beauty and the Beast
Blade Runner 2049
Darkest Hour
Dunkirk
The Shape of Water
Costume Design
Beauty and the Beast
Darkest Hour
Phantom Thread
The Shape of Water
Victoria & Abdul
Animation
Dear basketball
Garden Party
Lou
Negative Space
Revolting Rhymes
Original Score
Dunkirk
Phantom Thread
The Shape of Water
Star Wars: The Last Jedi
Three Billboards Outside Ebbing, Missouri
Visual Effects
Blade Runner 2049
Guardians of the Galaxy
Kong: Skull Island
War for the planet of the Apes
Film Editing
Baby Driver
Dunkirk
I, Tonya
The Shape of Water
Three Billboards Outside Ebbing Missouri
Sound Editing & Sound Mixing
Baby Driver
Blade Runner 2049
Dunkirk
The Shape of Water
Star Wars: The Last Jedi
Cinematography
Blade Runner 2049
Darkest Hour
Mudbound
Dunkirk
The Shape of Water
Documentary Feature
Abacus: Small Enough To Jail
Faces Places
Icarus
Last Men In Aleppo
Strong Island
Documentary Short
Edith + Eddie
Heaven is a traffic Jam on the 405
Heroin(E)
Knife Skills
Traffic Stop
Original Song 
Mighty River
Mystery of Love
Remember Me
Stand Up For Something
This Is Me
Hair and Make-up
Darkest Hour
Victoria & Abdul
Wonder
With reporting by AFP