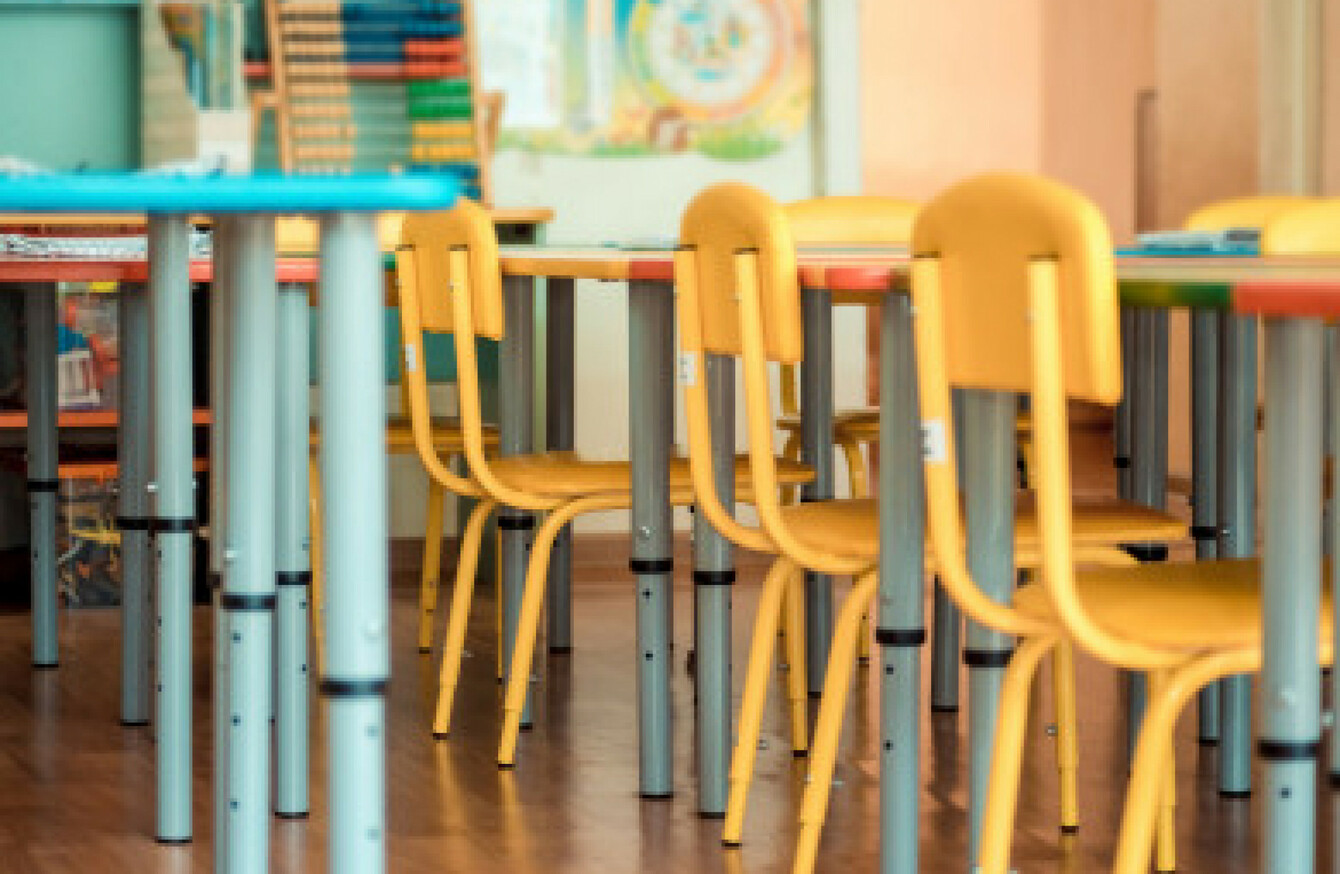 Updated Sep 22nd 2021, 5:01 PM
CHILDREN WHO ARE a Covid-19 close contact in primary school will no longer be required to restrict their movements if they do not have symptoms.
The new guidance has been issued by the Department of Health and comes into effect from Monday 27 September. 
The move is a significant change to the management of Covid-19 in schools and comes as the Health Protection Surveillance Centre (HPSC) confirmed 412 school-based cases in the week to 18 September. 
As per the new guidance agreed following discussions with NPHET and the CMO, the testing of asymptomatic close contacts in childcare facilities and primary education will be discontinued. 
Automatic contact tracing for all close contacts in childcare facilities and primary education will also be discontinued. 
Children aged 12 and under in childcare, educational or special education settings who are asymptomatic will no longer be required to restrict movements, unless indicated by the local public health team.
Children in this age bracket will still have to restrict their movements and have a Covid-19 test if they are a close contact from a household setting. 
The public health advice remains that children displaying symptoms consistent with Covid-19 should self-isolate and not attend school or socialise until 48 hours after they are symptom free.
Speaking following the announcement today, Health Minister Stephen Donnelly said that schools "continue to be a low-risk environment".
"As such, I am happy to be in a position today to announce these significant updates to contact tracing in our school environments," he said.
If you have any concerns or notice symptoms in members of your family, the public health advice remains to self-isolate and arrange a test as soon as possible. You should not attend school, or work or socialise.
Earlier today, the HPSC has reported 90 new outbreaks of Covid in schools across the country. 
Data from the week ending 18 September was released from the body today which shows that the outbreaks resulted in 412 confirmed cases of the disease. 
78 of these clusters occurred in primary education, with 11 in post-primary and one in a special education school.
There is no evidence that the reopening of schools has led to an increase in transmission or levels of infection amongst school-going children or more widely across the population. 1/14 pic.twitter.com/9Bp6bwh4Rh

— Professor Philip Nolan (@President_MU) September 22, 2021
Professor Philip Nolan, chair of NPHET's epidemiological modelling advisory group, said there is "no evidence that the reopening of schools has led to an increase in transmission or levels of infection amongst school-going children or more widely across the population". 
In a series of tweets, professor Nolan said it was "inevitable" when schools reopened that some children would test positive for Covid-19. 
He said there was a three- to four-fold increase in the number of children referred for testing, but incidence rates have remained stable in the last ten days. 
He said today's policy change for children who are close contacts is based on a number of considerations including the low probability that an in-school contact will also become infected with Covid-19. 
#Open journalism No news is bad news Support The Journal

Your contributions will help us continue to deliver the stories that are important to you

Support us now
"The most important intervention now to keep schools and children safe is to support parents and guardians in keeping children with symptoms suggestive of SARS-CoV-2 home from school and caring for them," he said. 
Education Minister
Yesterday, Education Minister Norma Foley faced questions from TDs and senators during an appearance at the Oireachtas Education Committee.
Some opposition politicians were critical of what they labelled "confusing" guidance for when pupils are designated as close contacts and when they should go to school.
It comes as thousands of pupils were forced to stay at home since the return of schools after being identified as close contacts of a confirmed Covid-19 case.
Away from schools, the HPSC data reported that a total of 198 outbreaks were recorded between 12-18 September. Just one of these outbreaks was traced to a social event, the HPSC report says.
Other notable places for outbreaks include:
Four new nursing home outbreaks were reported with 49 confirmed linked cases;
Two new community hospital/long-term care facility outbreak were reported with 25 confirmed linked cases;
There were four new acute hospital outbreaks reported with 17 confirmed linked cases;
Thirteen workplace outbreaks were reported with 37 confirmed linked cases; including three in the construction sector, one in food production and processing and eight in other workplace types.
- With reporting by Rónán Duffy