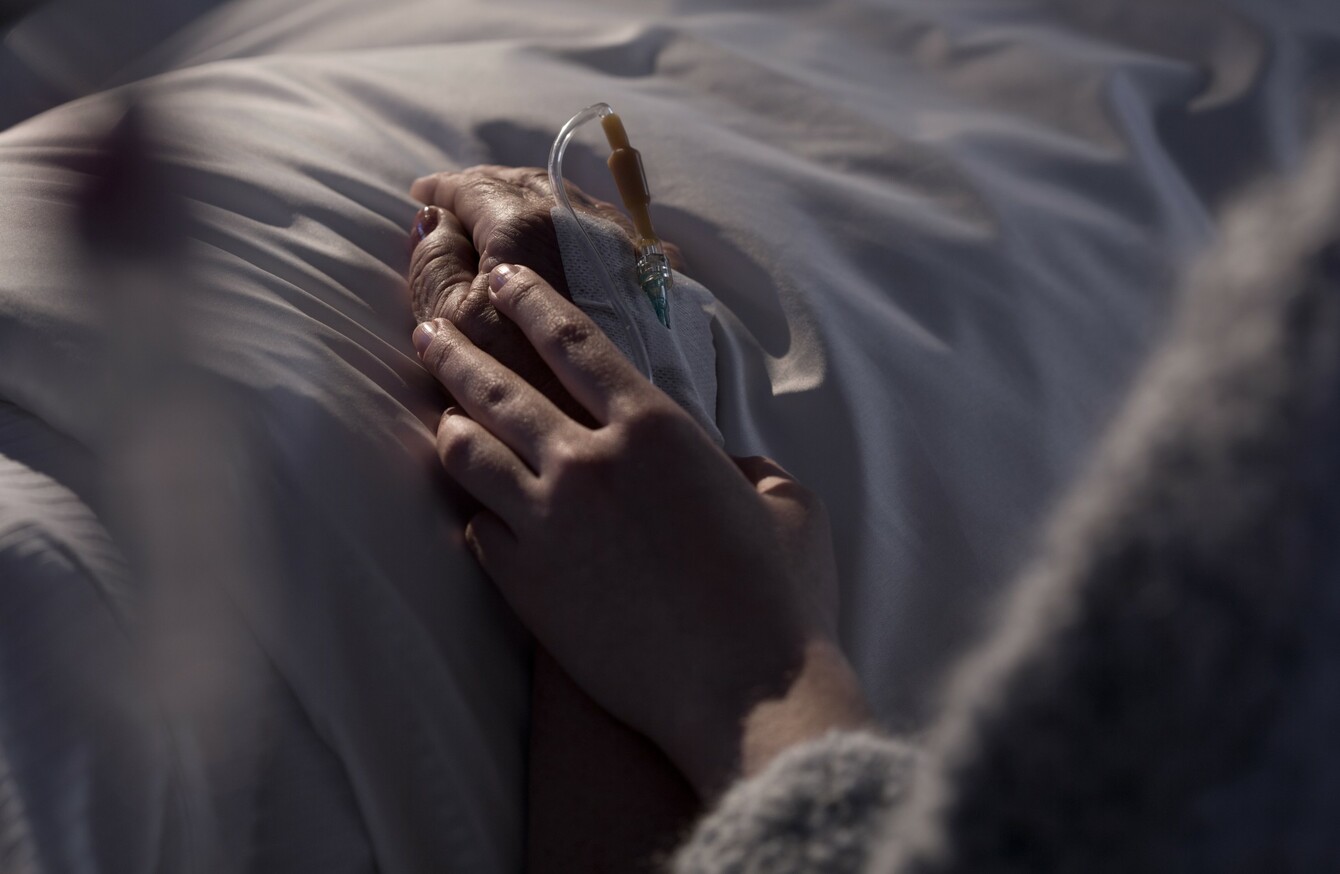 Image: Shutterstock/Photographee.eu
Image: Shutterstock/Photographee.eu
A NEW REPORT has found that some patients in palliative care are being left in pain, while one family said trying to find out what services are available is like "dealing with the mafia".
The Let's Talk About Palliative Care Survey Report found that 52% of palliative care users said they felt frustrated or helpless during the process.
The survey includes the experiences of 528 palliative care service users and carers from across the island (419 in the Republic of Ireland and 109 in Northern Ireland).
One woman described how her 63-year-old sister was left groaning in pain the night before she died as the doctor-on-call refused to call out to the hospice with the extra pain relief medicine required.
"This memory for my family was horrendous," she told researchers.
Another carer described sitting with a patient for almost an hour during which there was a very strong smell of excrement as she had soiled herself but not cleaned up. They also described how:
The patient's dirty washing was left in bags. Her family lived far away so washing was left in locker beside the bed for days.
'He may as well have been invisible'
About 51% of respondents to the survey said their emotional and psychological needs were not met and 42% wanted better co-ordination of care or treatment.
One family described how they had to pay for private carers to go into a hospital as their father was not receiving the care he needed.
The elderly man, who suffers from Alzheimer's and vascular dementia, was transferred to a public ward in order to ensure some supervision.
He had been very distressed in the private room and had fallen when trying to climb out over the side rails of bed. He was not found for some time. In addition he had to be strapped into a chair with his feet immobilised to prevent him getting up. Nobody ensured he had eaten his meals and he was left unsupervised for long periods.
"His personal care was overlooked. There is no specialist unit to facilitate his care. He may as well have been invisible. Carers had to be paid to go into the hospital to ensure his safety and ensure basic needs were being met. It was distressing for my father and those around him."
Other expressed that they felt they were being passed on from service to service while one person described how it felt like they were 'dealing with the mafia' when trying to find out what services are available.
"My father was diagnosed with a brain tumour after just overcoming lymphoma. When he was diagnosed he lived with my invalided mother… his wish was to go home and die at home. I work in the HSE and I had to make all the relevant arrangements for him to go home with beds, home help and a palliative nurse … both my sister and I knew what we were dealing with even though we are not nurses but for a family that didn't you are left all alone.
It is not a nice place to be in. We saw the public health nurse three times in that three weeks. I feel it's like dealing with the mafia trying to find out what you can get what is available and where and how to get it. People taking care of people need a back up they don't need to feel alone.
The study also showed that avoiding talking about the issues, or 'too little information given too late' increases frustration and helplessness.
One patient described how, "I asked my doctor what was my prognosis. He told me that the average age of survival with my type of cancer was six to 12 months.
I was 40 with two young children. I know he answered my question but he gave me no hope. Two-and-a-half years later I am still here.
'The man was so happy, you have no idea'
The survey also highlighted positive experiences of palliative care in Ireland.
One family member described how they fought for their father to get home, explaining how he was a farmer so hated being cooped up in a hospital or nursing home:
We got him home, the man was so happy, you have no idea, we had great support from home help, someone used to sleep the night and we all took turns at weekend. That time was so precious to me, I have great memories, he survived nine months.
The report also heard how moving to a hospice in the final stages of one woman's life meant she 'started to live again':
She moved to the hospice where she started to live again. She got a hairpiece and a wheelchair. She spent hours in the gardens.
"She entertained her son, daughter and grandchildren, as well as her sisters and nieces and nephews.
She arranged her funeral. On the day she died she attended an 'indoor' family picnic and died that afternoon with everyone close to her present.
'Too little, too late'
The survey also found that more than two thirds (68%) of people with palliative care needs said that 'planning for the future' is their biggest worry.
The All Ireland Institute of Hospice and Palliative Care's Karen Charnley said:
The survey findings challenge those providing care to respond in ways which best support people and their families at this time in their lives. It also challenges wider society to talk and think more about palliative and end of life care.
"The survey reflected many positive experiences of palliative care as well as highlighting where we can improve. The survey found that 37% said they received too little information too late, while 22% said that sensitive issues were avoided completely. However, 48% felt communicated with clearly or sensitively and 34% experienced information being communicated timely or appropriately."
HSE director of advocacy Greg Price said: "The findings of this research will be reviewed to inform public policy and services for palliative and end of life care in Ireland. We can improve services by aligning them closer to the expressed needs and wishes of patients, their carers and families."
The survey was coordinated by the All Ireland Institute of Hospice and Palliative Care (AIIHPC) and jointly commissioned by the HSE in the Republic of Ireland and Public Health Agency (PHA) in Northern Ireland.