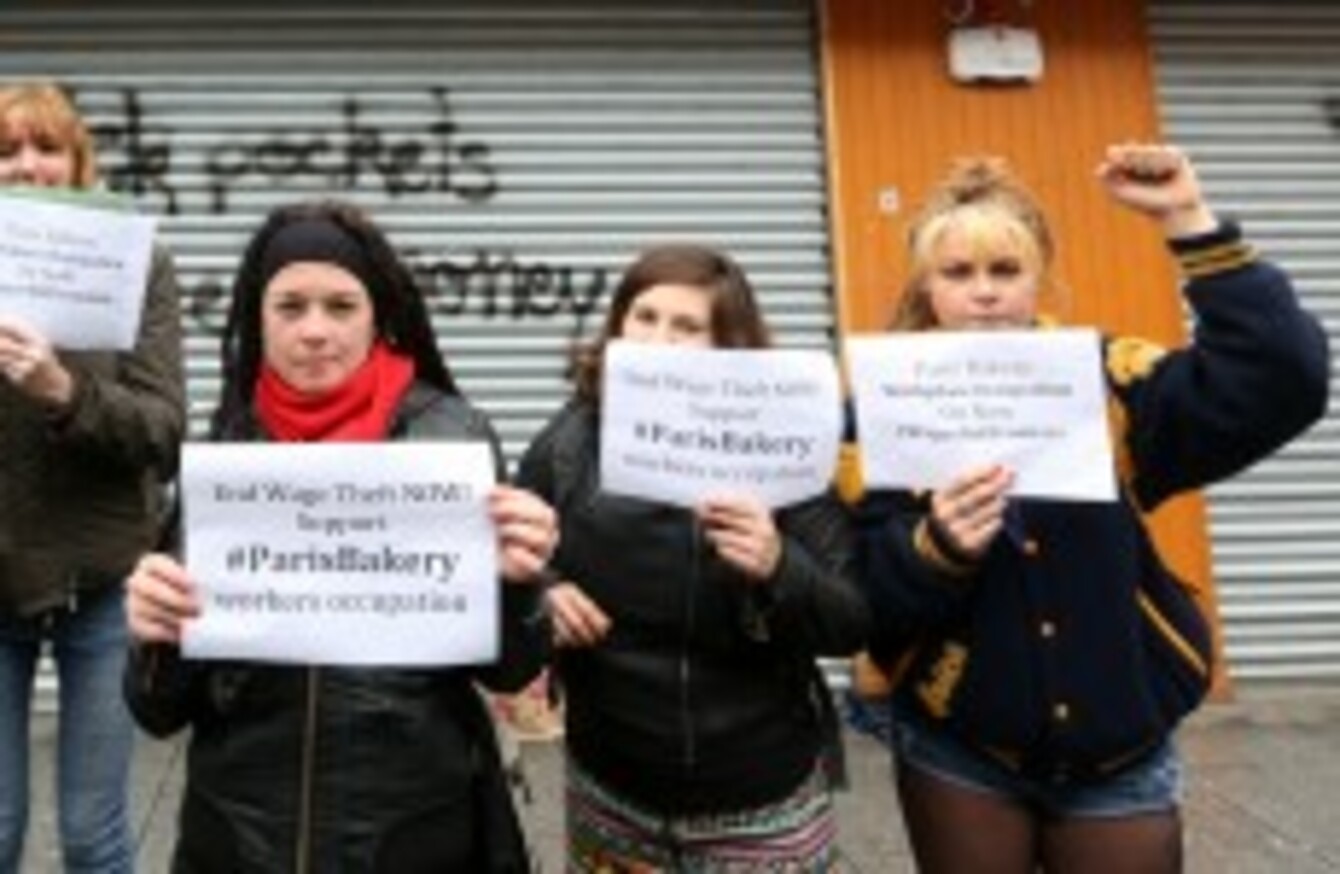 Image: Sam Boal/Photocall Ireland
Image: Sam Boal/Photocall Ireland
Updated at 5.39pm
WORKERS AT the Paris Bakery in Dublin have travelled to the home of their employer seeking unpaid wages.
As many as 15 have been staging a sit-in the city centre bakery in Dublin claiming they are owed wages of over €55,000.
On Friday the group of 15 entered the premises to prevent their employer from removing equipment from the restaurant.
In a statement this evening, Mandate trade union said some of the workers travelled to the home of the owners, Ruth Savill and Yannick Forel.
"We visited the house of Ms Savill because she is refusing to engage with us,"  employee Anissa Hosany said.
Earlier today Hosany told TheJournal.ie "we're going to be staying here until tomorrow".
We're hopeful that we will chat with our employer tomorrow and we will reach some kind of resolution, but it could be postponed again. We're just staying positive.
Staff were due to meet with the store's owner yesterday morning, but this was called off.
Hosany said that spirits are high among those camped at the store.
"People are really positive about the whole situation," she said, "Last night was great, a band came to the shop and played and we also set up a kitchen. The public are being really supportive."
Mandate trade union and the Migrant Rights Centre have also become involved in the dispute.
Source: TradeUnionTVIreland/YouTube
OPATSI, who represents some of the workers at the bakery, said they have already met with the employer "without any resolution", and will escalate action on Monday.
General Secretary of the Irish Congress of Trade Union David Begg called the situation "history repeating itself".
We've been here before and will be again unless this legal loophole is closed and employers are obliged to honour their commitments and pay employees what they are due.
Originally published 11.13am