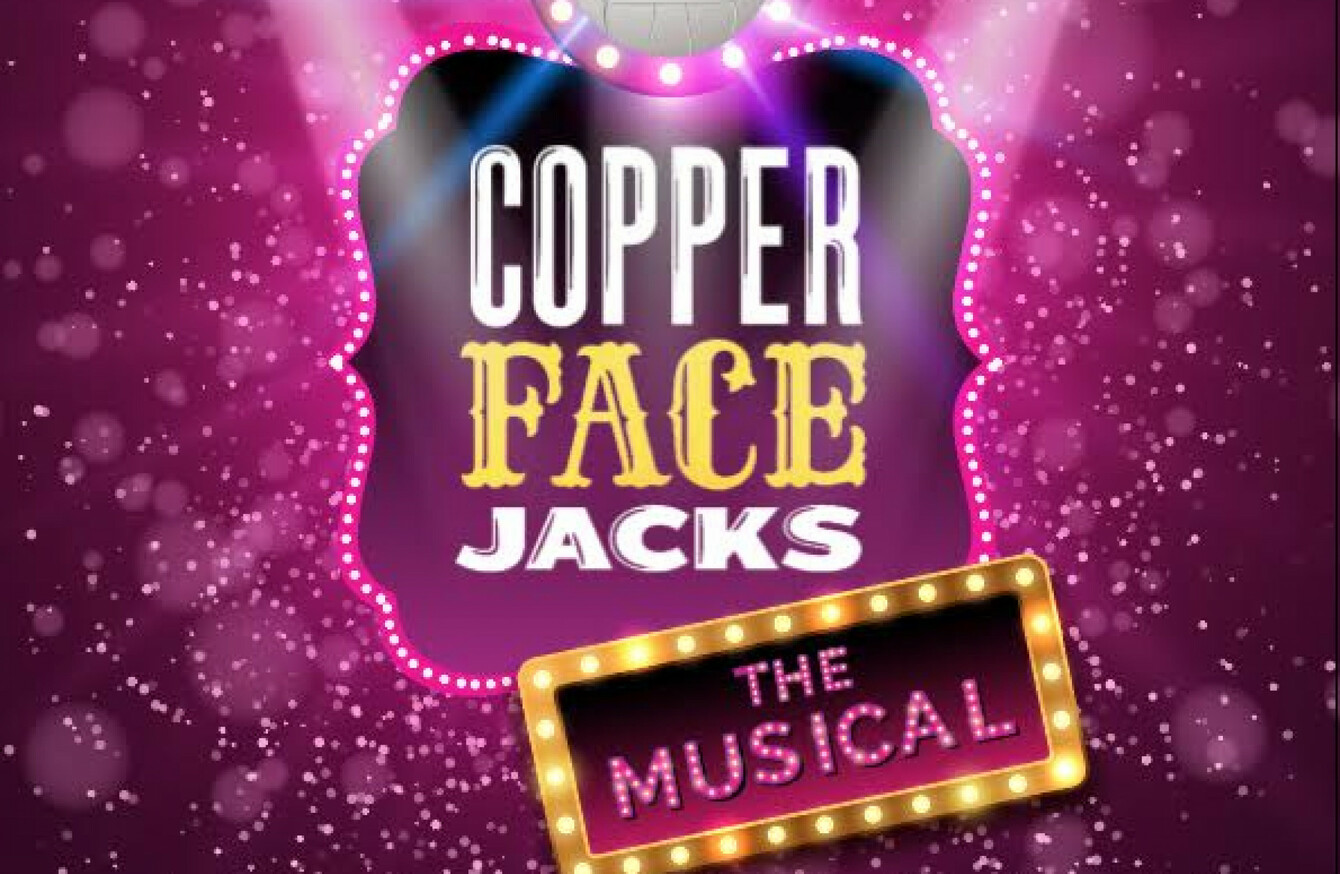 COPPER FACE JACKS is a legendary Dublin nightclub – so legendary that Ross O'Carroll Kelly creator Paul Howard has written a musical about it. A musical starring… puppets.
Copper Face Jacks: The Musical is described as "a love story set on the eve of a Dublin Kerry All Ireland Final, when a sweet Kerry girl, who's moved to the big smoke for her dream job in The VHI, ends up falling head over her flat shoes with a true blue Dublin team member".
"It's really exciting," says Howard when TheJournal.ie catches up with him during Storm Emma. He's just back from trekking 45 minutes from home to RTÉ for interviews, but is as energetic as always.
This is Howard's second musical – and he's hoping it will be an entirely different experience to the previous – hellish – Anglo the Musical.
In fact, the idea for the Coppers musical came during the Anglo musical experience. "I remember it was between legal meetings, [my co-creator] Darren Smith turned to me and said 'Jesus, we should have done Copper Face Jacks the musical'. It was a joke, and quite often [a joke] works. Something said in jest turned out to be serious. We both looked at each other I and I think in that moment we knew that was great idea."
But what's this about legal meetings? It turns out that creating a musical about Anglo meant that Howard and Smith found themselves in quite a sticky situation.
Legal issues
"I did it with Darren Smith and Donal Shiels, and we had a pretty nightmarish experience – it was just hell," explains Howard. Just as they started rehearsals, three former Anglo directors were charged with offences relating to the bank's collapse.
"We were suddenly in contempt of court situation," says Howard. "We were told to pull the show and not to say anything. The problem was the producers had booked the Bord Gáis Energy Theatre for a month. There were buses driving around the city with 'Anglo the Musical' on the side. The decision was made to go ahead with it."
The whole experience was, as you'd imagine, "incredibly stressful" for all involved.
We had lawyers for two of the Anglo directors, including Sean FitzPatrick, saying not to go ahead, saying it would prejudice the trial. We had the DPP threatening to injunct us.
"Our own legal advice was we could go to jail over this thing. You had to remind yourself this is a puppet show with songs and jokes in it."
The night before the show opened the DPP – the Director of Public Prosecutions – wanted changes to 14 scenes. Howard worked through the night on the changes, which included dropping pivotal songs and scenes.
'Coppers the musical – it's already a punchline'
So you'd imagine that after such a hellish experience last time Howard might be reticent to tackle another musical. Not so.
"I think the Coppers thing stuck with us both because Copper Face Jacks has so many happy associations with people, whereas Anglo has really really dark, unhappy associations.
Nobody hears 'Anglo' and smiles. I said to people we're thinking of doing Coppers the musical – it's already a punchline, and sometimes that's the first thing you need with a musical. 'Jesus Christ Superstar', that's funny and interesting.
The idea has been fermenting for years but over the past few months Howard has been scribbling down plot points and character notes. It's on.
"We wanted to give it the Moulin Rouge treatment," he says of the Harcourt St nightclub. "Copper Face Jacks is an institution now, a social phenomenon."
Living on a Prayer
The main character in the play, Noeleen, sets off to Dublin from Kerry, leaving a fiancé at home who doesn't trust Dublin people. The musical follows as she moves into a bedsit on Harcourt St, and one night while sitting alone "she hears the strains of Bon Jovi's Living on a Prayer".
She steps into Coppers and its world "envelops her – it's almost like a big hug she gets from home", says Howard. "Lots of people in Coppers that are just like her, they've come from the country to Dublin. They still haven't discovered their compass yet and they find their way to Coppers, and they find lots of people just like them who want to wear their county colours and go for a drink".
The relationship at the centre of the play is a lot like West Side Story, says Howard. It's also reminiscent of the life of Aisling, the lead character in the Oh My God What A Complete Aisling book.
This was Howard's favourite book "by a mile" from last year and one which he sees some resonances of in the Coppers play – as they are both about a young girl from the country trying to make it in the big smoke.
Howard is married 10 years, so isn't a Coppers regular these days. But back in his single days he did go there a lot "because I could never get into Reynards", he says.
When he eventually got into Renyards, he "felt like a shoplifter". But at Coppers he appreciated the door policy, which wasn't exclusive.
"And that is one of the great reasons behind its success. You could have 10 girls from Roscommon who come to Dublin for a GAA match, and they couldn't say 'let's all meet afterwards at Reynards or Lillies', because some of them wouldn't get in. None of them would get in with county colours. But they all would get into Coppers."
To the people who love Coppers "there's a little bit of home at the top of Harcourt St" says Howard.
"We're trying to to capture the spirit of that in the musical. With Anglo there was a lot of anger to be expressed. This is a completely different thing – this is just such a happy story, it's a hymn to a unique Irish place."
Everyone goes home happy – that's what we want to do with the musical, we want the humour of Coppers, that element of not taking itself too seriously. We want people who go along to have a fun evening, to have lots of laughs, some big tunes that they'll remember and just to go home in a better humour than they came in.
Copper Face Jacks opens in Dublin's Olympia Theatre from Thursday 5 July.