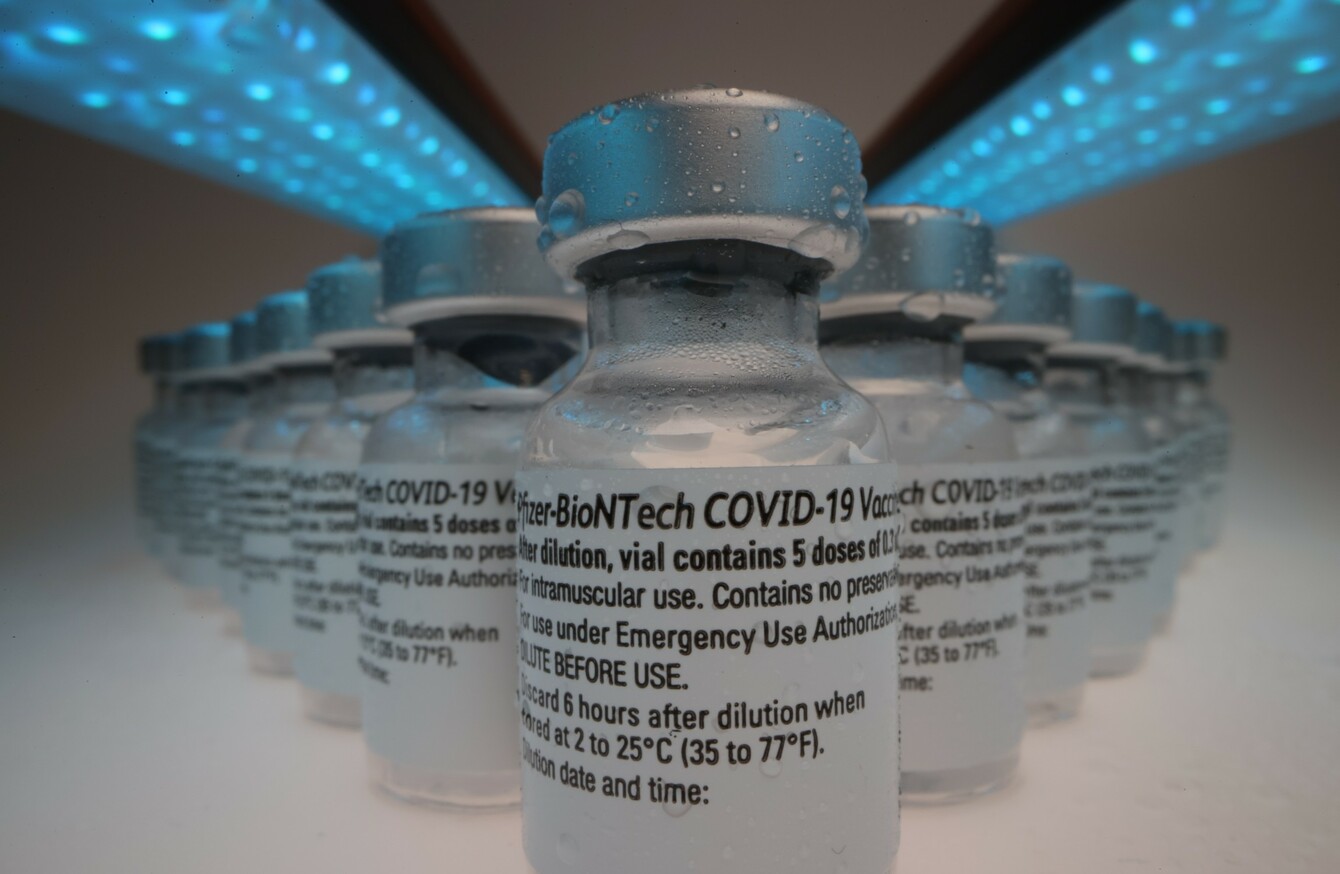 Image: Shutterstock/cortex-film
Image: Shutterstock/cortex-film
Updated Apr 14th 2021, 5:40 PM
IRELAND IS SET to receive over 500,000 additional doses of the Pfizer-BioNTech vaccine over the next three months as part of a wider EU agreement. 
The company is bringing forward delivery of 50 million doses to the second quarter, starting this month, and negotiations are underway with it to supply 1.8 billion doses of a second-generation of its mRNA vaccine, to combat variants.
European Commission chief Ursula von der Leyen announced the move today.
The 50 million doses were initially scheduled for the fourth quarter of the year. 
The development comes as a welcome boost for Ireland's vaccine programme after days of negative headlines, and a decision to limit use of the AstraZeneca vaccine to those aged 60 to 69 only. 
Von der Leyen said the bonus would bring the total number of Pfizer-BioNTech doses for April, May and June to 250 million – accounting for more than half of all jabs to be given in this quarter.
"I think this will substantially help consolidate the rollout of our vaccination campaigns," she said, noting that there have already been 100 million doses given in the bloc to date, with 27 million people fully vaccinated.
"It has proven to be a reliable partner. It has delivered on its commitments, and it is responsive to our needs." 
Health Minister Stephen Donnelly welcomed the news on Newstalk's The Hard Shoulder, acknowledging that it had been a "bumpy week" for the Government's vaccine rollout – but added that it's "still on target".
"In volume terms it's pretty much as we were. The number of Pfizer vaccines we're going to get early [545,000], which is in and around the same amount as Jansen. What we're trying to do, is by the end of June, get 4 out of 5 adults their first dose of the vaccine.
Because what we're finding is these vaccines are so effective that people are getting north of 80% protection from the first dose. So for the first dose, the volume is the same.
Donnelly said that this is the 25th adjustment of the Covid-19 vaccine rollout.
Welcome news that Ireland will be receiving close to 545,000 extra BioNTech-Pfizer vaccines, starting this month. https://t.co/MD4L0FdHup

— Micheál Martin (@MichealMartinTD) April 14, 2021
Ireland's vaccine rollout has seen one in five people over the age of 16 given a dose of a vaccine against Covid-19 – the majority have been of the Pfizer-BioNTech vaccine (over 788,000 doses), followed by AstraZeneca (239,364) and Moderna (48,589).
The National Immunisation Advisory Committee (NIAC) is currently considering whether to extend the interval between the first and second Pfizer vaccine doses to increase the number of people who have some level of protection against Covid-19.
The consideration is being made amid serious disruption to Ireland's Covid-19 vaccine rollout, due to rare blood clotting side effects associated with the AstraZeneca vaccine, as well as a possible similar issue with the Johnson & Johnson vaccine.
Currently, there is a four-week gap between the first and second dose of the Pfizer vaccine in Ireland but internationally, the gap is being extended between four and 12 weeks.
This gives authorities time to roll out the vaccine to more people to give some level of protection against Covid-19.
In an update to its vaccine strategy, the EU is turning more heavily to BioNTech/Pfizer to make up for suspended Johnson & Johnson vaccine doses and for longer-term needs to fight the mutating coronavirus. 
Tánaiste Leo Varadkar said Ireland's extra Pfizer doses will help to make up the shortfall caused by uncertainties over the vaccine from Johnson & Johnson.
Ireland had been due to receive 600,000 doses of the single-shot Johnson & Johnson/Janssen jab by the end of June.
Varadkar tweeted: "What we lost yesterday in terms of Q2 vaccine supply from Janssen we regained today with an extra 550k Pfizer shots.
"Janssen may yet get the green light. Vaccine programme still broadly on track."
Taoiseach Micheal Martin said: "Welcome news that Ireland will be receiving close to 545,000 extra BioNTech-Pfizer vaccines, starting this month."
HSE CEO Paul Reid said the extra doses are "another welcome change" after the HSE had adjusted to a number of unforeseen scenarios.
Our vaccination plan in the HSE has adjusted to so many unforeseen scenarios. Today's news of an extra 545,000 Biontech Pfizer supplies is another very welcome change that we'll make. We'll continue to remodel our plans to ensure efficient delivery of all vaccines. @HSELive

— Paul Reid (@paulreiddublin) April 14, 2021
Europe
The European Commissioner said booster jabs may be needed "at a certain point in time" to reinforce and prolong immunity, raising concerns about emerging variants that could hamper the effectiveness of current vaccines.
"We need to focus now on technologies that have proven that worth, mRNA vaccines are a clear case in point," said Von der Leyen. 
French health authorities also announced today that they will go ahead with their plan to give over-55s the J&J vaccine. French government spokesman Gabriel Attal said the AstraZeneca jab was still an "essential tool" in the country's fight against Covid-19. 
His announcement came shortly after Denmark said it was stopping Astrazeneca's use over blood clot fears raised in connection with both vaccines. The European Medicines Agency says the jab is "safe and effective".
"Denmark's vaccination campaign will go ahead without the AstraZeneca vaccine," Health Authority director Soren Brostrom told a press conference, adding that the availability of other vaccines combined with the pandemic being under control there at the moment meant the inoculation campaign could continue without it.
#Open journalism No news is bad news Support The Journal

Your contributions will help us continue to deliver the stories that are important to you

Support us now
The European Medicines Agency (EMA) said it will make a recommendation on the safety of the Johnson & Johnson jab next week.
The "EMA is expediting this evaluation and currently expects to issue a recommendation next week," it said in a statement, after announcing last week a probe had been launched.
Today we have reached 100 million vaccinations in the EU. A milestone we can be proud of!

We are also accelerating the delivery of vaccines.

We spare no effort to ensure that Europeans can be vaccinated as fast as possible. #StrongerTogether
https://t.co/eK09vYhcnG

— Ursula von der Leyen (@vonderleyen) April 14, 2021
In Ireland, NIAC recommended that the AstraZeneca jab be given only to people aged over 60 after reports of rare blood clotting events which occur in 4-10 cases in every million AZ vaccine doses administered. 
Currently, all AstraZeneca vaccination appointments are cancelled for the rest of this week, except those arranged for certain people over the age of 60. 
AstraZeneca is expected to supply 813,000 doses to Ireland in Q2, while over 600,000 of the single-shot J&J jab was due to arrive by the end of June. 
Earlier today, Liz Canavan, the assistant secretary general at the Department of the Taoiseach, warned that Ireland's low level of vaccination meant the country could face another wave of the virus.
She said: "While significant progress is being made in controlling the disease and in rolling out vaccines, we still have a high level of infections.
"We are dealing with a much more transmissible virus than last year. The absolute number of people fully protected through vaccination remains low.
"This means the risk of Covid is still with us and that Ireland could experience a further wave of infections if public health restrictions are eased too quickly or we don't stick to the plan.
"The priority must remain in the coming weeks on controlling this disease.
"These few weeks are crucial. So far the careful approach is working. We are still on track which means brighter days and further easing of restrictions won't be too far away. We will get there."
- With reporting by Press Association