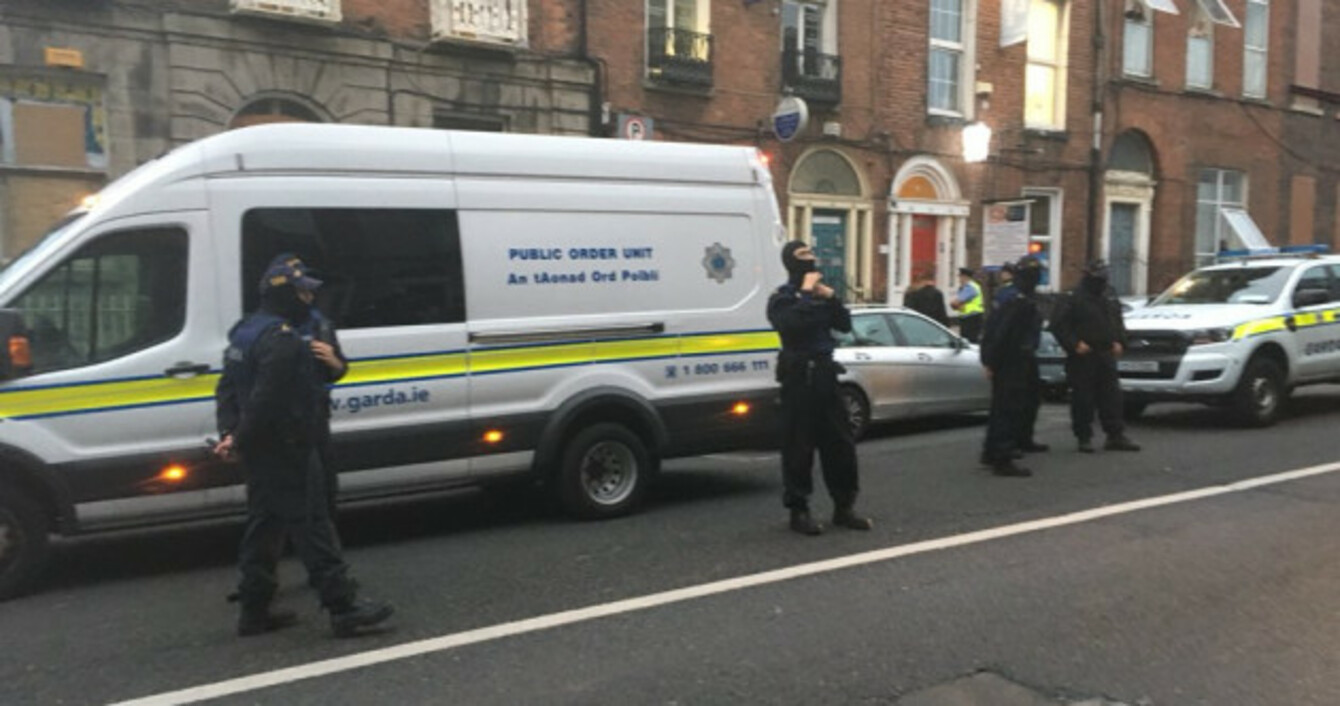 Gardaí on the scene in Frederick Street last week
Image: Sean Murray/TheJournal.ie
Gardaí on the scene in Frederick Street last week
Image: Sean Murray/TheJournal.ie
OUTLAWING THE PHOTOGRAPHY on gardaí on duty would be "grossly disproportionate" and would flout rights protected in the Irish Constitution, the Irish Council for Civil Liberties (ICCL) has said.
Introducing such a ban would "criminalise ordinary members of the public", its executive director Liam Herrick said, adding that it is "not the answer to the challenges that gardaí are called to deal with on a daily basis". 
Yesterday, Minister for Justice Charlie Flanagan said he would be in favour of legislation that would ban photographing of gardaí in the course of their duties.
It comes after events last week, where activists from the Take Back the City group were evicted from the building they'd been occupying on North Frederick Street in Dublin.
A number of gardaí were photographed by both activists and journalists – including by this publication – with their faces covered at the scene.
In the subsequent days there was criticism of the decision by the gardaí involved to wear fire-retardant balaclavas during the operation.
One Facebook page on Friday claimed to have used facial recognition software to identify one of the gardaí involved. In the comments under the post supposedly identifying him, several people used threatening and abusive language.
On Sunday, gardaí said that supports had been put in place to protect the welfare of a Dublin garda following "online threats". 
New commissioner Drew Harris condemned the threats and said that such "intimidation against garda members who are only doing their job to keep people safe and uphold lawful order are completely unacceptable". 
Flanagan: 'Something that can be favourably looked at' 
The Garda Representative Association (GRA) has proposed legislation that would make it an offence to photograph a garda while they are carrying out their duties. When asked whether he was favourably disposed towards this proposal, Minister Flanagan said: "I am".
"I acknowledge the fact that gardaí need to show identification and this is an issue that arose last week and I too was somewhat concerned at images of balaclavas on the streets of Dublin.
"It was disturbing. In fact the resonance of that particular clothing goes right back to a dark period in our history. I didn't like to see it. However I understand there are circumstances in which the gardaí for their own protection need to have fire-retardant masks as part of their uniform."
When asked whether this proposal about a ban on photographing gardaí was something he was prepared to bring to government, he replied: "Yes, I think it's something that can be favourably looked at."
In subsequent tweets, however, Minister Flanagan attempted to clarify his remarks. He said that he believed "transparency is vitally important" and that he supported the use of body cameras for gardaí.
He did add, however, that the "uploading of images of Gardaí undertaking their duties on social media and consequent threats and intimidation is totally unacceptable", and that's why he's concerned. 
'An essential safeguard' 
Liam Herrick, from the ICCL, said that the organisation is "seriously concerned" at the prospect of such measures being introduced. 
"Only a week ago, we witnessed the importance of public access to images of gardaí on duty," he said. "The circulation of photographs of masked gardaí at the scene of a housing rights protest prompted widespread public debate about how An Garda Síochána goes about the policing of protest.
The events of last week demonstrate exactly why the Minister is wrong to suggest that this crucial mechanism of transparency should be outlawed.
He said that freedom of expression and of peaceful protest are guaranteed under Irish and European law and, while criminal harassment or intimidation of gardaí is unacceptable, gardaí are still obliged to police protests in a manner that is necessary and proportionate. 
Herrick went on: "The ability to record police operations during public protest is an essential safeguard to ensure that the gardaí comply with their human rights obligations. Transparency also protects police, in that it provides them with an avenue to demonstrate how they acted to uphold the law in difficult situations."
He added that, "time and time again both in Ireland and abroad", recordings of police behaviour during protests had helped to shine a light on human rights obligations by police actors as well as violations of the law by members of the public. 
Ireland's obligations 
Looking abroad, the Met Police in London say that officers "have no power to stop [members of the public or media] filming or photographing incidents or police personnel".
There is an exception where police can arrest someone eliciting, publishing or communicating information about the armed forces or police where the info is "designed to provide practical assistance to a person committing or preparing an act of terrorism". 
Although it has been tested in court, the First Amendment in the USA grants people a constitutional right to film on-duty police officers in public. 
However, a 2015 law enacted in Spain makes recording and disseminating images of police a punishable offence. 
The ICCL pointed to the guidelines on the Organization for Security and Peaceful Cooperation in Europe (OSCE) which explain the obligation of countries under the European Convention on Human Rights, which Ireland has signed up to.
These guidelines state: "The photographing or video recording of the policing operation by participants and other third parties should not be prevented, and any requirement  to surrender film or digitally recorded images or footage to the law-enforcement agencies should be subject to prior judicial scrutiny.
During public assemblies the photographing or video recording of participants by law-enforcement personnel is permissible. However, while monitoring individuals in a public place for identification purposes does not necessarily give rise to interference with their right to private life, the recording of such data and the systematic processing or permanent nature of the record created and retained might give rise to violations of privacy.