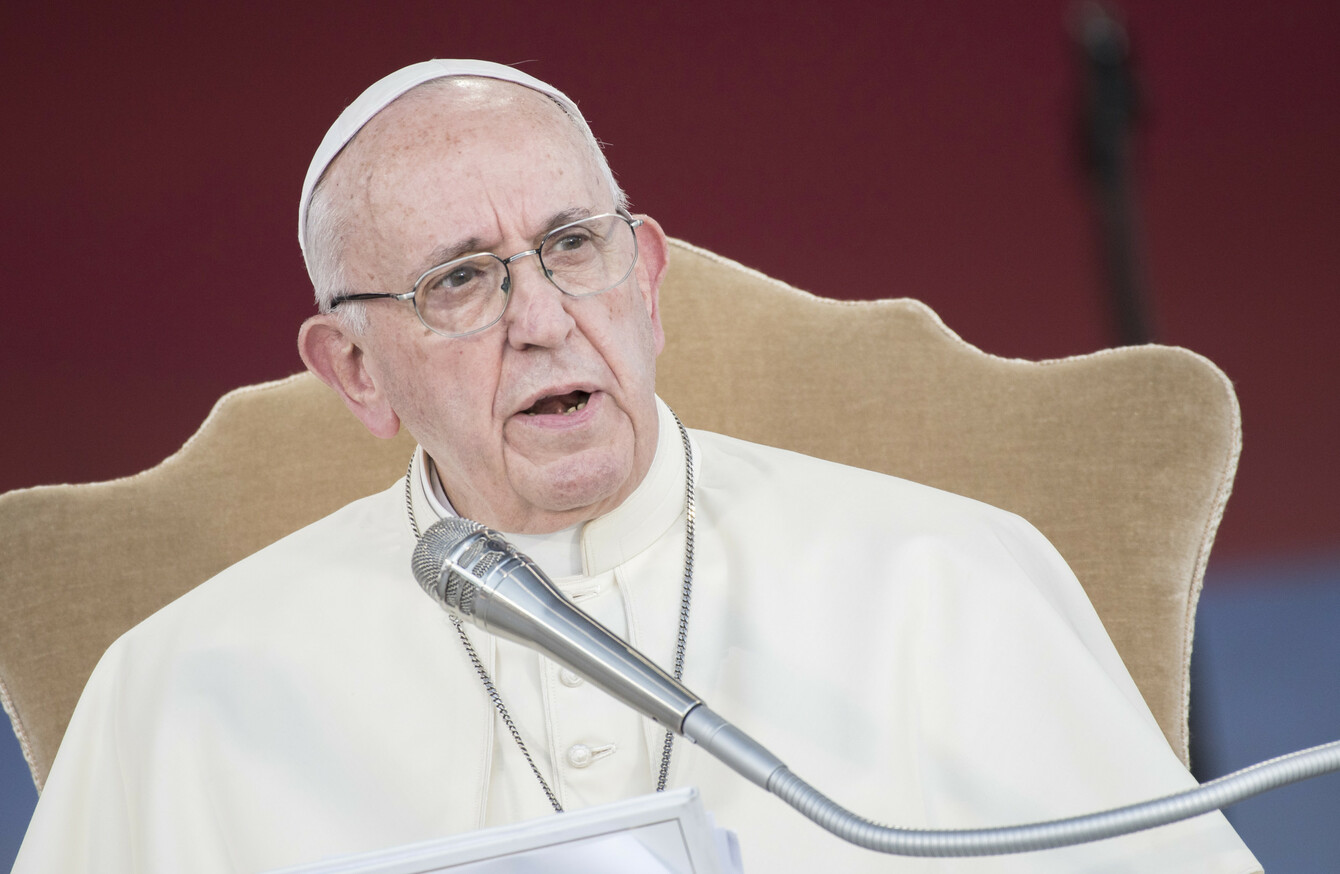 Pope Francis arrives in Ireland on Saturday.
Image: PA Images
Pope Francis arrives in Ireland on Saturday.
Image: PA Images
Updated Aug 20th 2018, 7:32 PM
SURVIVORS GROUP ONE in Four has said it is both "disappointed and frustrated" with a letter emanating from the Vatican today which it said hadn't identified "one single concrete step" that would be taken to hold clerical sex abusers accountable.
Earlier, Pope Francis issued the letter to Catholics around the world in which he acknowledges the "long ignored" pain of victims that has been "kept quiet or silenced".
The letter was issued in response to new revelations in the United States which showed that more than 1,000 children were molested by hundreds of Roman Catholic priests in Pennsylvania.
One in Four's executive director Maeve Lewis said that survivors are "tired of meaningless apologies and expressions of solidarity that do not involve a clear call to action".
'No effort must be spared'
In the letter, the Pope had condemned the crime of  sexual abuse by priests and cover ups that kept the crimes from coming to light.
"Looking ahead to the future, no effort must be spared to create a culture able to prevent such situations from happening, but also to prevent the possibility of their being covered up and perpetuated," the letter states.
The pain of the victims and their families is also our pain, and so it is urgent that we once more reaffirm our commitment to ensure the protection of minors and of vulnerable adults.
Pope Francis seeks forgiveness for the pain suffered by victims and said lay Catholics must be involved in any effort to root out abuse and cover-up.
It is essential that we, as a church, be able to acknowledge and condemn, with sorrow and shame, the atrocities perpetrated by consecrated persons, clerics, and all those entrusted with the mission of watching over and caring for those most vulnerable. Let us beg forgiveness for our own sins and the sins of others. An awareness of sin helps us to acknowledge the errors, the crimes and the wounds caused in the past and allows us, in the present, to be more open and committed along a journey of renewed conversion.
He blasted the clerical culture that has been blamed for handling the abuse crisis, with church leaders more concerned for their reputation than the safety of children.
The Pope wrote: "We showed no care for the little ones; we abandoned them."
The Vatican issued the letter today, ahead of the Pope's visit to Ireland this weekend.
Lewis, however, said that there was nothing in this letter to show that the Vatican intends to put in place "clear laws and protocols that will hold every bishop and cardinal who shield sex offenders and place them in positions where they can continue to abuse children".
"The Pope's visit is very distressing to many survivors, retriggering old emotions of shame, humiliation, despair and anger," she said. " The least they deserve during this papal visit is a clear commitment that the Catholic Church finally intends to deal with clerical child sexual abuse."
A number of demonstrations are being organised to coincide in his visit here to protest what campaigners says is the failure of the church to live up to their responsibilities to abuse victims.
The Bishop of of Limerick Brendan Leahy welcomed Pope Francis' letter to all Catholics today.
He said that the evil of abuse must be rooted out and he asked for Catholics throughout the Diocese of Limerick to spend some time of prayer this Wednesday in support of victims and reparation.
"There are absolutely no words good enough to adequately apologise for the abuse perpetrated by representatives of the Church and the abysmal failure to manage and report cases. There can be no justification for any type of cover up anywhere. Nothing that is said can take away the pain of those who have been abused and of their families.  I completely accept that.  But it is essential that we acknowledge the darkness of what has happened.
"The Pope has spoken before of his deep regret but I think it was important that he issued his letter today.  Straightaway the opening line is striking, 'if one member suffers, all suffer'. It's a clarion call. There can be no let-up in our resolve and compunction to fight a reality that led to what the Pope calls 'atrocities'."