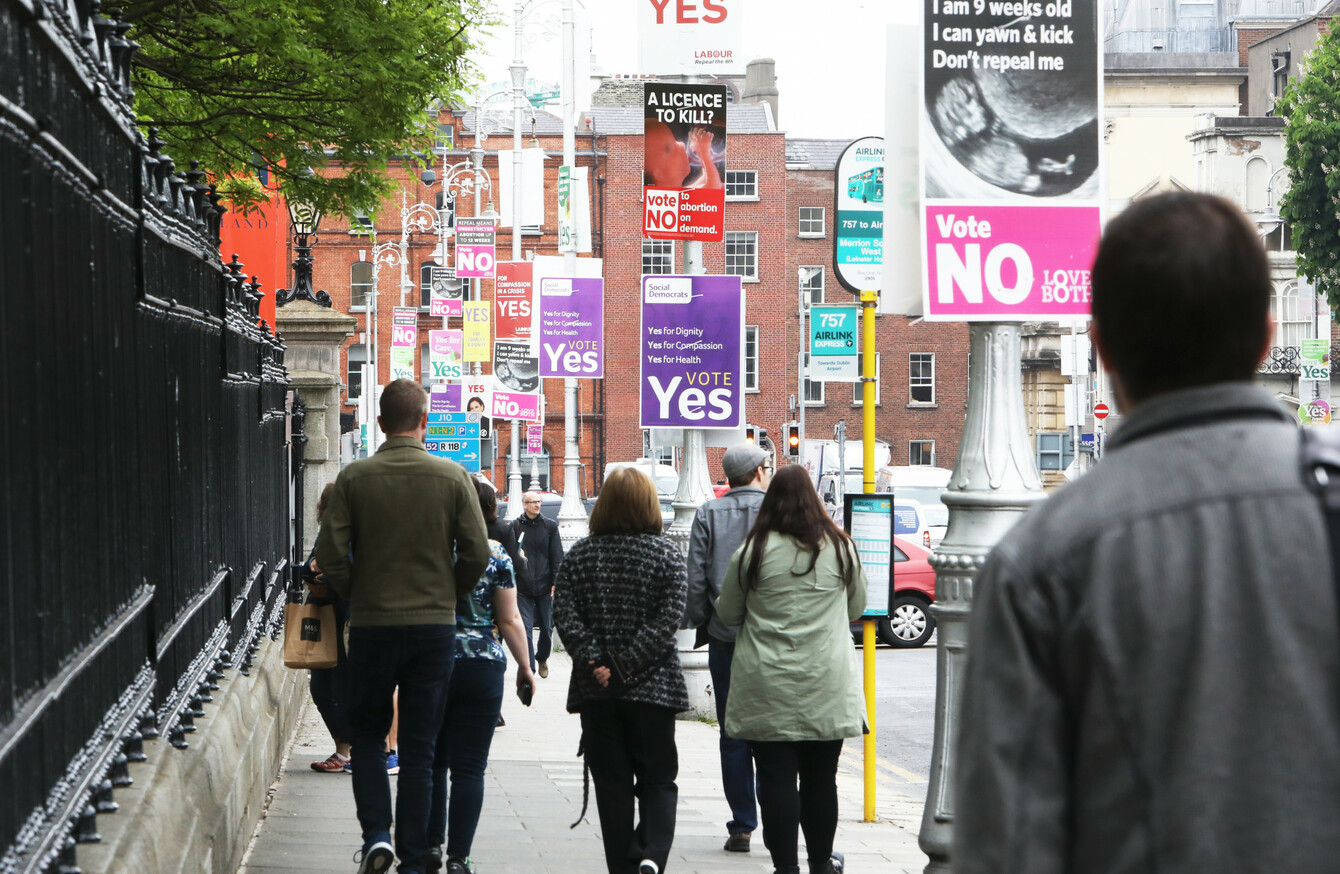 Image: Leah Farrell
Image: Leah Farrell
DUBLIN CITY COUNCIL was bombarded with complaints about the content of Eighth Amendment referendum posters, despite local authorities having no remit to control the content.
Around 150 letters and emails relating to referendum posters were released to TheJournal.ie under a Freedom of Information request which asked for any related correspondence up until 25 April, a month out from the vote and a few weeks after posters were erected.
Many of the complaints were about posters that didn't have the name and address of the printer on them, which is a legal requirement for referendum posters. If it isn't included, the posters are regarded as litter and can be removed.
Almost half of the complaints made were specifically in relation to pro-life posters; all other complaints didn't specify whether the posters were pro-life or pro-choice.
Among the complainants were parents who had suffered a fatal foetal abnormality and wanted posters with graphic imagery removed, parents concerned about the proximity of posters to schools, and an office worker who wished that a pro-life poster be turned so they face outward from their office window.
One man told the council he had a personal reason for requesting a poster to be removed.
"There are posters containing images of foetus which are quite upsetting to my wife and I as we recently lost a baby ourselves," he wrote.
We live in the village and now can't walk to the shops or local area without being bombarded with these graphic and offensive pictures.
Healthcare practitioners at the Rotunda Hospital also asked that graphic imagery and all referendum posters be removed, as it could be distressing to some women.
Poster rules
No authority has been given powers to regulate the information or the content of referendum or election posters.
In the lead up to the Eighth Amendment referendum, campaigners had highlighted the need for some oversight to ensure there isn't misinformation on posters.
Here's what poster rules we do have:
Posters need to have the name and address of the printer on them. Any posters that don't can be removed by local authorities or the Gardaí.
The Referendum Commission has said the content of posters, as it doesn't fall under its remit.
Gardaí can take posters down only when it's shown they intended to cause offence, which sources have said is difficult to prove.
There's also a limited timeframe for posters: they can only be erected 30 days before polling day and must come down seven days after that date.
The complaints
Here are some of over 150 complaints Dublin City Council received up until 25 April about Eighth Amendment referendum posters:
Misinformation
I am a resident of Collins Avenue, Whitehall, Dublin 9. A number of posters have been put up on the Avenue today in support of the No campaign in the upcoming Eighth Amendment referendum. While I have no issue with organisations canvassing for either side of the referendum, these particular posters are grossly inaccurate and construe the issue at had in a biased and untrue manner. I would urge the council to remove the offending posters in order to protect the integrity of the campaign for both sides.
I wish to complain about offensive posters that are littering the north side of Dublin, particularly the Griffith Avenue area. I attach a photo of the poster which also presents false information about how the abortion referendum will introduce abortion at 6 months. I believe these posters are not reflective of how a referendum should be argued. They are offensive, over the top, unbalanced and most especially contain false information.There is an excessive number of them on Griffith Avenue which is beyond the bounds of acceptability for locals and reflect very badly on us when tourists arrive from Dublin airport to be bombarded by misleading and excessive postering. May I request that they be removed so that the electorate are not bombarded with offensive and misleading posters containing fake information. Also, is it possible for the electorate to have some guidelines in relation to postering at times of elections and referendums so that we may have some knowledge of how to prevent excessive postering/littering in our locality in the coming weeks. 
Graphic imagery
I am emailing you today (6 April) to notify you of offensive and harmful content on "pro-life" posters. I noticed that the entire way from Rathmines to Baggot Street along the canal, every single lamp post had a poster, I'm not exaggerating when I say every single one. Fair enough if they want to fight their fight, but the imagery was not okay, the imagery is harmful, offensive and triggering. It should not be on display in public. I am not suggesting that they take them down permanently, I just want the imagery excluded.
One woman submitted a complaint about posters on the side of a van or bus on Nassau Street . It displayed "bloody and graphic images of surgical procedures", the woman said.
The content of the poster is extremely provocative and upsetting to me as a pregnant woman because it shows what I believe to be false information regarding pregnancy. The images caused me distress as did the people displaying them because they caused obstruction on this busy street. There is a shock factor with the posters and they are not suitable to be shown in a public place.
One man asked that "graphic" posters in his local area be removed, as it was causing particular distress to him and his wife.
There are posters containing images of foetus which are quite upsetting to my wife and I as we recently lost a baby ourselves. We live in the village and now can't walk to the shops or local area without being bombarded with these graphic and offensive pictures. They are also placed to a number of primary schools which could be distressing for pupils.
I hope that some remedial action can be taken on this matter. I have no problem with posters from either side of the debate and I realise that posters are part and parcel of a referendum, but I feel this goes way too far in terms of content.
Another couple had a similar experience.
Last year we lost our baby to a fatal foetal abnormality. We had to travel to the UK for a termination. This week (6 April) a poster was put directly outside our house suggesting that our actions are comparable to murder. We find this deeply offensive… and I would like to formally request that they are taken down.
#Open journalism No news is bad news Support The Journal

Your contributions will help us continue to deliver the stories that are important to you

Support us now
Children and schools
There were a number of complaints made about the proximity of posters to schools, including this one from a concerned mother.
The pro-life organisations' posters that have been erected in out area have caused my 9-year-old son confusion and distress. Following discussions with friends, I also know they have had a similar effect on their children, some of whom are as young as seven.
I had a very difficult conversation with my son when he asked for clarification about the messages on the posters, about 'why were they killing babies'. I struggled to answer him in an age-appropriate way. Whatever your opinion about the Eighth Amendment, the blatant presence of these posters here children can see them is so readily wrong. This is an adult issue that should not be foisted upon children.
Another parent, complaining about posters and a billboard in Fairview, said:
My son (aged 7) was so upset when he saw these on Saturday that I reported the issue to the Gardaí. They have my complaint on file and recommended I contact you.
Please note that I have no issue with the No Campaign. It's just the very visual nature of these images is too much, and is reminiscent of the imagery that was used in the 1980s for the same aim. If you are of a certain vintage, you might recall how scary that was?
Another complaint said that the person had been asked awkward questions by their grandchildren, requested that the council look at the posters in their area.
Rotunda hospital
There were two complaints by staff members of the Rotunda Hospital about graphic posters outside the doors of the hospital:
I work in the hospital and I feel that these 'Vote No' posters are very insensitive and could be very upsetting to some of our patients. I think the location of these posters, which display an image of a naked woman with a baby painted on her stomach, are very inappropriate outside of a maternity hospital which specialises in the care of very sick women and babies.
Another, writing on behalf of the Rotunda Hospital, said:
Women attend a maternity hospital for many different reasons and not just for the happy occasion of giving birth to a new baby. Women experience many different outcomes associated with pregnancy, for example, ectopic pregnancies or miscarriage.
For these reasons outlined and more and in the best interest and wellbeing of women attending the Rotunda Maternity Hospital and to avoid unnecessary and unwanted upset and distress for patients, their families and staff, we would like campaign posters for both sides of the campaign removed immediately.
One person said that a "graphic" referendum poster was a road safety hazard.
The imagery, content and message of this particular poster is extremely graphic and shocking. So shocking in fact it completely distracted me from the road; this morning I had to brake sharply to avoid crashing into the car ahead of me. The poster was hung just above a traffic light so there is no avoiding it. Regardless of individual opinion about the referendum, I am sure that many other drivers, pedestrians and cyclists are having a similar reaction.