FROM DECORATING THE tree to going to see the lights being turned on, wrapping presents or going out on St Stephen's Day, different Christmas traditions appeal to different people.
Christmastime is full of fun things to do – and everyone has their own treasured moments that they look forward to partaking in. But what's your favourite Christmas tradition? Can we guess?
Let's see. Answer all the questions to see your result!
You scored out of !
Going to see the Christmas lights being turned on
You like to get your Christmas started as early as possible.
You scored out of !
Putting up the Christmas tree
The earlier the better so you can get Christmas started as soon as possible.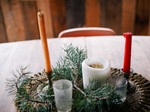 You scored out of !
Cooking the Christmas dinner
You look forward to this for days in advance, planning and anticipating the deliciousness
You scored out of !
Unwrapping presents
You can barely contain yourself until Christmas day - you might even do a sneaky unwrap on Christmas eve.
If you haven't already made it a Christmas tradition, here's a brilliant one for you. The Leopardstown Christmas Festival runs every year from St Stephen's day for four days and is the perfect place to do your post-Christmas socialising. Head to Leopardstown Christmas Festival to find out more.