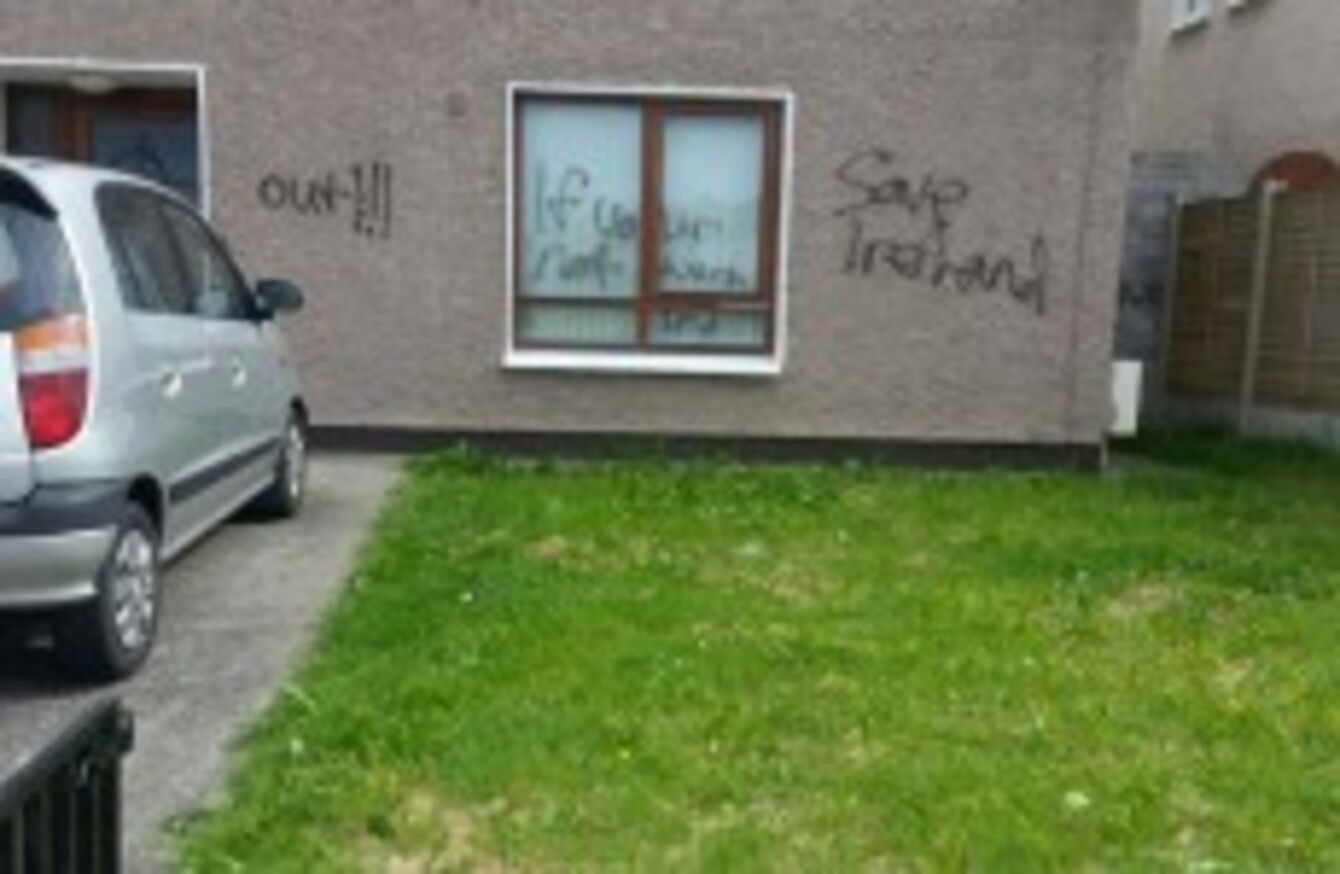 The family home in Dublin which was daubed with graffiti at the weekend
Image: Immigrant Council of Ireland
The family home in Dublin which was daubed with graffiti at the weekend
Image: Immigrant Council of Ireland
THERE HAS BEEN a 'notable' increase in hate speech and racist messages appearing across Dublin over the past five days, according to a group which works with immigrants.
A family home in Dublin was attacked over the weekend with graffiti telling the occupants to leave daubed across the front of the house. The Immigrant Council of Ireland noted that the attack coincided with posters about race issues appearing around Dublin's city centre, and anti-Semitic messages painted onto the shell of the planned Anglo Irish Bank headquarters.
Denise Charlton, the head of the Immigrant Council of Ireland, said that some of the posters which have appeared in the city centre appear to be part of a co-ordinated action.
"Such messages of hate have no place in Dublin and will be rejected by all right thinking people," said Charlton. "It is important that such incidents are not downplayed and are responded to in a serious manner."
She said that there had been eight reported incidents of racism on one day alone this week, and called on public representatives to use "every opportunity" to make it clear that there is "no acceptable level of racism and xenophobia".
The family home was daubed with the message "Out!!! If your [sic] not working Save Ireland" in black graffiti.
Some of the posters in the city centre claim that Irish people have been the victim of ethnic cleansing. Two other posters were pasted onto the windows of the offices of the Immigrant Council over a poster about reuniting families who have been separated by Ireland's strict immigration rules. The poster says "What about re-uniting Irish families".