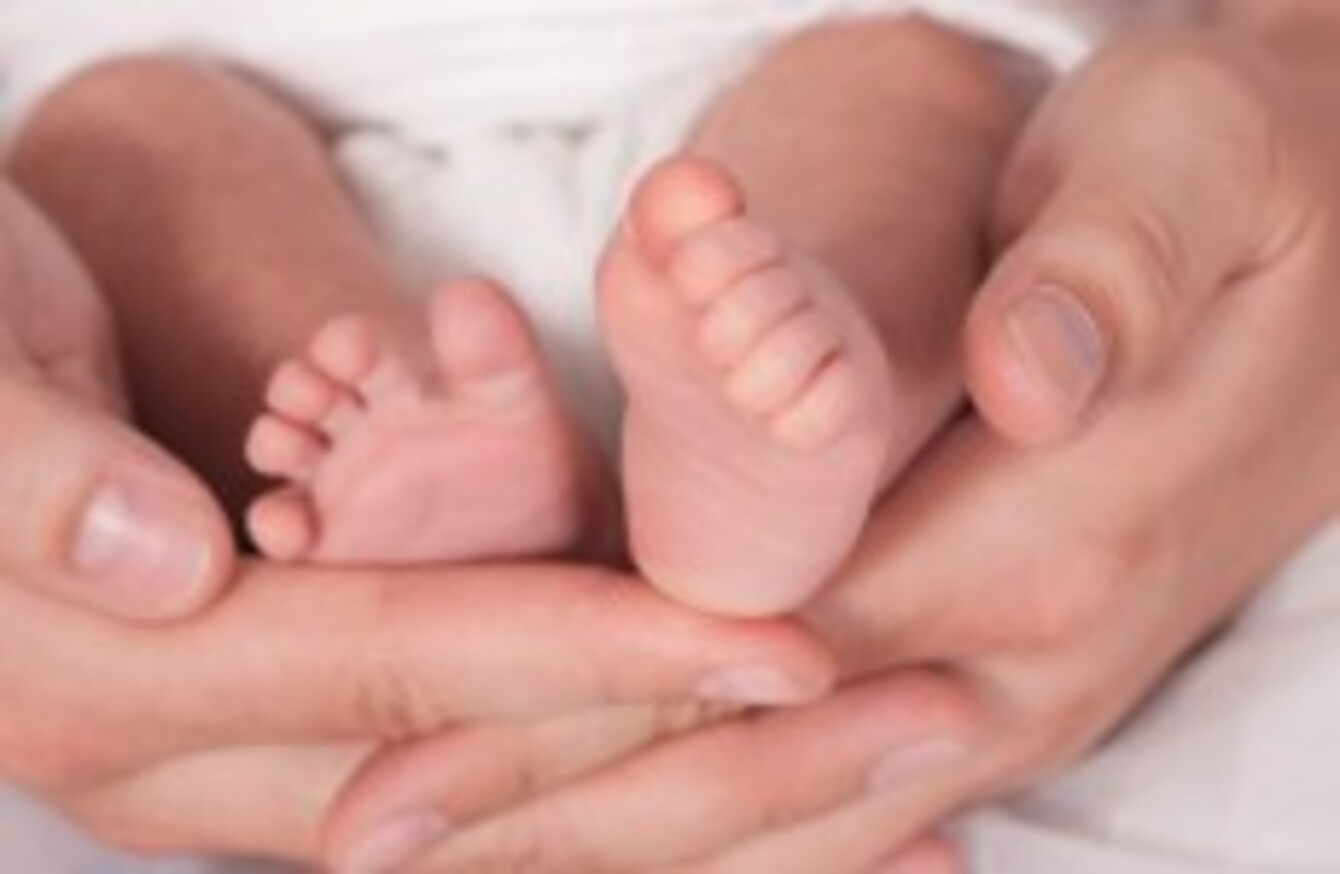 Image: Shutterstock/Umkehrer
Image: Shutterstock/Umkehrer
A new book called, Baby Ava: An Irish Surrogacy Story, tells the story of a couple's struggle to conceive, ending with their journey to a surrogacy clinic in India.
Here Caroline O'Flaherty, who wrote the book with her husband Niall, describes the moment she met the woman who would carry her child:
ON THE THIRD day of our visit we met Nita. For so long I had been gearing up for this moment and now that it had arrived I felt both nervous and excited. Curiosity as to what she was like increased, as well as how we would communicate since she spoke no English, and how we would get on. It was becoming the most important part of the trip.
At the clinic, Dr Hitesh showed us into a private room where Nita was sitting. She was dressed in a beautiful stripped sari with gold trim, with long black thick hair and a red bindi mark on her forehead. Like many Hindu women her nose was pierced and she wore gold earrings as well as her wedding necklace. Aged twenty-eight, she looked much younger, perhaps because she was so petite. From her profile I knew she was about five foot, just a few inches shorter than I was. Accompanying her that day were her two young children, a boy and a girl, and her husband, a vegetable vendor. Like Nita, her husband was equally short with a small thin physique and was smartly dressed in a check shirt and dark trousers. The family lived in Anand, not far from the railway station.
Emotionally attached
On the forum some couples say they didn't get emotionally attached to the surrogate mother, but straight away I did. Of the two of us, I was probably the more emotional. The minute I saw her I started crying. The tears just flowed. God only knows what she must have thought. But the tears were not out of pity or anything, for she was lovely and well groomed, but maybe it was seeing her children. All I could think was how unbelievably good she was. Observing the young boy I immediately thought of my nephew Caelan – they looked about the same age and had the same brown skin colour. But I have to admit I was taken aback to see the children in the room.
'These are her children?' I whispered to Hitesh. 'What do her children think she's doing?' 'Well, I'll ask her,' he replied. And he did. 'My job. I'm doing my job,' Nita replied in Gujarati. Surrogacy was just her day job. I had never considered it like that before. 'Obviously, they don't understand everything,' Nita continued. 'No, they're fine, they just know I'm going to do my job.' 'We are so thankful to you,' her husband added. 'No,' I kept saying, 'I am thankful to you.' 'We want this for you,' he continued. 'We want you to be happy.' 'Gift, gift, gift,' Nita kept saying.
At the mention of the word gift, Bina's words came back to me. She had urged me to remember that in Hindu culture there are so many fertility gods and that to do something like surrogacy, you're giving someone the gift of life. It was an act of altruism, doing good for your fellow human being. Giving birth is nature's greatest gift in your entire life.
Obviously, there's the money end of things too. It's only natural the women want to build a better life for themselves and their families and escape the cycle of poverty. Providing basic needs like food, clothing and shelter in India is a huge burden for some, not to mention funding other family finances or paying off debts. There is no provision for social housing in India and access to quality healthcare is limited, unless you have plenty of money. Nonetheless, these women were so good and generous and, as I saw it, you still have to be a certain type of person to do it.
What people call 'rent a womb' is not all black and white – it's not a case that you go over to India and these people are queuing up saying I need the money. But because I got to know Nita and the other surrogates, that's not the way they are, they're human beings. Most of them would say this is a wonderful gift we are giving. And I don't think they were purely motivated by money and justifying it under the guise of a Hindu gift.
Cost
The surrogate mothers are entitled to a certain amount of money every month – an allowance of about $25 or $50. In Nita's case, she asked would it be possible to have a little bit extra, say $75. The fact that it was her second surrogacy and her mother would have to move into the household to share the childcare duties with her husband complicated matters. 'Now, you don't have to give anything extra,' Hitesh explained, 'it's up to you.' 'Look, she's only asked for a small amount, of course she can have it,' I said. 'We can give you $100 every month,' Niall offered.
The fee for the surrogacy itself was 8,000, which was given in instalments and a lump sum at the end. We had heard that it was the equivalent of about ten years' salary for rural Indians. Nita's husband was a street vendor who sold vegetables and earned about 1500 rupees a month (about €22), which she said was not enough for them to run their household. Her plans for the money were centred totally on her family. The money from the first surrogacy had been kept for her children's education. And we knew from Bina how much Indians value education; it was the best route out of poverty for them. Nita wanted to send her children to college, get jobs in the city and make something of themselves. The second time around she wanted a house, a brick house, and to move from her cramped flat so her children would have plenty of space and security.
Months later I learned more about Nita's situation. In a BBC documentary, she revealed through an interpreter that her in-laws used to harass her at lot. After the birth of her second child, she and her husband decided to live separately from his family. She took a job at a place where they printed wedding cards and worked there for eight years. Then she heard about surrogacy, and after further enquires, brought her husband to the clinic and they discussed it with him. Initially, he disagreed and said such things were not acceptable in their society but finally she convinced him after much persuasion. At the end of our meeting, once everything was sorted out it was time to say goodbye for the moment. I really hoped it would all turn out for the best. When Nita and her family finally left the room, I was kind of wondering what to do with myself. It was all new territory for us with no handbook on surrogacy to guide us.
Surrogate house
My curiosity about the surrogate house began to grow and grow. Even Niall too wondered what it was like. So the next day I asked Uday to drive us to where Nita would be staying, just for a quick visit. I really needed to see what living conditions she would be under for the duration of the pregnancy, all going well with the embryo transfer. Both Niall and I were not immune to the claims that surrogate women were exploited and I half-visualised her tucked away in some field or chained to a bed in a locked room. We were really glad to have made the trip because it put our minds at rest.
The surrogate house we visited was about a ten-minute drive from our hotel. It was a large building on the corner of a leafy street bordered by a head-high concrete wall and wrought-iron gate. Inside was a tiled courtyard and a garden with steps leading up to the entrance. A local tax office in a former life, the two-storey house was bright and airy and a ceiling fan whirred busily inside. Though sparsely furnished there was plenty of life in the building. To begin with, a popular Indian soap opera was on the television as we entered. In one way, it was kind of funny because surrogacy was starting to become a theme in soap operas in India, as well as in films in regional dialects and Bollywood productions. I suppose it had a rich source of conflict and emotional story lines to keep viewers hooked.
#Open journalism No news is bad news Support The Journal

Your contributions will help us continue to deliver the stories that are important to you

Support us now
The families of some of the surrogates were visiting and they sat on the ground or on white plastic chairs chatting while the children looked on obediently. I suppose the one drawback is that the women share rooms so there was nowhere private or secluded for them in the house. Downstairs there were about three dormitories, with three beds or so to each room, while upstairs there was another two or more dormitories. Close together, the beds had brightly patterned bedspreads and there was some basic shelving in the rooms for a few private possessions. In fact, the entire house was neat and tidy, though the pastel pink walls were probably due a lick of paint.
Hive of activity
Downstairs the kitchen was a hive of activity. All the food for the surrogates was cooked for them, everything prepared, so that they got the best of nutritious food, in particular milk and eggs. On the upper floor a door led to a large balcony with a clothesline and a view of the leafy neighbourhood. Despite its basic facilities, by Indian standards the house was luxurious – it had running water and electricity and was comfortable. All their needs were met; the surrogates didn't have to get out of bed for anything. Indeed some of the women likened it to a stay in a hotel.
There was also a mother figure in the house, a nurse they called Auntie, who oversaw the care of the women, whether taking their blood pressures or easing any morning sickness. She was a real mammy of the house and in fact had been a surrogate in the past and so could support them in various ways. Much loved, she was showered with kisses and hugs whenever she brought them tea or did them a good turn. In terms of occupying themselves the women could chat, watch television, sew, use a computer or go for a walk in the fresh air. However at the same time, they weren't free to come and go as they pleased.
Unlike in their own homes, they did not have to get up at the crack of dawn – Nita used to get up at 4am for work – and could lie in with less issues to stress them. It was hard to work out how many surrogate women were in the house. I only had a quick look but it wouldn't have been more than fifteen. I had heard there were usually about fifty surrogates pregnant at any one time, at least when I was there. I later learnt that from 2004 to 2012, nearly 500 babies have been delivered through surrogacy, involving about 370 surrogate mothers.
Baby Ava: An Irish Surrogacy Story, by Caroline and Niall O'Flaherty, is out now and is published by Liberties Press.