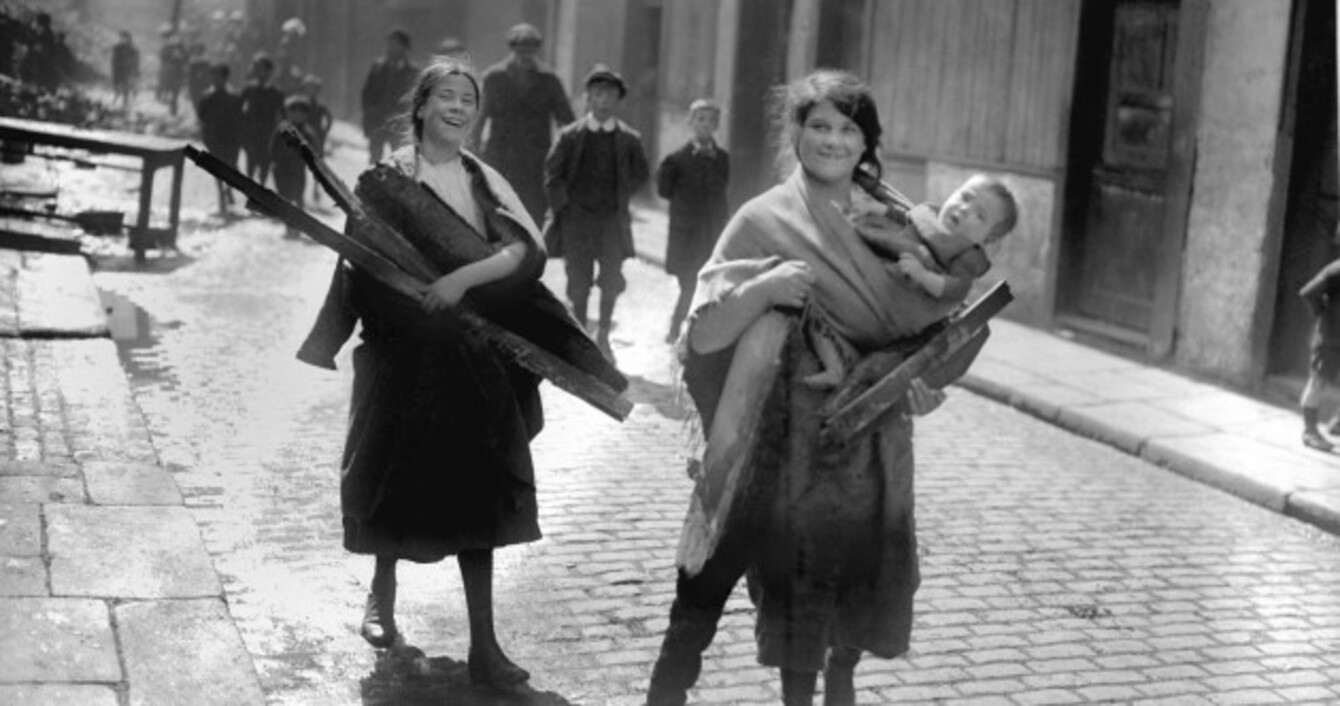 Children carry firewood from the rubble of Sackville Street, now O'Connell Street in the immediate aftermath of the Rising
Image: PA Archive/Press Association Images
Children carry firewood from the rubble of Sackville Street, now O'Connell Street in the immediate aftermath of the Rising
Image: PA Archive/Press Association Images
THIS WEEK, our Voices section is dedicated to the men, women and children whose first-hand experiences contributed to the rich patchwork of testimony that chronicles the events of 1916.
This first-hand testimony, recorded in the Bureau of Military History's collection of eyewitnesses to the Rising, comes from an unnamed member of the Sisters of Mercy who was a nurse at the Mater hospital at that time.
As well as tending to the wounded and dying delivered to the hospital, she later looked after hunger strikers of 1917, including Thomas Ashe who she saw die in hospital following his move there from Mountjoy, where he had been forcefed.
She went on to nurse thousands of Dubliners afflicted by the so-called Spanish flu epidemic of 1918.
Here she describes the abysmal conditions under which hospital staff laboured in 1916 – and details sights which would stay with her for the rest of her life:
During Easter Week, Mr Alexander Blayney (Surgeon) was on duty in the hospital. He never left it that whole week. He was operating day and night.
There was neither gas nor electricity and he had to operate by the light of candles brought from the sacristy. There was no sterilisation of instruments or dressings as there was no boiling water at hand, yet there was no case of sepsis following any of the operations.
We were instructed that patients with abdominal wounds should be brought straight to the theatre without waiting to remove any clothes except the shoes and stockings.
Tuesday was the first day that any wounded were brought. Nine of these were detained and the rest were treated and discharged. One of the badly wounded, Margaret Nolan who was a forewoman in Jacob's factory died that day, as did also James Kelly – a schoolboy who was shot through the skull.
Another schoolboy John (Seán) Healy aged 14, a member of the Fianna whose brain was hanging all over his forehead when he was brought in, died after two days. Another man, Patrick Harris, died also on Tuesday of laceration of the brain.
[The story of John Healy is recounted in more detail in Joe Duffy's Children of the Rising. John lived with his nine siblings, mother Helena and father Christopher - a plumber - on Phibsborough Road. He had already left school to become an apprentice with his father when the Rising broke out.
John tried to join the rebels in the Jacob biscuit factory just off present-day Aungier Street but was apparently sent away by Thomas MacDonagh as he deemed him too young.
His family believes though that MacDonagh gave John a message to deliver regarding an ambush at the bridge in Phibsborough but he was shot near there, and a plaque in his name can be seen at what is now Doyle's corner, off the North Circular Road, just a short distance from John's family home.]
Source: TheJournal.ie/YouTube
In the next excerpt in the nurse's testimony, she hints that her and other medics' sympathies lay with those they saw injured in the conflict, not just civilian casualties but also wounded Volunteers:
Another wounded man that was brought in on the Wednesday was Patrick McCrea. He was suffering from pellet wounds in the hand, backside and leg which he told me he got in the Post office fighting. His wounds being slight, he was sent out of the GPO with a despatch.
He then got shelter somewhere and was brought to the hospital for treatment covered up in a load of cabbage.
(The following is an excerpt from McCrea, visible in his witness statement here.)
Almost immediately a G man called McIntyre came to the hospital. He identified McCrea and took up his position on the corridor outside the ward to keep him under observation.
He did not even go out to get his meals and I was unwilling to supply him with any. One of the nuns thought it a pity not to give him something to eat and brought him to the pantry. The students made various suggestions for dealing with McIntyre, including chloroforming him.
In spite of McIntyre's vigilance McCrea managed to get away safely on the 4th May. While McIntyre was in the pantry having his dinner, one of the sisters who had made all the necessary preparations beforehand, got the key leading from the Pathological Department to the street. She took a nurse, a very fine girl, called Máire O'Connor from Ballybunion into her confidence. The latter brought McCrea along the corridor through the mortuary to the exit door, let him out and locked the door behind him.
The whole thing did not take five minutes and the sister replaced the key in its lock without its having been missed. McCrea was afterwards an active Volunteer and I heard he was in the armoured car that tried to rescue Seán MacEoin from gaol.
(McCrea confirms the nurses' help in his escape here):
On Wednesday the numbers of wounded increased, 21 being detained. Two of them were already dead when brought in and six died in the course of the day. Twenty-one wounded were detained for treatment on Thursday. Seven of them died within a week and another on the 14th May.
Eight of the nine wounded brought in on the Friday and who were detained for treatment, died in the hospital. Only eight were detained on the Saturday. One of these was already dead and another insane. The latter was removed to the Richmond Lunatic Asylum after a few days.
Only one wounded man was detained for treatment on Sunday.
Practically all the wounded men who were brought in were Volunteers, but very few of them were in uniform. There was at least one looter brought in. He was very drunk and was found wearing a couple of suits of clothes and was in possession of many other accessories including a toy revolver which was large enough to be taken for a real one.
Find more extraordinary eyewitness accounts like this in the Bureau of Military History archives here.