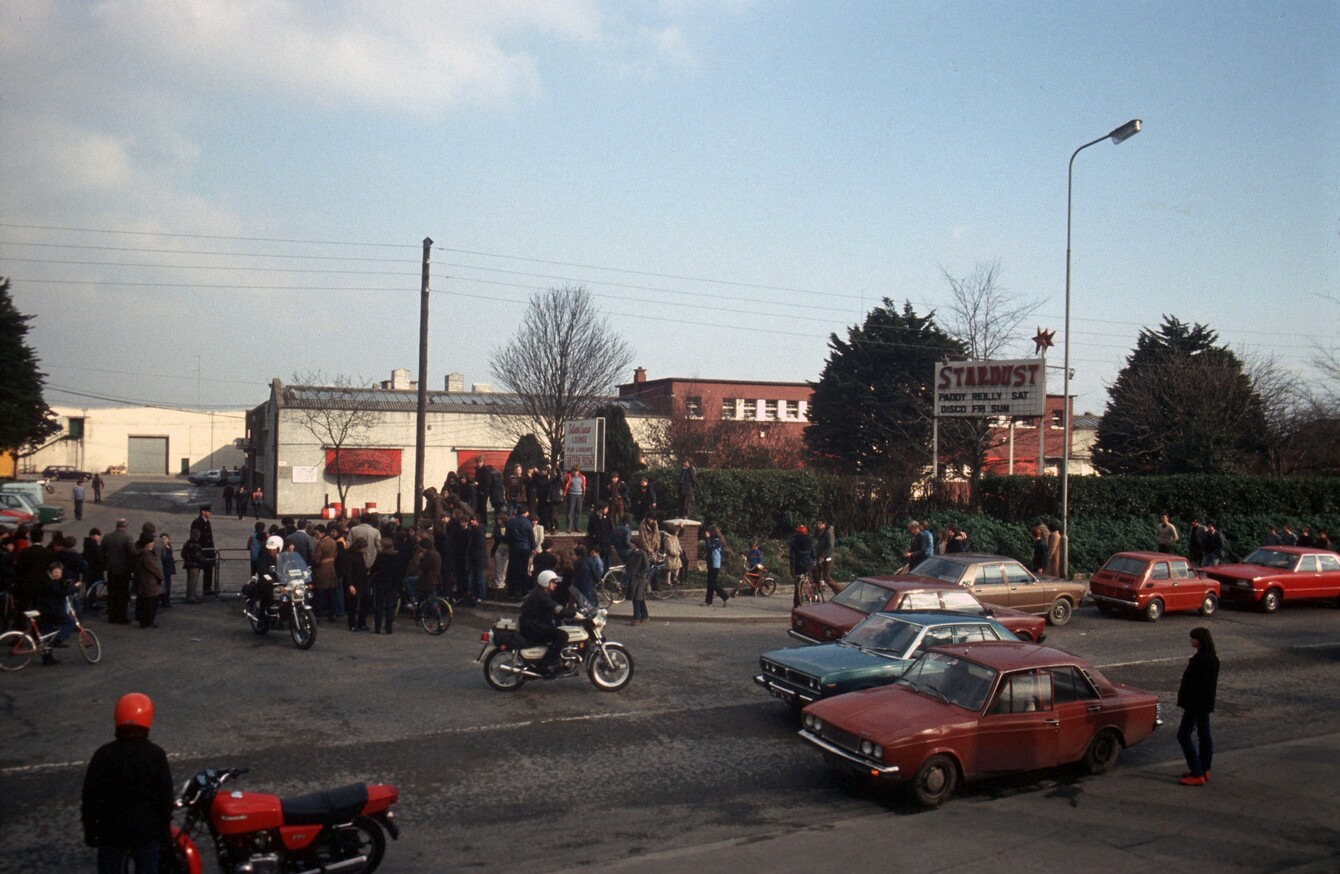 Dave Fitzgerald was a firefighter driving an ambulance in north Dublin in the early hours of Valentine's Day, 1981 when the Stardust club went on fire. He spoke to Sean Murray for the Stardust podcast. Here is a transcript of part of that interview. 
When the call came in, I was on an ambulance and we were out in Darndale, which is very close to the Stardust.
It was a false alarm so we were on our way back to Buckingham Street fire station.
We might have been two, three minutes away from the Stardust when we were told there had been a lot of calls about a fire there, so we should go down and check it out. There was a fire engine on the way.
So the ambulance just turned a corner and we were there. And so we were the first firefighters/paramedics at the fire at the Stardust that night. And about a couple of minutes later, the first fire engine arrived.
Not an awful lot of flames
When we got there, there wasn't an awful lot of flames.
There was lots of smoke coming out the windows and what looked like hundreds and hundreds of kids just running out to us. I got maybe 200 metres away from the building and I couldn't go any further with the amount of people running out.
And everything was just chaos. Everyone wanted to jump into the ambulance, so many of them were injured. And some of them were badly injured.
The senior man with me was Paddy Cunningham. And you know, we'd never experienced anything like this. We've seen some tragedies in seven years [since I'd become a firefighter] but not on this scale.
There were at least 10, 12, maybe more people in the back of the ambulance. Some were badly injured. All that we could do was to try to get the people who weren't injured out so that we could try and get moving.
I think we got about seven or eight people out. Fire engines were arriving at that stage. And the ambulance wouldn't move. It just wouldn't move. It was down on its hunkers as such on the suspension, which was completely down. There was just too many people in the ambulance. I had to go back, jump back out.
And if you can imagine, it was like coming out of Croke Park. There were just hundreds and hundreds of people all around me just kind of pulling me to say 'I want to go on the ambulance, I want to go on the ambulance'.
I was being pulled and kicked and trying to get back to the back of the ambulance to try and get people out.
'Can you look after my girlfriend?'
I remember one person just kept poking me from behind. I was being pulled and it was just chaos and this guy just kept poking me. I remember turning around to tell the fella… and he was just standing there.
And it's terrible.
He had his girlfriend in his arms and handed her straight out to me. He just kept saying to me, 'can you look after my girlfriend'. I just looked down and there was this kid who was, I don't know, 18 or 19. Badly burnt.
And I knew she was in serious trouble. And I couldn't believe it. I just took her off his hands and then put her on the floor of the ambulance. At that stage, there were a lot of ambulances. There was a lot of everything.
But I was kind of hemmed in.
I had to get four or five cops to kind of push my way to the ground to get my ambulance out.
I remember going into the hospital – to the Mater hospital. It was completely full and we were to go to it.
I was in there and I told this nun that I needed her to come out and have a look at this girl, and she was just saying no, you got to go to another hospital.
The doctor was there and he ran down. And he just told me to bring her in. I brought her in and carried her in. There was no time for stretchers, just had to carry the young one in and he just told me to put her down under the mattress and bring the rest of people in.
And before I got back into the ambulance she passed away.
Then we were just gone up and down to to the hospital all night from from the scene. 
You can hear Dave Fitzgerald talking about what happened that night in Stardust, which is available wherever you get your podcasts.