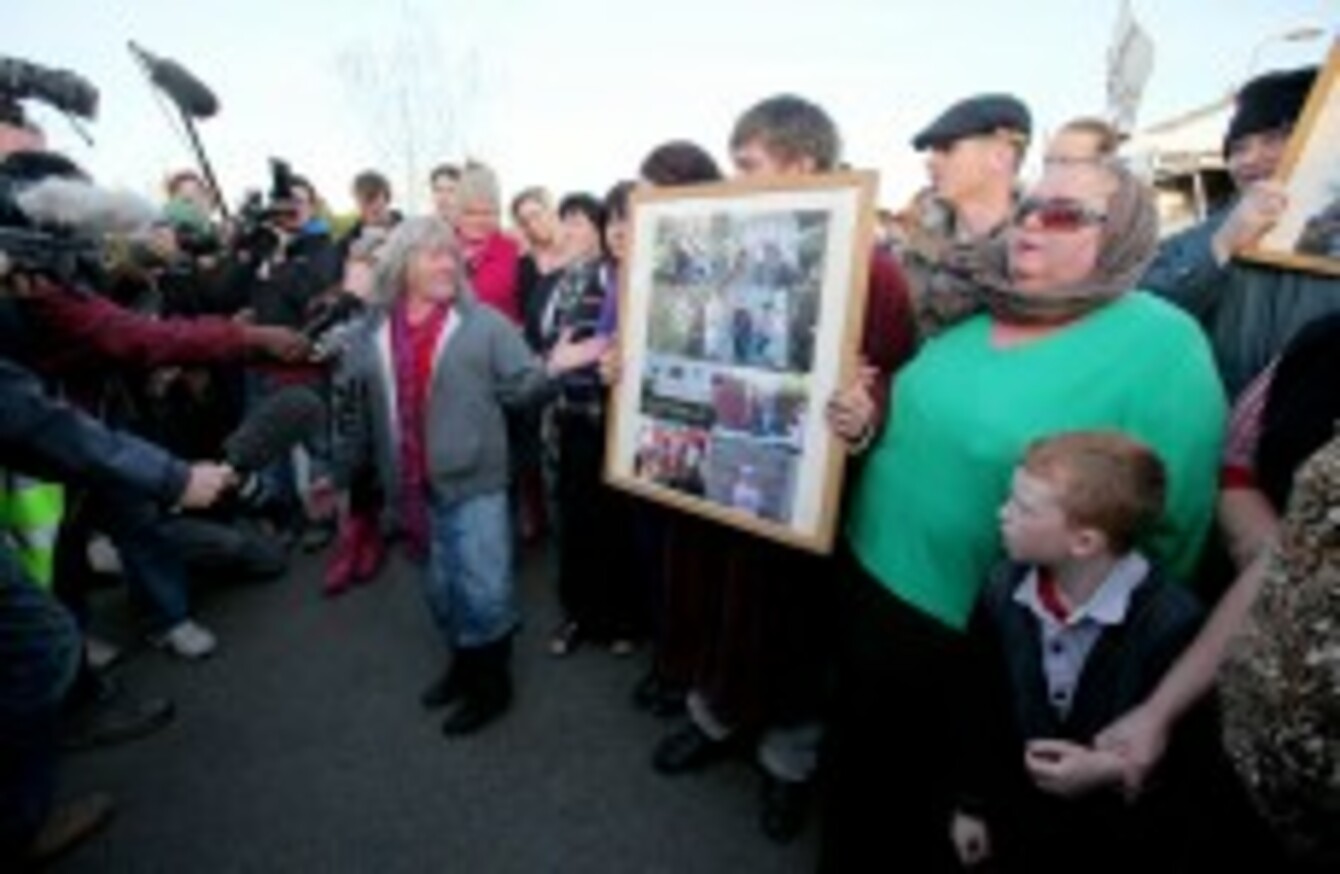 Kathleen McCarthy (grey jacket) talks to the media as travellers and their supporters have walk out of Dale Farm
Image: Gareth Fuller/PA Wire/Press Association Images
Kathleen McCarthy (grey jacket) talks to the media as travellers and their supporters have walk out of Dale Farm
Image: Gareth Fuller/PA Wire/Press Association Images
THE LAST REMAINING residents of the Dale Farm travelling site and their supporters have walked out peacefully today.
As bailiffs finally began the eviction process, dozens of people slowly walked out of the illegal part of the Essex halting site just before 5pm this evening, BBC News reports, chanting "Save Dale Farm" as they exited.
It followed yesterday's violent scenes which were sparked after police entered the site and clashed with protesters protecting the travellers who had remained on the UK's largest illegal halting site, which was the subject of an eviction notice from the local council.
Yesterday morning, scuffles broke out and caravans were set alight as protesters threw bricks at police who responded by using tasers on some protesters.
Thirty-nine people were arrested yesterday, all of them protesters, according to police.
Today authorities worked to remove a 40-foot scaffolding tower at the site entrance as well as six people who were chained to barricades before bailiffs entered.
As the final barrier preventing bailiffs from entering was torn down, Kathleen McCarthy, who has taken on the role of voice of the community, led a walk out, telling the Guardian: "It's an emotional day. I'm sad but so be it, God will protect each and every one of us."

Another traveller Marie McCarthy was asked where they would go now and responded by telling the paper: "We go on the road to nowhere, that's where we go."
Most residents will relocate to Oak Road on the neighbouring legal camping site, according to Press Association. Some are expected to disperse across Essex and the surrounding region.
The only people who will remain on the site aside from the bailiffs are legal observers, who are required to make sure that laws are being complied with.
Travellers advocacy groups said that the situation could have been avoided through further mediation and negotiation. The eviction being carried out by Basildon Council is costing some £18 million and it follows a 10-year legal battle.
Dale Farm was initially a legal halting site but subsequently a number of extra caravan plots have gone up without planning permission and some local residents have complained.