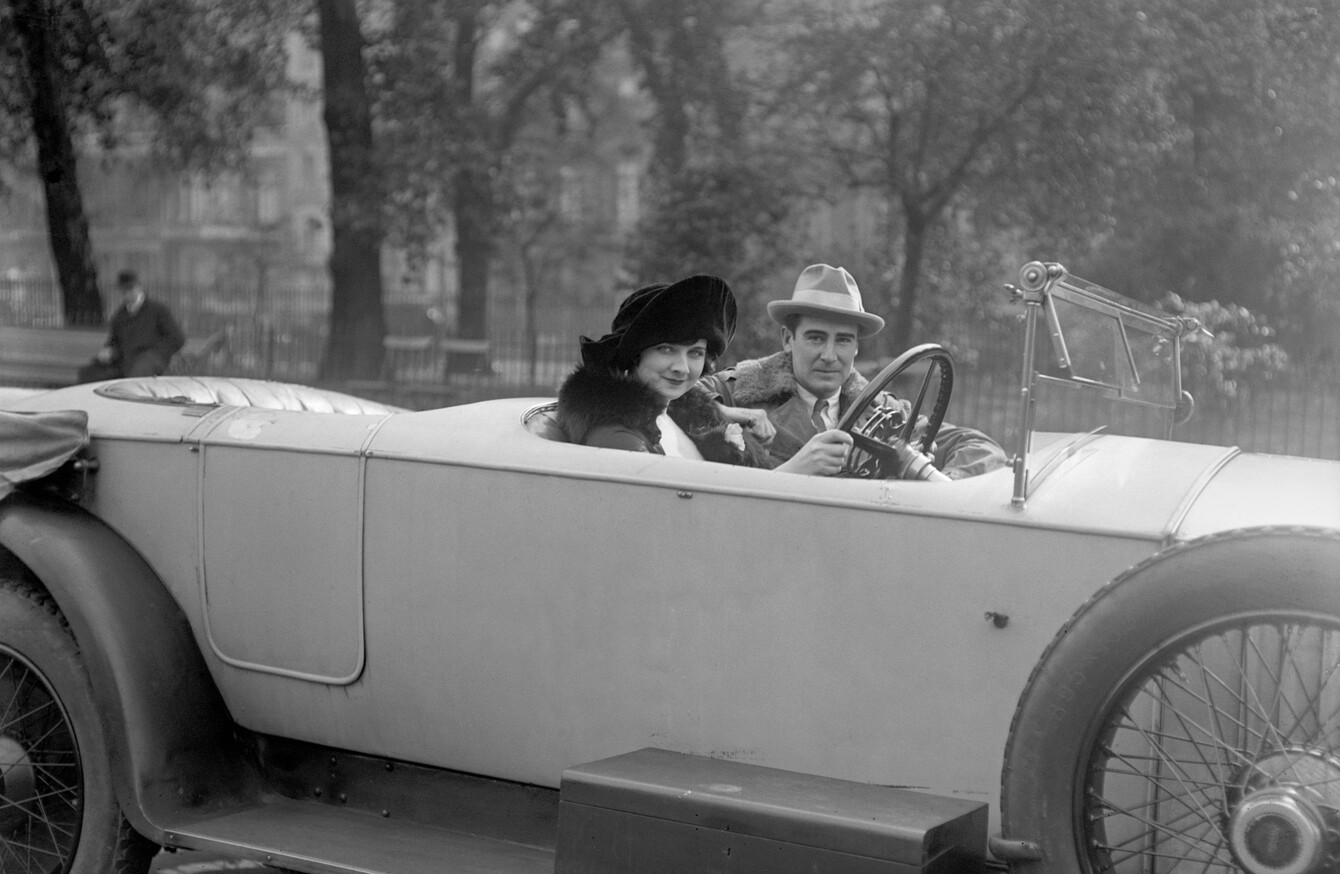 Film director Rex Ingram with his wife , actress Alice Terry, as they go for a drive through Hyde Park, London.
Image: PA Archive/PA Images
Film director Rex Ingram with his wife , actress Alice Terry, as they go for a drive through Hyde Park, London.
Image: PA Archive/PA Images
IF YOU'RE NOT a student of film or a movie buff, chances are you haven't heard of Rex Ingram.
The Irish director was huge in early Hollywood – so big that he has his own star on the Hollywood Walk of Fame, and that he can count Martin Scorsese among his fans. Yet here in Ireland, he's almost a forgotten name.
But in honour of this year's St Patrick's Festival, his work is being brought to a new audience. The festival is set to screen his 1921 silent film The Four Horsemen of the Apocalypse at St Patrick's Cathedral, with a live score written by Matthew Nolan and Barry Adamson.
From Rathmines to Hollywood
Rex Ingram was born Reginald Ingram Montgomery Hitchcock on Grosvenor Square, Rathmines, but due to having a clergyman for a father he spent years living in Kinitty, Co Offaly. At the age of 18, he moved to the USA. It was there that he began working in the film industry and made his mark in Hollywood.
Trinity College Dublin lecturer Dr Ruth Barton has literally written the book on Ingram, called Rex Ingram: Visionary Director of the Silent Screen.
"One of the reasons for writing the book is he is the most successful Irish film director we've ever had probably and yet no one has ever heard of him," Barton told TheJournal.ie. "He didn't make any Irish films, but his film The Four Horsemen was a blockbuster by today's terms – it made millions of dollars and that was in the 1920s. It was not his only blockbuster, and he was considered to be one of the best directors in Hollywood during the 1920s. He made these fantastically successful films."
The Four Horsemen of the Apocalypse was based on the Spanish novel of the same name by Vicente Blasco Ibáñez, and adapted for the screen by one of Hollywood's first female screenwriters, June Mathis. The film starred Pomeroy Cannon, Josef Swickard, Bridgetta Clark, Rudolph Valentino, Wallace Beery, and Alice Terry.
His other films included swashbucklers, and big historical epics. "And he was just ginormous – and yet somehow he's gotten completely forgotten about," said Barton.
One of these reasons is because he worked during the silent era. But the second, and perhaps most important, is that his films are very hard to get hold of and to screen. When Barton was launching her book, she had to buy a laser disc copy of a film of his, and get a laser disc player so that it could be played.
"If the films are not being screened, people don't know about them," she said.
But the other thing she believes is that he made "arty films". "In the 1920s there was perhaps less of a distinction between art cinema and commercial cinema," said Barton. "He made commercial films that were arty."
This meant they weren't necessarily all fast-moving, but some of them "have kept the pace of time", she said.
"He always thought the general public would go see artistic films and there shouldn't be a difference. I find that quite interesting."
Sometimes films pop up and it goes to prove that people will go see art films and you don't have to be arty. They will go see Guillermo Del Toro's film The Shape of Water, for example. That is part of Ingram's visionary quality – that film was an artform.
Why did Ingram go to the US? "He moved because he failed to get a place at Trinity, which was [seen as] a disgrace," said Barton. "He failed to get in, and his mother had died [when he was 15] and he felt very bereft and lost at her death as he was very close to her. He emigrated for various reasons."
'He was a complete control freak'
He left Ireland in 1911, and moved to Long Island in 1913. It was there that he saw the film A Tale of Two Cities, which made Ingram fall in love with cinema. He began working in a medial job with the Edison company, and even starred in a few films.
"He started mucking around in the early cinema industry and he was there really at the very beginning of film," said Barton.
But when he eventually became a director himself, he fit well into the stereotypical mould. "He was a complete control freak and kept falling out with people. He wanted films to look exactly as he wanted them to be," said Barton.
The film that made his name was The Four Horsemen – and it also made Rudolph Valentino's name. "This gave him his name and then he made a series of films – another one with Valentino and a few others. He was really discontented in Hollywood and it was beginning to become much more controlled in terms of what you could do," said Barton.
"He moved to Nice in France and set up a studio there. He was really able to do what he wanted in Nice. He made a succession of films there."
From silent to talkies
But as Hollywood moved into the era of the 'talkies', Ingram's career suffered. "When sound came in 1928 he didn't transition well to sound or to colour. He didn't like it. He didn't or couldn't keep up with the changes in the film industry," said Barton.
He had taken to travelling to North Africa from Nice, and then converted to Islam to go travelling. "He dressed up as an Arab, speaking Arabic, and went travelling around with tribes and sheiks and had an incredible life."
But due to illness, he returned to Hollywood, where he died in his 50s.
Did Ireland have interest in what he was up to in Hollywood? "For sure," said Barton. "For my book I was doing research reading copies of the Irish Times, and there was a huge interest in him. The film Four Horsemen played here with full orchestral accompaniment. There was a lot of coverage of him and how successful he had been."
"We had somebody who was super successful and we've failed to celebrate him," added Barton. "I was in touch with his family and they'd love to have him a bit more recognised."
But unless you can see his films, it's hard to stoke that interest.
There are plans afoot for a documentary on Ingram, said Barton, which would help to increase the interest in him. One of his biggest fans is Martin Scorsese, whose editor Thelma Schoonmaker's former husband Michael Powell (of Powell and Pressburger) did his apprenticeship with Ingram in Nice.
'We're bringing him home'
Karen Walshe, who's artistic director of the St Patrick's Festival, explained why they decided to bring this Rex Ingram film to a new audience.
She said that Matthew Nolan, who co-created the score, was the brainchild behind the Ingram show, which was borne from his passion for silent film.
"The theme of the festival this year is 'home' so we are going to look at all the different perspectives on home," she explained. "We're looking at home from a close-up narrative of Ireland today around the city – stories from homelessness to how to get a mortgage."
"What I wanted to do under the banner of home was to bring [Ingram] home."
"It was so difficult to get screening rights for the film," she added. The cost was much more than it usually is for film screenings.
Meanwhile, Nolan said that it was "quite the responsibility" to score the film. "Our ambition here is to create music and even a sound world that is more restrained, understated, yet consistently echoes the core themes of the movie as well as Ingram's highly refined visual sensibility," he said.
"There is a painterly quality and stillness in the cinematography here as well as a melancholic ambience that continually grounds our writing process."
What makes this particularly exciting is having someone of Barry Adamson's calibre on board. His experience working with the likes of David Lynch, Oliver Stone, Derek Jarman as well as Nick Cave will bring something quite unique to the project.
Special attention has also been given to the screening of the film, with the festival working with a company that supplies a special screen suitable for this type of film, which itself will be placed up high to avoid people not being able to see properly.
"Everybody will see the film really clear, at perfect height and surround sound in the cathedral," said Walshe.
As part of the festival, the entire event will also be performed in Manchester the next day.
The Four Horsemen of the Apocalypse (1921): Screening & Live Score Performance, directed by Rex Ingram with live musical accompaniment by Matthew Nolan, Barry Adamson (UK), Seán Mac Erlaine, Adrian Crowley, and Kevin Murphy: Thursday 15 March, tickets €24.00, at St Patrick's Cathedral.