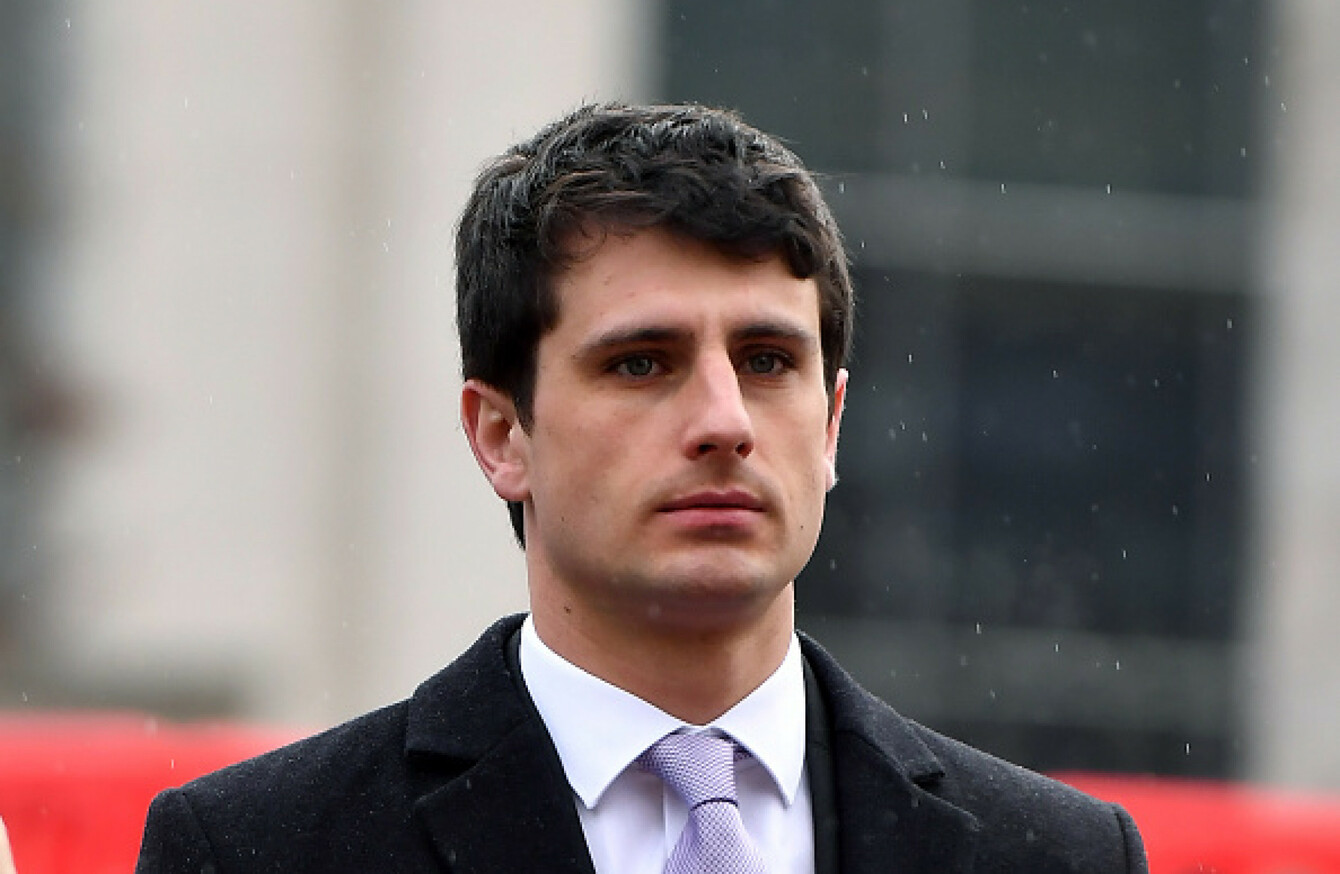 Blane McIlroy arrives at Belfast Laganside Court.
Image: Charles McQuillan/Getty Images
Blane McIlroy arrives at Belfast Laganside Court.
Image: Charles McQuillan/Getty Images
Updated at 6pm
A FRIEND OF Ireland and Ulster rugby players Paddy Jackson and Stuart Olding was today accused of providing a "preposterous account" of events to police investigating a rape allegation.
Blane McIlory took to the witness stand at Belfast Crown Court, where he gave his account of what happened in the bedroom of Jackson's home in the early hours of June 28, 2016. From Royal Lodge Road in Belfast, the 26-year old has been charged with and denies exposure.
McIlroy rejected suggestions he used force and blocked the doorway to try and stop the then 19-year old leaving the bedroom and instead makes the case that any sexual activity was consensual, and came to an end when he couldn't find a condom.
"Complete fantasy island"
His version of events was described as "preposterous" by Crown barrister Toby Hedworth QC, who branded his account as "complete Fantasy Island." The prosecutor also accused McIlroy and his co-accused of meeting and getting their stories straight, but told McIlroy "you got your lines wrong … you have Stuart Olding's false version of events."
The jury has already heard evidence from the woman at the centre of the case, who claimed she was raped from behind by Jackson (26) whilst being forced to perform oral sex on Olding (24), from Ardenlee Street.
She said that when McIlroy entered the bedroom naked and with his penis in his hand demanding she have sex with him. She said "how many times does it take for a girl to say no before it sinks in."
The 21-year old student said at this point, her flight instinct kicked in and she fled the room, and Jackson's Oakleigh Park home, in a distressed state.
Under questioning from his barrister Arthur Harvey QC, when asked to describe the mood at the afterparty in Jackson's Oakleigh Park home following a night out in the VIP section of Ollie's, the accused said: "It was good fun. Everyone was dancing around and chatting to each other."
"Any possibility of a threesome?"
McIlroy claimed that after 4am, he and Rory were the only ones left in the living room, as everyone else had either gone home or upstairs.
Exactly one minute after a taxi arrived to pick up two girls from the party, McIlroy sent a text to Jackson saying "is there any possibilty of a threesome?", which was unanswered.
He said he sat downstairs with Rory Harrison for a while before heading upstairs to go to bed. McIlroy claimed he opened Jackson's door, saw his friend and the woman naked in bed, then sat at the edge of the bed and said "what have you two been up to?"
McIlroy claimed he and the woman started kissing, then she instigated sexual activity by putting her hands down his boxer shorts and masturbating him. He said when he stood up to take his jeans down, she then started performing oral sex on him for around ten seconds.
Confirming Jackson was also lying on the bed, McIlroy said she asked if anyone had condoms, he left the room to look, and when he returned to the bedroom, she was getting dressed.
When asked by Harvey "did you force yourself upon her at any stage?", McIlroy replied "no, not at all." And when asked if the woman ever said "no or stop", he replied "no, never."
Mr Harvey asked if there was any conversation between the three of them when he returned to the bedroom, to which he said: "Yeah, I said I couldn't find a condom and she said 'it's fine. I should go. It's late.'" And when he was asked by his barrister if she said anything else, with McIlroy replying "She said 'I don't usually have one-night stands.'"
McIlroy was questioned about a text he received from Harrison, who took the woman home in a taxi and who told his friend she was "in hysterics … wasn't going to end well."
When Mr Harvey asked McIlroy what his reaction to Harrison's text was, McIlroy answered: "I didn't, I honestly didn't take it seriously. I saw (the woman) leave and I knew she was not in hysterics."
Harrison (25) from Manse Road, has been charged with perverting the course of justice and withholding information – charges he denies.
Whatsapp
From the witness box, McIlroy was also questioned about text and WhatsApp messages – specifially a message he posted alongside a picture of himself and three girls who attended the afterparty at Jackson's which he captioned 'Love Belfast Sluts.'
Telling the jury of eight men men and three woman he posted the message to a WhatsApp group called 'The Juicers' which consists of friends from America, McIlroy said "I was just being stupid. It was a silly comment to make and the obviously weren't"
When asked about the language used in these messages – which also refer to the girls as 'brasses' – he answered "It's pretty stupid and idiotic. I'm not proud of it, when you read it back."
And when Mr Harvey said it has been suggested that the four men met in a cafe on the Ormeau Road on the afternoon of Tuesday June 28 "in order to concoct a lying account of what happened", McIlroy said "no."
Both Olding and Jackson attended Musgrave Park police station two days after the alleged sex attack.
When asked by Harvey what he did on the evening of June 30, when police called him and asked him to also come to the station, McIlroy said: "After the police phoned me, I went into the living room and basically told my parents everything that had happened from Paddy's house to the next day. My Dad just said 'go and tell the truth', and that's what happened."
He also admitted deleting five texts between him and Harrison which mentioned the woman. When asked why, he said: "When the police phoned me, I just panicked. I thought they didn't read well and I deleted them, but in hindsight I shouldn't have."
"Has the penny not dropped?"
The account he gave to police – which he repeated to the jury – was branded as "complete Fantasy Island" by the Crown barrister.
This week, the jury has heard inconsistencies regarding what occurred in Jackson's bedroom from Jackson, Olding and McIlroy.
Under cross-examination from Hedworth QC, McIlroy was asked "has the penny not dropped that even your own friends have suggested your story is wrong?" This was rejected by the defendant, who said: "I have told the truth from the word go."
Pointing out that at no stage in her evidence did the woman suggest there was any sexual activity between her and McIlroy, Hedworth then asked McIlroy "do you have any idea how preposterous your account is?" Again, McIlroy said he was telling the truth.
Hedworth accused McIlroy of giving Olding's "false version of events" to police, telling McIlroy "you never had any of this sexual activity you described." The prosecutor also suggested that his "hatched account … this put-up job of a defence" was "coming apart at the seams". McIlroy replied "that's not correct."
Hedworth said McIlroy's use of the term 'brasses' encapsulated how he felt about the women at the party that night, and that he viewed the complainant as "there for your own sexual gratification." Again, McIlroy rejected this, saying "that's incorrect."
Comments are disabled as legal proceedings are ongoing