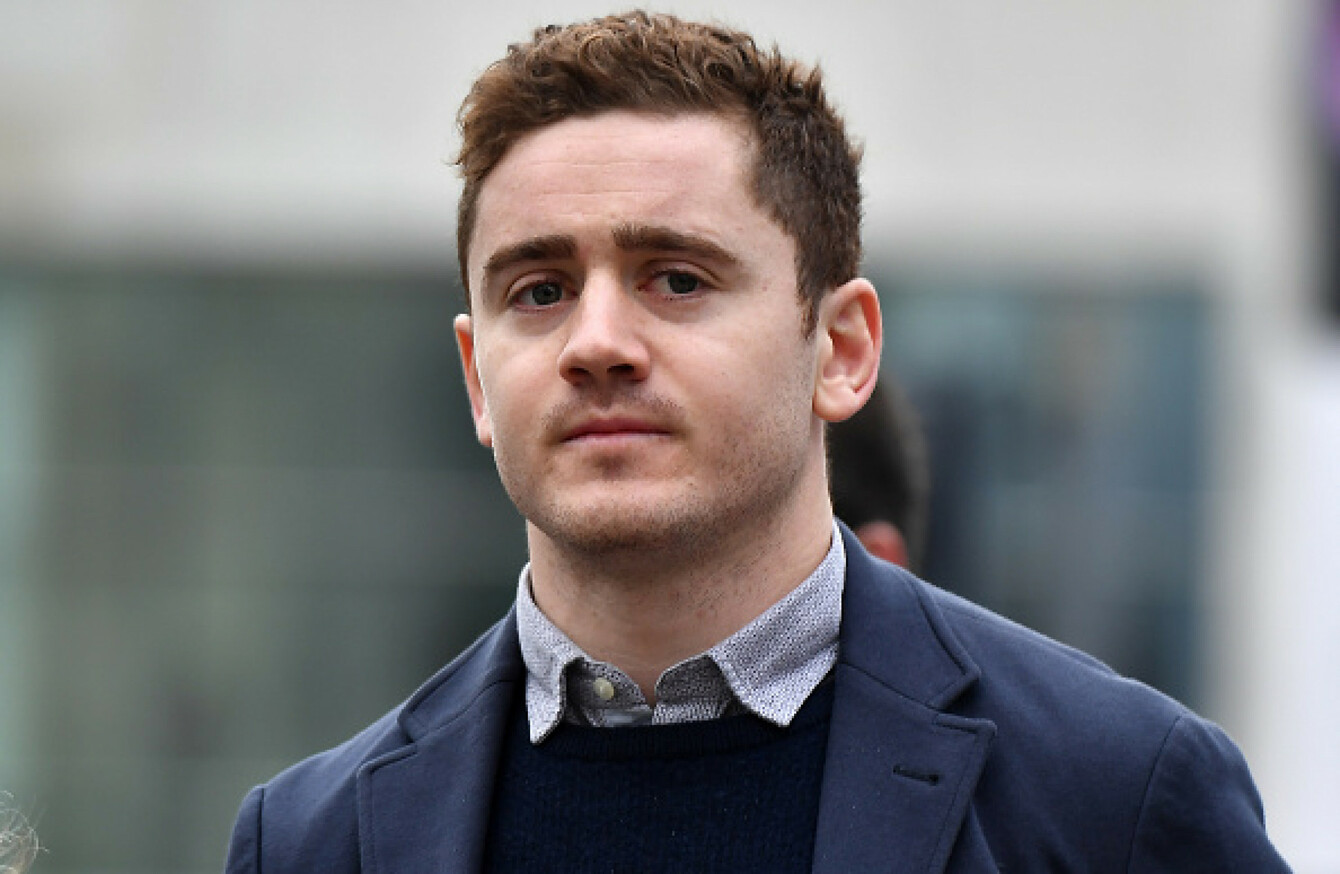 Paddy Jackson arriving at Laganside Courts in Belfast earlier this month
Image: Charles McQuillan/Getty Images
Paddy Jackson arriving at Laganside Courts in Belfast earlier this month
Image: Charles McQuillan/Getty Images
Updated 5.29pm
THE EIGHT MEN and three women of the jury presiding over a case in Belfast involving two Ulster Rugby players accused of rape will be sent out to start their deliberations tomorrow.
As the trial at Belfast Crown Court entered its ninth week, Judge Patricia Smyth continued her charge to the jury, where she set out the different versions of accounts they have heard regarding what happened in Paddy Jackson's bedroom in July 2016.
Judge Smyth began her charge last Friday and resumed addressing the jury today. Before sending the members home for the day, they were told by the judge that she will conclude her charge tomorrow.
Urging the jurors to avoid press reports and social media, as well as telling them not to discuss the case with family or friends, Judge Smyth confirmed she has almost finished her charge, saying: "This will not take very long tomorrow morning, then you will be asked to go out and begin your deliberations."
Before they were sent home, the jurors were reminded of the varying accounts given by witnesses in the trial.
Judge Smyth also told them the issue in this trial was one of consent, and said: "A woman is entitled to say no, she can decide what sexual activity she wants, how far she is prepared to go and what she does not want to do."
The judge said: "(The complainant) has told you she was vaginally raped and digitally penetrated by Paddy Jackson without her consent, and was orally raped by Stuart Olding. She said she was frozen with fear."
She also reminded the jury that the complainant said she "jumped off the bed and ran out of the room" when Blane McIlroy appeared naked and with his penis in his hand, asking her to engage in sexual activity with him.
The judge added: "The defence case is that these allegations are false. (The complainant) made false allegations because she became involved in consensual group activity and feared she may have been filmed engaging in these acts."
Pointing out her account differed from the versions given by Jackson, Olding and McIlroy, the judge told the jury: "It is for you to decide where the truth lies."
Jackson claims she had oral sex with him, and has denied vaginal intercourse, saying he only used his fingers. Olding claimed that after opening the bedroom door, she beckoned him in and performed oral sex in him until he ejaculated. And McIlroy has made the case when he came into the bedroom, she masturbated him and briefly performed oral sex in him.
Jackson (26), from Oakleigh Park and 25-year old Stuart Olding, from Ardenlee Street, have both denied rape, while Jackson has denied a further charge of sexual assault.
McIlory (25), of Royal Lodge Road has denies exposure while 25-year old Harrison, from Manse Road, has been charged with and denies perverting the course of justice and withholding information.
In her charge Judge Smyth raised the issue of alcohol, saying all the defendants as well as the complainant had been drinking prior to going to an afterparty in Jackson's home in the early hours of Tuesday 28 June 2016.
Asked to consider CCTV footage from Ollie's nightclub, Judge Smyth said that when she was cross-examined, the now 21-year old complainant said she was not interested in celebrities.
'Reliability'
The judge also said that whilst the woman had consumed alcohol, they were not to assume just because she had been drinking that she wanted sex.
Regarding the issue of alcohol, Judge Smyth said: "The reliability of all of the witnesses whose evidence was in dispute, you are entitled to consider whether their lapses in memory are genuine, or simply a convenient excuse to avoid having to explain their behaviour to you."
Judge Smyth also addressed defence criticisms of the police and how they handled the investigation. Urging the jury not to judge "any perceived fails", the judge instead told the jurors "your only task is to decide whether the prosecution has made you sure of the defendants' guilt. Do not let yourselves be distracted from that task."
Turning to the young woman who also attended the after party, and who opened the door of Jackson's bedroom while the incident was taking place, she was described by Judge Smyth as a "key witness".
Asking the jury to consider her impression about "what she had heard and what she had seen", the judge reminded them of this young woman's evidence both to police and to them.
#Open journalism No news is bad news Support The Journal

Your contributions will help us continue to deliver the stories that are important to you

Support us now
She told police she was "100% sure" she saw Jackson having sexual intercourse with the complainant, and was also "100%" about the woman in the bedroom not being in any distress. When asked if she had any concerns about the complainant's safety when she left the room, the woman said "no".
Judge Smyth also addressed inconsistencies in accounts the complainant gave to her friends, medics, police and also when she gave evidence at the trial last month.
She asked the jury to consider all these accounts and to determine "whether her evidence is true", and once again told them distress and demeanour were not indicators of truthfulness.
Judge Smyth noted different accounts she disclosed in the hours after the incident, which including texting her friends with varying versions of how many men raped her, not telling the Brook Clinic there had been forced oral sex, not telling police from the outset a woman had walked into the bedroom and also differing accounts concerning when McIlroy came into the room.
The judge said: "When you come to consider whether or not her account is true, you must avoid making an assumption that because she said something to someone else, her evidence to you is untrue.
The mere fact she has not been consistent in the account she has given does not necessarily mean that her evidence is not true.
Saying inconsistencies were not uncommon in cases such as this, the Judge said different people reacted in different ways when recalling such an experience. She added: "After such an event, some people may go over and over it in their minds and their memory may be clear, whilst other people may try to avoid thinking about it."
Urging the jury to "look at all the evidence" to determine what effect this has on the complainant's account, the Judge said: "If you are sure her account is true, you are entitled to reply on it. If you think it's not true, you cannot rely on it."
Judge Smyth will continue her charge tomorrow morning, and once this is complete, she will sent the jury out to deliberate a total of six charges against the four defendants.
Comments are closed due to ongoing legal proceedings.