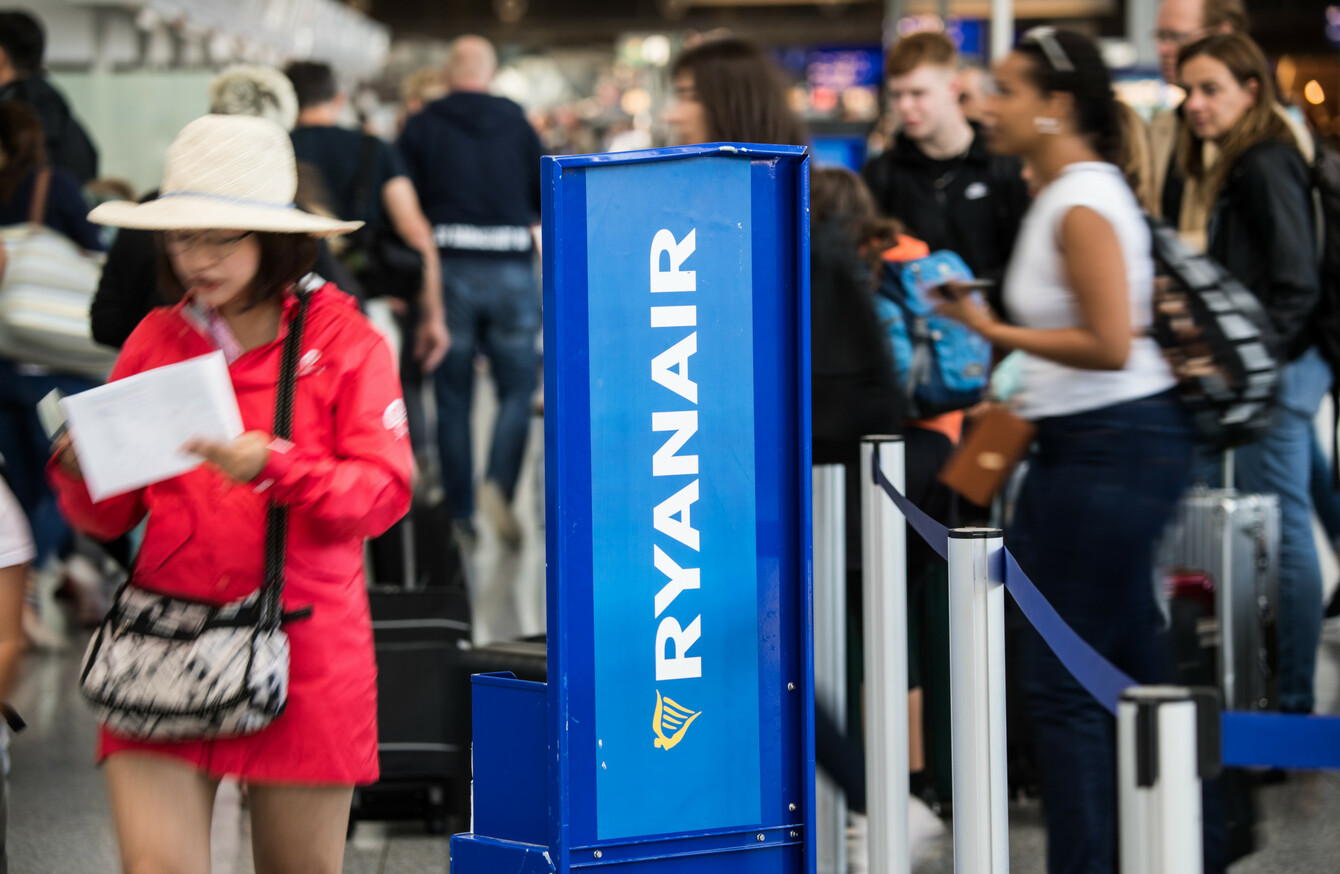 Image: DPA/PA Images
Image: DPA/PA Images
RYANAIR IS BEING criticised for its handling of Thursday's pilot strike with numerous customers complaining that the airline failed to give them information about whether their flights would take off or not until it was too late.
Doubts were cast on the travel plans of thousands of passengers last week when the Irish Air Line Pilots' Association (IALPA) announced plans for a 24-hour strike to take place this Thursday.
As the day drew nearer passengers who contacted the budget airline were routinely told that they would receive an update today.
This afternoon Ryanair announced that 30 of its 290 Irish flights on Thursday had been cancelled due to the strike. Approximately 5,000 passengers travelling from Ireland to the UK are estimated to be affected.
Numerous people have complained that Ryanair left it too late to tell them whether they had to make alternative plans.
Dublin man Luke Holohan told TheJournal.ie that he was due to travel to Madrid on Thursday. After repeated efforts to get relevant information out of the airline failed, he decided to bite the bullet and find an alternative route to the Spanish capital.
With prices on Aer Lingus flights surging, travelling earlier and taking a four-hour bus trip down from Bilbao was settled on as the best option.
"We are going to a gig in Madrid on Friday so we were going to lose the price of the concert tickets and the accommodation if we couldn't get there," Luke explained.
They should have been more upfront about their plans instead they left us completely in the dark. The pilots have a right to strike and the airline have a duty to inform their customers. It's been so confusing. It's like they hedged their bets thinking it wouldn't go ahead.
"My plans aren't overly important so I wasn't too put out but I've heard of other people with hospital appointments. They're majorly pissed off," Luke added.
Another woman, who had travelled to Italy from Cork, told TheJournal.ie she was due to fly back home on Thursday and was worried in case her flight was cancelled.
"We don't know what is happening with our flights," she said. "And the cost will be horrendous if we get caught out. We also have tickets to Friday's Paul Simon gig so it could mean losing out on this and the price of the tickets too."
Ryanair said the cancelled flights are all on high frequency routes in order to minimise the disruption for passengers. The company says that the strike will affect just 94 of its more than 350 pilots. Only some routes from Ireland to the UK are affected and all flights to Europe will operate as normal.
Passengers could face further disruption later this month as cabin crew across Europe have also planned industrial action and IALPA haven't ruled out further work stoppages.
In a statement to TheJournal.ie this evening, Ryanair said that all customers on affected flights received a text or email notification about it earlier today.
It said it was working to help arrange alternative transport, including flights and ferries for some customers, as well as refunds.
"Customers who are travelling on a Ryanair flight to/from Ireland on Thursday 12 July and who have not already received an email or text notification, then we expect their flight to operate and they should check in as normal at their departure airport on 12 Thursday," it said. "We apologise to our Irish customers for these regrettable disruptions which we have done our utmost to avoid."