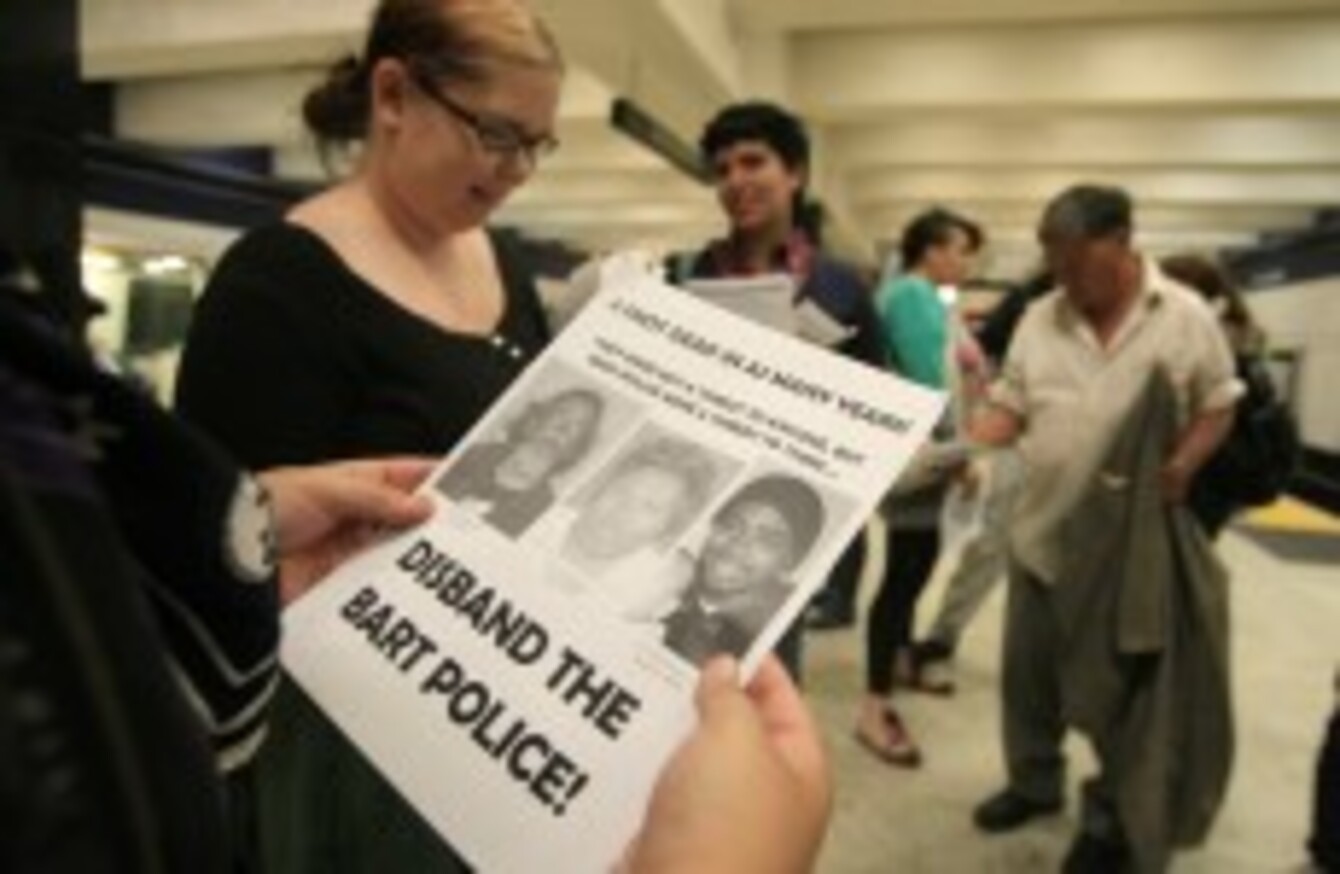 A protester reads an instruction sheet before a previous demonstration in July began at the Civic Center BART station in San Francisco
Image: AP Photo/Eric Risberg
A protester reads an instruction sheet before a previous demonstration in July began at the Civic Center BART station in San Francisco
Image: AP Photo/Eric Risberg
MOBILE PHONE RECEPTION was blocked in San Francisco train stations for three hours on Thursday, as officials attempted to disrupt planned demonstrations over a police shooting.
Officials with the Bay Area Rapid Transit system, better known as BART, said that they turned off electricity to cellular towers in four stations from 4 p.m. to 7 p.m.
The move was made after BART learned that protesters planned to use mobile devices to coordinate a demonstration on train platforms.
The tactic drew comparisons to those used by the former president of Egypt to squelch protests demanding an end to his authoritarian rule.
Authorities there cut Internet and phone services in the country for days earlier this year.
"BART officials are showing themselves to be of a mind with the former president of Egypt, Hosni Mubarak," the Electronic Frontier Foundation said on its website.
The American Civil Liberties Union criticized the tactic, saying on its blog that it was the "wrong response to political protests."
BART officials were confident the cellphone disruptions were legal. They said in a statement that it's illegal to demonstrate on the platform or aboard the trains, and that it has set aside special areas for demonstrations.
The demonstration failed to develop. "We had a commute that was safe and without disruption," said BART spokesman Jim Allison.
The demonstrators were protesting the 3 July shooting of Charles Blair Hill by BART police, who claimed Hill came at them with a knife.
Several people were arrested when an 11 July demonstration disrupted service during the rush-hour commute and prompted the closing of BART's Civic Center station.
BART workers remove a man who climbed on top of a train during a protest at the Civic Center BART station in San Francisco on Monday 11 July. (AP Photo/Eric Risberg)
San Francisco's KTVU reports that questions have been raised over the decision to cut the phone service, with at least one member of BART's board of directors demanding a review of the decision.
Lynette Sweet has expressed concern about what would have happened in the event of an emergency.
BART's deputy police chief has said that they had received intelligence that protesters may have been planning something violent.
The San Francisco Chronicle reports that it's believed that this is the first time such action has been taken in the US.
Yesterday British Prime Minister David Cameron said that his government and intelligence services were working with "industry" sources to look into blocking communication via certain online services being used to organise criminal activities, after services like Facebook, Blackberry Messenger and Twitter were blamed for fuelling the riots in the UK.
- Additional reporting by AP