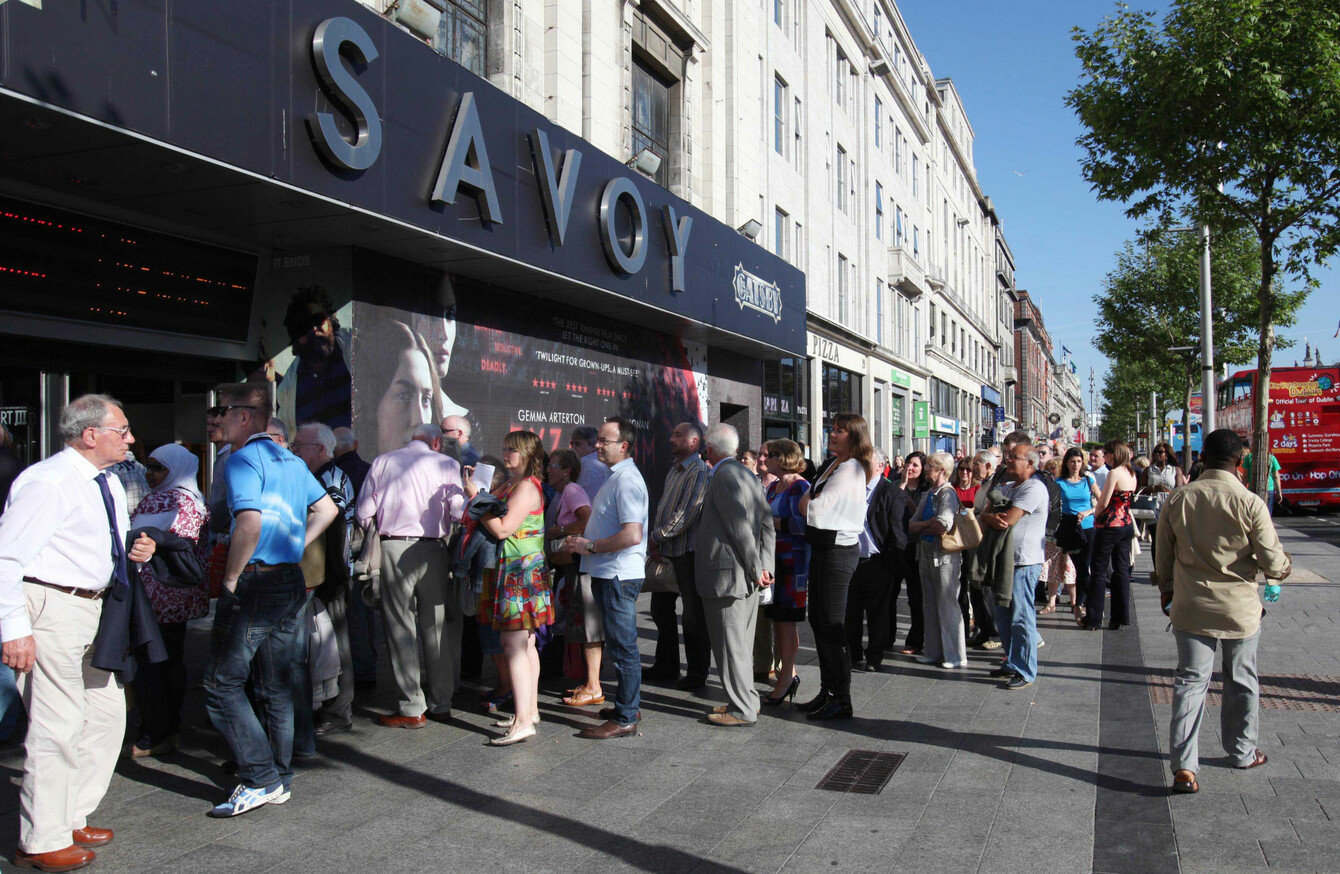 Image: RollingNews.ie
Image: RollingNews.ie
THE SAVOY'S ICONIC Screen One is to be split into separate auditoriums next year – but IMC Cinemas can't confirm which month.
In October, we confirmed that the screen is to be split into three to five auditoriums, but IMC Cinema's Paul Ward told us he couldn't tell us when.
Yesterday, he confirmed to TheJournal.ie that "it will happen in the New Year" but that the company "haven't committed" to a date.
When TheJournal.ie attempted to ask about the public response to the move, the call was ended.
The company first confirmed the news on Twitter:
The Savoy Cinema is the oldest operational film in Ireland, being built in 1929. It has gone through many different iterations over the years, being turned into a twin cinema in 1969 and then divided into three screens and later five screens. It is currently a nine-screen cinema and Screen One is regularly used for red carpet film premieres.
'I think they will regret it'
RTÉ presenter Rick O'Shea was the first to make the news public after he was told about the possible change while on a trip to the Savoy.
He said that Screen One  is "the only reason I go back to the Savoy these days" as it is the only remaining golden age cinema in Dublin and the screen reflects this.
"This is the last of those [classic] cinema screens and to see it go… there is no preservation order on any cinema building in Ireland," he said. "There is nothing you can do about it. The guys who own it own it. All you can do is shrug your shoulders."
He said that he feared that what people would experience after Screen One's closure would be screens "only marginally larger than a big TV".
"There was always that sense of old world grandeur about Screen One," said O'Shea, describing the the screen as a "natural home" for premieres and other large events.
"They've been through this before, Irish cinemas have been through this before and unfortunately there is no way of getting it back once it's gone," said O'Shea.
Then that's game over.  I would like to think if there was a sufficient breadth of voices of people saying 'this is the only reason I go to the Savoy' that might make them listen and make them change.
"I don't think they know what they have and I think they will regret it at some point in the future," concluded the broadcaster.
'What you gain in economic terms is lost in artistic and cultural terms'
Niall Murphy, who runs the Irish cinema site Scannáin and the new monthly Irish cinema magazine CinÉireann, told us that "the big struggle with Screen One is head versus heart, or art versus commerce".
"Splitting Screen One is nothing new. It's been done before in that same cinema," he said. "What you gain in economic terms is lost in artistic and cultural terms. Screen One is the last bastion of the cinema experience that defined childhoods. That magic that comes from a curtain pulling back and the silver screen leaping to life. To lose this is devastating. But progress almost always destroys to build again."
He said that financially it may make sense to split the screen "as it's not full to capacity for each screening".
"Digital projection is relatively automated so staff costs remain static with more screens. Therefore revenue increases as you can show more to more people. That said, what you lose is too high a cost to pay," he continued.
Screen One is the iconic screen in Ireland. It's where some of our lasting cinematic memories have been made. It's hosted galas, premieres, countless stars. It's the grand old lady. Watching a film unfurl there for the first time with a packed and enraptured audience is an experience unlike any other.
"Increased competition from home cinema requires innovative response," concluded Murphy. "The Stella [newly opened in Rathmines] is a case in point. It offers a wholly different way of immersing yourself in a film. Hopefully it shows that art and commerce need not be mutually exclusive."