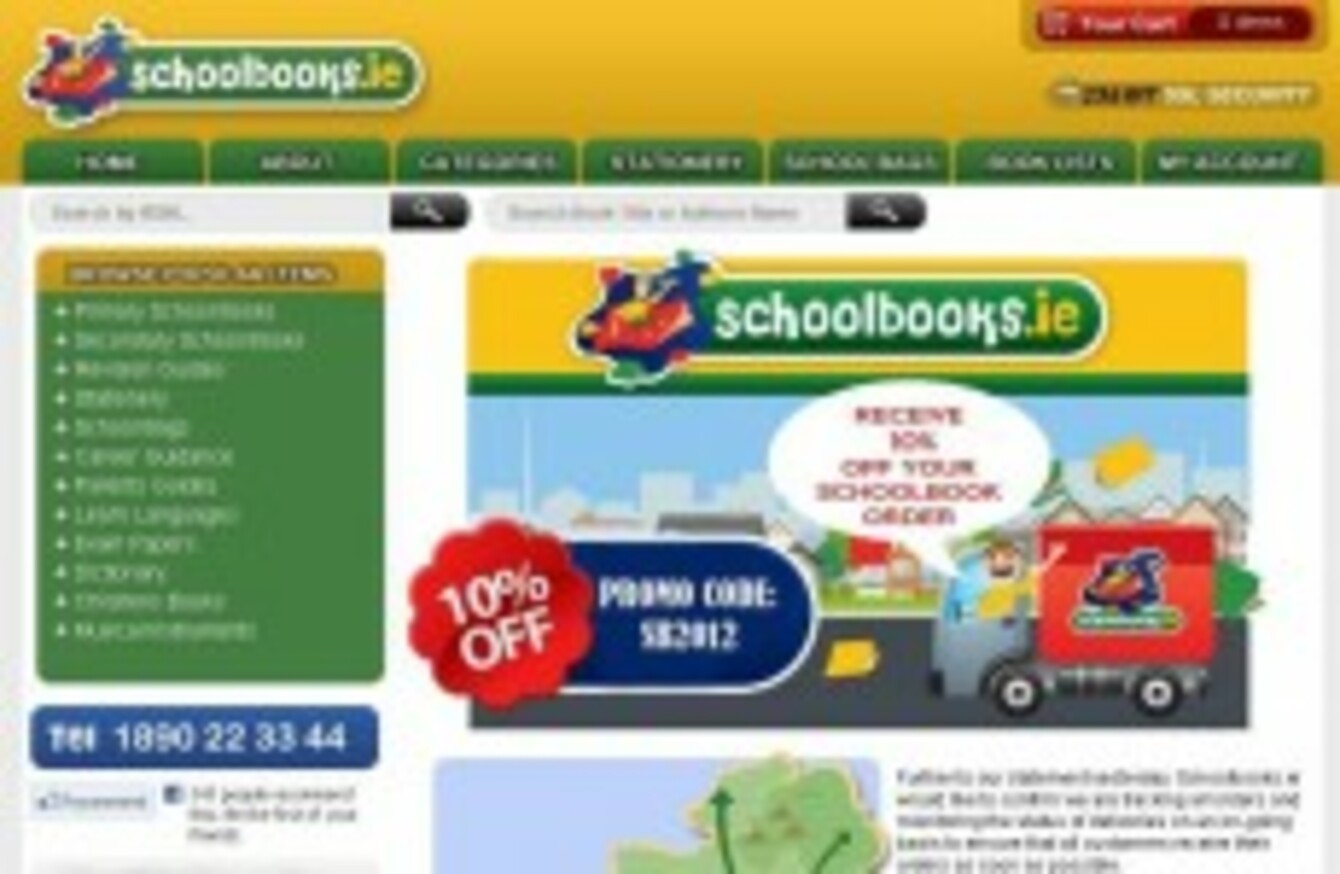 The Schoolbooks.ie homepage
Image: Screengrab
The Schoolbooks.ie homepage
Image: Screengrab
AS PARENTS CONTINUE to report problems with the online book retailer Schoolbooks.ie the company has said it is now manually reviewing its backlog of orders to determine how many are still outstanding.
Children have returned to school this week without their school books after a technical problem at the online school book retailer saw a backlog of thousands of orders develop over the last two weeks.
Despite Schoolbooks.ie managing director John Cunningham pledging to clear the backlog by 24 August, parents have continued to report delays in receiving orders they placed as far back as late July.
Dozens of angry parents have contacted TheJournal.ie this week to detail their experiences and express their frustration while others have shown up at the company's premises in Dublin demanding that their order be handed over to them in person.
Schoolbooks.ie has insisted that information it provided in previous statements was done so in "good faith" but it now acknowledges that errors were made in its updates.
The company has been manually reviewing all orders in attempt to ascertain the exact number of backlogged orders that need to be cleared and it is understood that significant progress has been made in doing this.
In its latest statement, the company said: "Schoolbooks.ie would like to confirm we are tracking all orders and monitoring the status of deliveries on an on-going basis to ensure that all customers receive their orders as soon as possible.
"It has never been our intention to mislead our customers and we would like to unreservedly apologise to customers who have experienced a delay in receiving their school books.
"We understand the frustration which is being experienced and we continue to do everything that we can to resolve the issue for customers. The updates which we have provided have been in good faith based on the information systems which we use in our warehouse.
"However we accept that we have made errors in those updates."
Angry parents
On a Facebook group 'Schoolbooks.ie – Maybe they will pay attention to this??', users have continued to highlight problems they have been having with their orders.
Dozens of parents have contacted TheJournal.ie via email in recent days to outline the problems they have been having with the company.
Some have threatened legal action, while others have vented their frustration with the situation and with being unable to contact the company. The sheer volume of calls has meant that its helpline has been unreachable at certain times in the last week.
One mother-of-four, Annelies Byers, spent over €500 on books for two of her children when she ordered them in early August having had to wait until then following issues with her husband's pay in the wake of the much publicised problems at Ulster Bank.
She wrote to us earlier this week to tell her story: "Our daughter is in 5th year and is starting tomorrow (Wednesday) without books.  Our son who started in 1st year last Friday has no books.
"Our son has autism and was able to fall back on a SNA (Special Needs Assistant) assistant since Junior Infants.  His SNA has been cut and he now has to stand on his own 2 feet.
"Because the progression from primary to secondary education is such a huge leap, I was advised to go through the books with him over the summer, to colour code each book with the same colour copy and folder, and ultimately the same color code on his timetable.
"We were supposed to go through the books and the color coding system for a couple of times over the summer.  Of course, these practice sessions never materialised.
"Instead, he has been thrown in at the deep end and to make matters worse, sits in the classroom with no books.  He is anxious, fiddles around with his water bottle, writes on his hands and fiddles with his pencil case.  He is aware that some of the students are staring at him and this stresses him out even more."
Schoolbooks.ie has been made aware of Annelise's situation and it is understood her order is now a 'priority' but as of Friday evening she had still not received the books.
Despite this, Annelise told us she would use Schoolbooks.ie again "because I have used them many times before and was always happy with them".