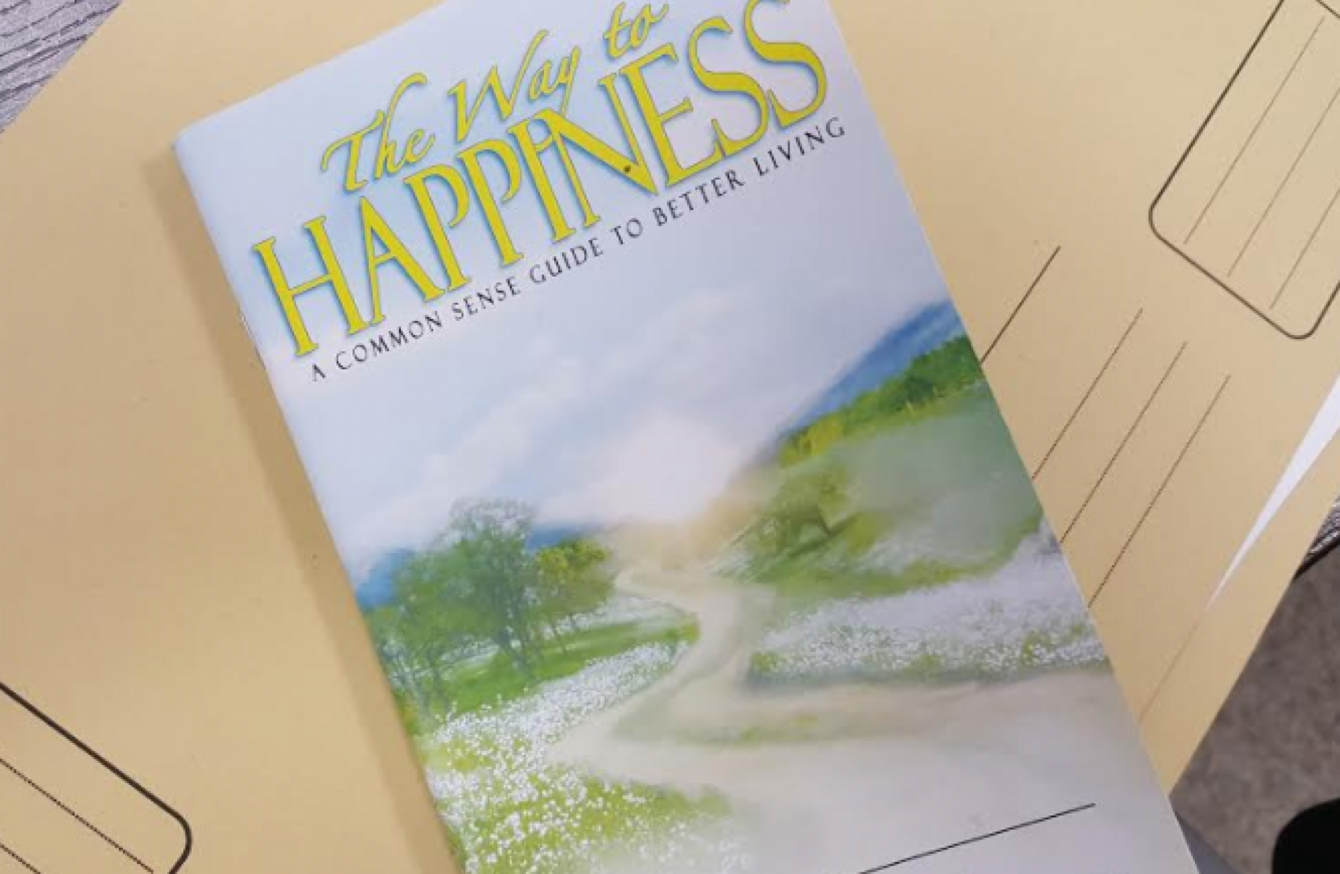 Image: Daragh Brophy/TheJournal.ie
Image: Daragh Brophy/TheJournal.ie
A GROUP WITH links to Scientology is delivering a large number of self-help books to working class areas in Dublin, TheJournal.ie has learned.
'The Way to Happiness' is a book written by the founder of Scientology, L Ron Hubbard.
A group, also called 'The Way to Happiness', has been delivering the 70-page guide to homes in Dublin's inner city, as well as Firhouse and Tallaght.
There is no mention of the Church of Scientology in the entire booklet. However, L Ron Hubbard is cited as the trademark owner.
According to the official Scientology website, the book is about "common sense" and that it is "an educational work that provides anyone with an easy–to–follow road map for living".
More than 117 million copies of the booklet, in 114 languages, have been distributed to people of all races, cultures and creeds throughout the world, according to the pseudo-religion.
Titles for some of the chapters of the book are set out under the following commandment-style headings:
Don't Be Promiscuous
Do Not Murder
Be Competent
Try Not to Do Things to Others That You Would Not Like Them to Do to You
Try to Treat Others As You Would Want Them to Treat You
Former Scientologist turned activist John McGhee said he would frequently take part in these drops when he was a member of the group.
He told TheJournal.ie:
"We would regularly have a designated weekend where we would choose an impoverished area and would blitz the neighbourhood with these booklets. We often went to Belfast to do the same.
"The instructions within the booklets roughly correspond to the christian Ten Commandments."
McGhee said he encountered the 'Way to Happiness' group on Sheriff Street last year.
TheJournal.ie reported in April of last year how members of the church had made a number of visits to the inner city area.
#Open journalism No news is bad news Support The Journal

Your contributions will help us continue to deliver the stories that are important to you

Support us now
In a report on one such visit campaigns director for the church's national affairs office Jerry Alred said locals had welcomed them, coming out of their homes to watch them plant flowers.
Alred said in his report, which has been seen by this publication:
Every week that we come to clean there are some older gentlemen standing in front of the church and they welcome us and smile. There are a lot of nice people in Sheriff Street. Sheriff Street itself looks a mess and needs another clean up.
The Church of Scientology has been trying to establish a position for itself in Irish society in recent years, and opened a large community centre in Firhouse, south Dublin last year.
The Victory Centre in Firhouse was opened as Scientology's European base after it was bought by the international group.
It boasts a 1,050-seat state-of-the-art auditorium, sports pitches, meeting rooms and a full service cafe.
Scientology has been in Ireland since 1956 when its creator L Ron Hubbard opened an office in Dublin.