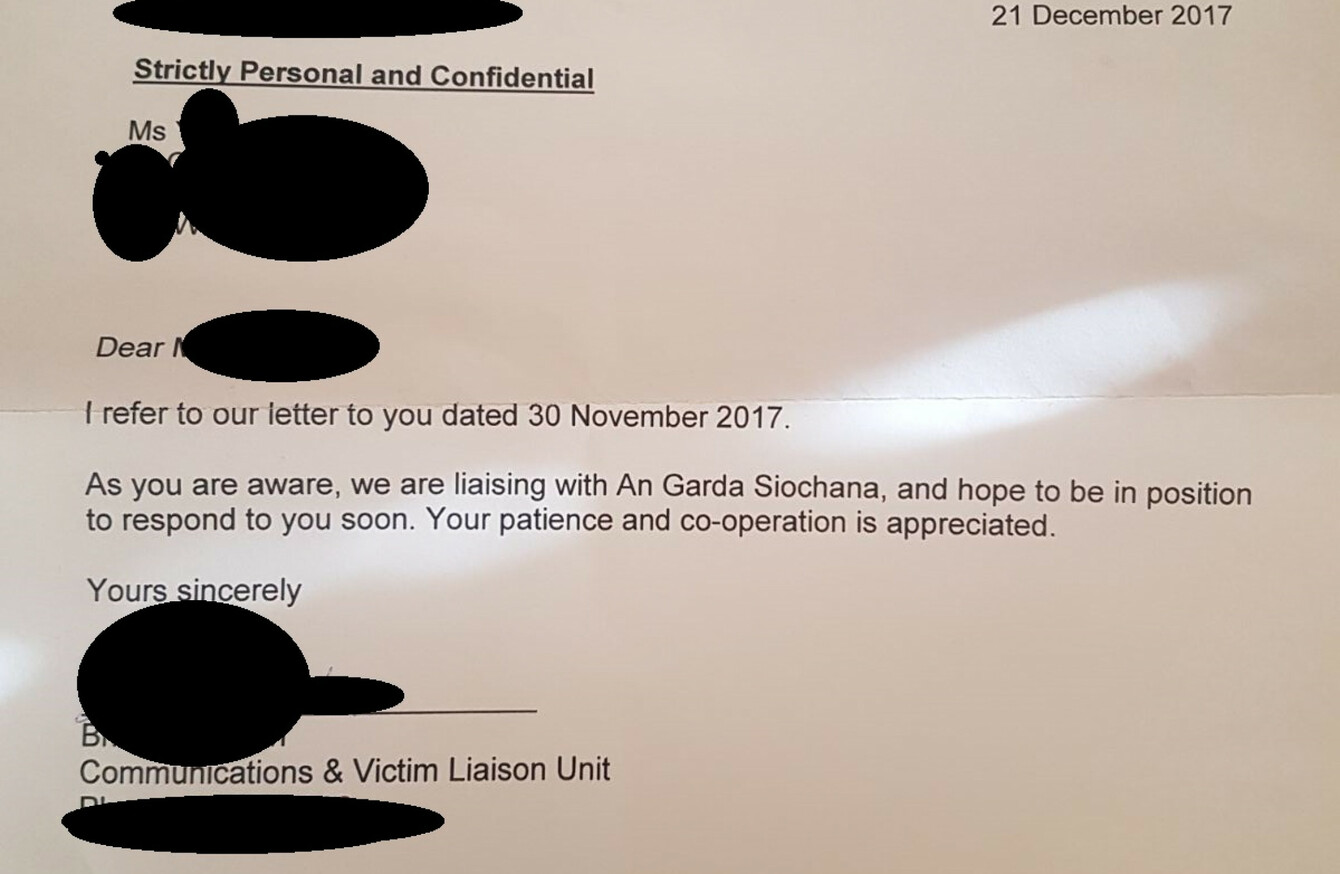 The last correspondence between the victim and the DPP.
Image: Victim
The last correspondence between the victim and the DPP.
Image: Victim
A WOMAN WHOSE claims of sexual abuse by her father were shelved by gardaí for 11 years has said she is hugely concerned at the lack of progress since a decision was made to review her case six months ago.
The woman said her father first raped her as a child and encouraged one of her brothers to do the same. Her claims were verified by social workers and in documents seen by TheJournal.ie, a social worker said "the father accepts he abused her".
In 1997, the woman gathered the courage to go to gardaí about the abuse. She then spent some years trying to come to terms with her childhood experiences but didn't receive any further contact from gardai.
TheJournal.ie revealed that in early 2008 she made representations to both the DPP and gardaí, asking for an update on her case some 11 years after she first made her complaint.
Two weeks after her enquiries, she got a call to say that the DPP had decided not to proceed with prosecution.
Following that contact, the woman, by then a mother herself, received a phone call asking if she could come in and meet the then Chief Superintendent and Superintendent of the same Garda station in which she had made the official complaint.
She claims that she was told her file was not sent to the DPP when it should have been and that an internal investigation was ongoing to try to figure out why that happened.
Following our story, it emerged that the then Garda Commissioner Nóirín O'Sullivan had ordered that a review into the case should take place.
The victim of the sexual assault has been in contact with both the DPP and investigating gardaí since TheJournal.ie revealed the story last year and the review was ordered into her case.
She had had weekly communication with one officer but the last contact with that liaison was in early December.
Now, she claims she has been sent letters by the DPP suggesting it is still investigating the case – however when she attempts to speak to someone, she says she is turned away.
Speaking to TheJournal.ie, the woman said: "Six months ago, gardaí said they'd review my case. I've heard nothing. It's like I'm being called a liar all over again. My dad is getting older. I want him to face justice for what he did to me.
"When I heard the guards were reviewing the case, I broke down in tears. It was like everyone was finally believing me. It makes a change from being called a liar and a troublemaker.
"I really just don't understand though. We have the documents that say he abused me and that he accepts the fact he did it and yet there's not been an arrest. I've supplied the guards with everything they need. I'm not going anywhere. I have to keep fighting because we've come this far.
"I want to say that at the start, everyone I dealt with was very helpful. They seemed to care a lot about the case. People responded quickly to messages. That doesn't happen anymore. I'm just worried that I'm being ignored. I appreciate that these things take time but I just want to be kept in the loop about what is happening and that isn't happening."
Documentation seen by TheJournal.ie states that the victim's father had a drinking problem and would assault the woman on a regular basis when she was a child. The documents also acknowledge that one of her brothers would get involved in the abuse.
When she became older, she would routinely ask her mother for money to attend a local disco and was told the family had not enough money. She claimed that her father would bring her out the back garden, force her to perform a sex act on him and then hand her money to go out with her friends.
Documentation by the Eastern Health Board (EHB) and social workers seen by TheJournal.ie confirm the following:
The woman was sexually assaulted as a child
Her father and brother performed "full intercourse" with the child
Child sex abuse was confirmed by the social workers and EHB
Her father cut a hole in her wall and would routinely watch his daughters undress
She and her sisters were placed in care for a time. She was 7 at the time.
Two older sisters were then sent to a home in the southeast of the country
The victim and her younger sister went to a children's home in north Dublin
All the girls were returned to the family home after six months
No male child was ever removed from their family home
Court documents show that the parents were described as not fit to take care of her
Since publication of TheJournal.ie's initial story earlier this year, TheJournal.ie uncovered that the alleged abuser had a cordial friendship with a senior member of An Garda Síochána who has since passed away.
The alleged abuser and the senior garda became friends in the 1980s when they attended the same church in Dublin.
TheJournal.ie has travelled to the church where parishioners have confirmed that the two men knew each other well. A lay member of the church who we asked if she knew of accusations against the alleged abuser, said she didn't wish to comment on that.
Gardaí are continuing to review the woman's claims and a full re-investigation is underway. The woman has been asked if she is willing to go through the process of a full court case.
In a previous interview with this publication, the woman said that she is committed to fighting for justice and that she wants her "rapist father" to die in prison.
More coverage of this case: