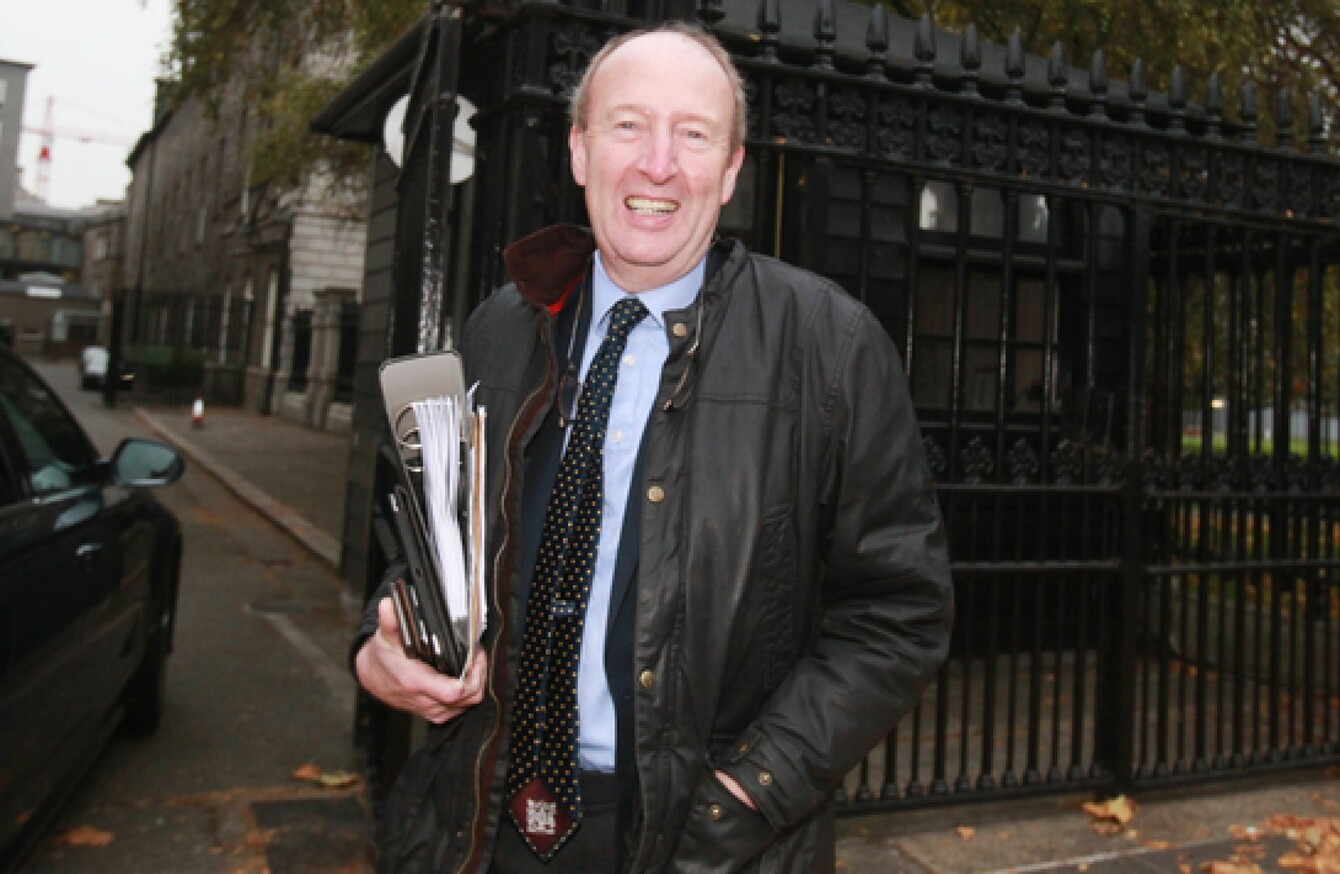 "IT WILL DRIVE people into further isolation, close community outlets across the country and a lot of jobs will go as well."
Mike Power's view of Shane Ross's new laws around drink-driving is informed by his and his wife Tina's experience of running The Cat's Bar in Cappoquin, Waterford.
The Powers are worried about the Transport Minister's plans to implement legislation that will see people automatically disqualified from driving if caught over the alcohol limit.
The pub has been in Mike's family for five generations. Speaking to TheJournal.ie this week, he said:
The country and rural Ireland will be at a sad loss the day it happens – it's becoming more difficult all the time.
Ross says he knows the new legislation will meet resistance from rural Ireland but he believes people in these areas need to alter their behaviours, making different arrangements for trips to the pub.
However, Power says he thinks the minister is "misguided", saying, "We have come a long way in rural Ireland, people have become very responsible.
"This ban would have detrimental effects to the rural community. If an emergency took place, people would be afraid to drive their car even with just one drink."
"It's going to affect every rural pub to be quite honest," Alan Gielty who runs Gielty's Bar and Restaurant in Achill Island told TheJournal.ie.
Speaking about the logistics of the proposal, Gielty said, "99% of customers have to travel to a country pub. [Ross] hasn't really thought it out.
People aren't coming out – they're afraid to come out. A pub for a lot of people is like a community centre, especially people who are living on their own… It is company.
"Where we are in Achill, people are travelling for work. They can't afford not to have a licence – it's frightening people.
A lot of pubs are closing that have never closed – third, fourth generation pubs with no overheads. The business just isn't there.
'Don't condone drink driving'
Gielty stressed that he doesn't condone drink driving, adding that publicans do everything in their power to make sure people get home safely.
In 2005, he developed his bar into a bar restaurant to keep business going.
"If we didn't do that, we could just forget about it. You have to move with the times."
He also bought a minibus in 2009 to drive people to and from the pub. It now operates seven nights a week.
Power also told this website that he too has started driving customers home.
"We have no taxis here but we've adapted well and now we drive our customers home.
I wouldn't for the life of me condone drink driving because I know what alcohol can do, we take our job as publicans very seriously.
"A pub like this, it's a place where the locals come to meet. I have no time for a drunk driver or someone who would sit behind a wheel after four or five drinks."
'Only a Dub'
Dan* drives for work and cannot afford to take any chances of being disqualified from the road.
The father of three children under 10 lives in a rural area with his wife. He explained to to TheJournal.ie that his local is less than a five-minute drive from his house. He pops in "once or twice a week on the way home from work".
"It's nice to just show the face and have a drink and catch up with what's going on before I get home.
Now with the kids and all the coming and goings – that drink on the way home would be the only chat I'd really have with old friends. We wouldn't really be the kind to call each other for a chat or anything like that.
"I don't think getting in a car if you're feeling the drink is right and there have been times where I'd call the wife to come and get me if I went over a couple, I'm not talking about that.
"I'm talking about having two drinks max and then being allowed to drive those five minutes back home.
I have never had an accident on the road in over 30 years of driving, I'm a careful driver and take it very seriously.
"But I'm also not going to bother going home and then getting my wife to pack in all the kids and drive me down the road to drop me to the pub and do it all again in an hour to pick me up.
"To be honest, I'd only pop in if I was making good time as I'd be helping out with the dinner and that anyway so it's either a quick stop on the way home or nothing.
I'm angry in one way because I think only a Dub would bring in this kind of measure.
"Any country minister would know what it's actually like for the majority of people who just want a drink on the way home and cause no hassle.
It's different in Dublin because there are all sorts of taxis and Hailo and what have you. We have one hackney and you need to book well in advance and to be honest, it would cost more than the drink itself so it's not practical.
"I think something does need to be done about road deaths – but stopping people like me, who rely on driving, from going to their local on the way home is a disgrace."
'Make arrangements' 
Speaking to TheJournal.ie this week, Ross said he "totally understands" concerns about the new provisions.
"I know the importance in rural Ireland of the pub, the social drinking – but I think if we save one life, which it can, it is not too much to ask for people to make arrangements.
One person can drive, and four people can drink, and publicans can make arrangements.
"It is part of rural life and no one wants to do anything to damage that, but also we don't want to provide facilities that allow people who have been drinking more than they should to go out and drive cars.
You can't say it is okay for some people in the country to drive over the limit and get lesser penalty points and be kept on the road.
Publican Mike Power addressed the difference in transport options, saying, "Is it safe to drive after a glass of wine? I suppose if we had equal transport there would be no excuse but we just don't have that.
"It's a contributor but there are far more problems they're not addressing. I see people on their phones every morning when I'm driving my children to school and others speeding and passing out dangerously, I just wonder – where is the balance?"
*Dan is the name used to protect the identity of the person who was interviewed.