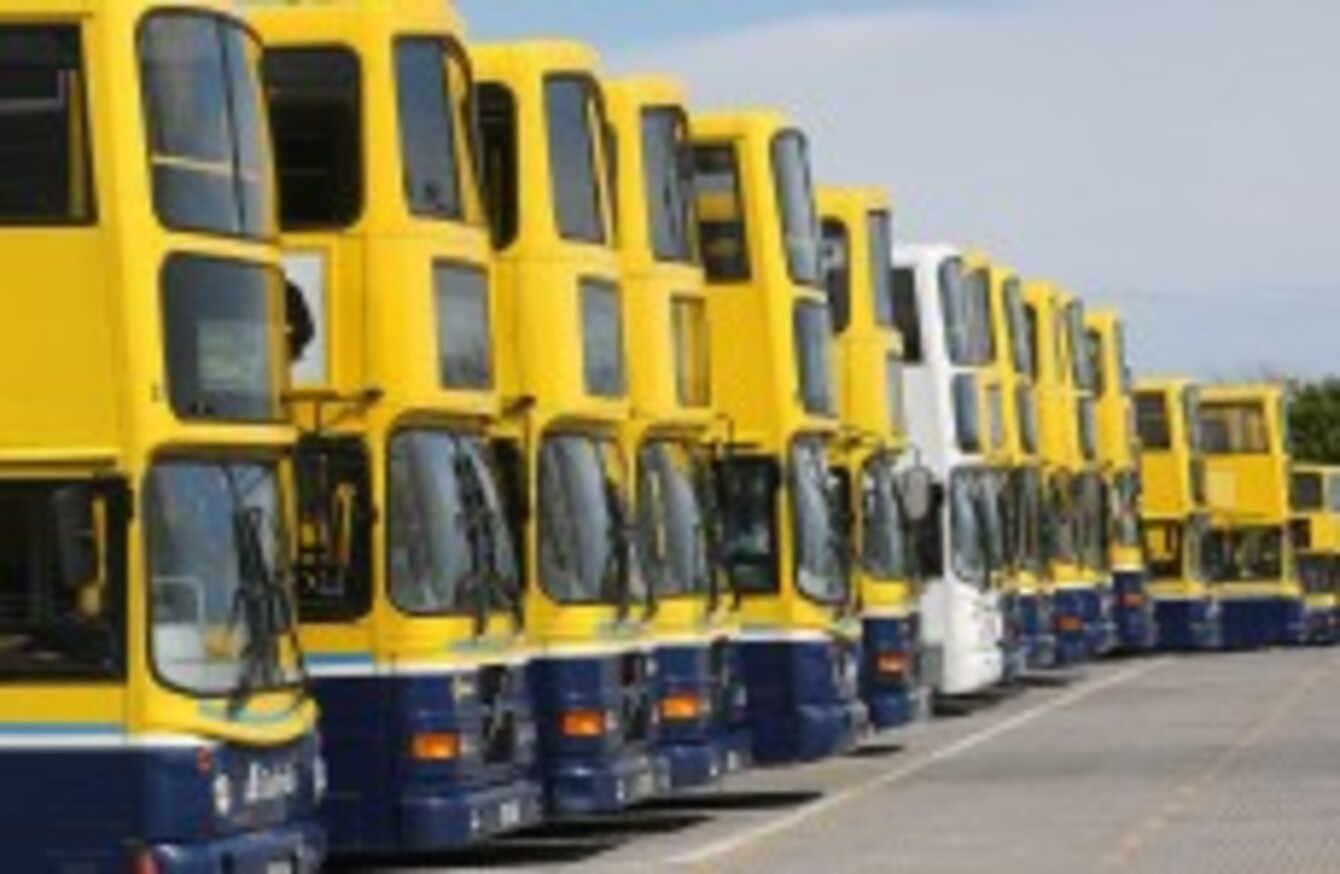 File photo
Image: Julien Behal/PA
File photo
Image: Julien Behal/PA
Updated 22.14
THE TWO UNIONS representing Dublin Bus workers are split in their decisions on whether to accept the company's cost-saving measures but the company is to press ahead with cost-cutting measures.
SIPTU and the NBRU (National Rail and Bus Union) both balloted members on the proposals put forward by the company to cut costs in order to reduce its €52 million deficit.
While SIPTU members voted to reject the proposals by 51 per cent to 49 per cent, NBRU workers in their ballot accepted the measures, voting 60 per cent in favour and 40 per cent against.
However, Dublin Bus claimed this evening that this means that 55 per cent of Dublin Bus drivers overall have voted Yes to the proposals.
In a statement, it said: "Given that 55 per cent of drivers have accepted the proposals of the expert group and all other grades have accepted the Labour Court Recommendation, Dublin Bus will now commence with the full implementation of the Cost Recovery Plan for all grades without delay."
It said an implementation date will be announced shortly.
Independent report
Last week, the company endorsed an independent report into its future which warned against strike action. New cost-saving plans were put forward and were backed by Dublin Bus.
The author of the report said he was very worried about the situation in Dublin Bus and said he couldn't overestimate the seriousness of the situation, adding that if the measures are not approved, "we could end up in a Dublin, without a Dublin Bus".
SIPTU Organiser, John Murphy, said today: "It is clear from today's result that SIPTU Dublin Bus drivers are of the opinion that they cannot endure any further cuts to their earnings and have not received from the company adequate assurances about the future of the public bus system."
He said that the proposals "do not form a firm enough basis for an agreement which will ensure that Dublin Bus continues to provide an efficient and cost effective public transport service".
Commenting on his members' decision to accept the proposals, NBRU General Secretary Dermot O'Leary said it "should be viewed in the context of the constant and unfair focus on our members' terms and conditions over the last 18 months brought about by a financial crisis that is not their making".
"The Government's responsibility in providing a public bus service for the citizens of the state should not be abdicated at the altar of a policy driven by the desire to place profit ahead of service," he added.
Government response
SIPTU'S Murphy said it will now be up to the company to decide whether it wishes to enter a negotiation process to resolve the dispute without further industrial action.
One NBRU source told TheJournal.ie that they believe the government may "run out of patience and implement a direct pay cut".
"You could have a scenario whereby SIPTU go on strike but NBRU don't, I cannot see NBRU members passing a picket but we'll see soon enough," they added.
In a statement tonight, Transport Minister Leo Varadkar and his junior minister Alan Kelly said that there is "no other solution" to the financial challenges facing Dublin Bus.
They said given that the proposals have been accepted by a "clear majority" of drivers and staff, SIPTU should accept the overall outcome of the vote and agree to implementation of cost-cutting measures.
They said: "Any strike will be prolonged as it is hard to see how it could be resolved given that all the industrial relations processes of the State have already been exhausted and there is no basis for any further intervention.  There will be no winners and all sides will be worse off."
- additional reporting Hugh O'Connell
First published 6.03pm