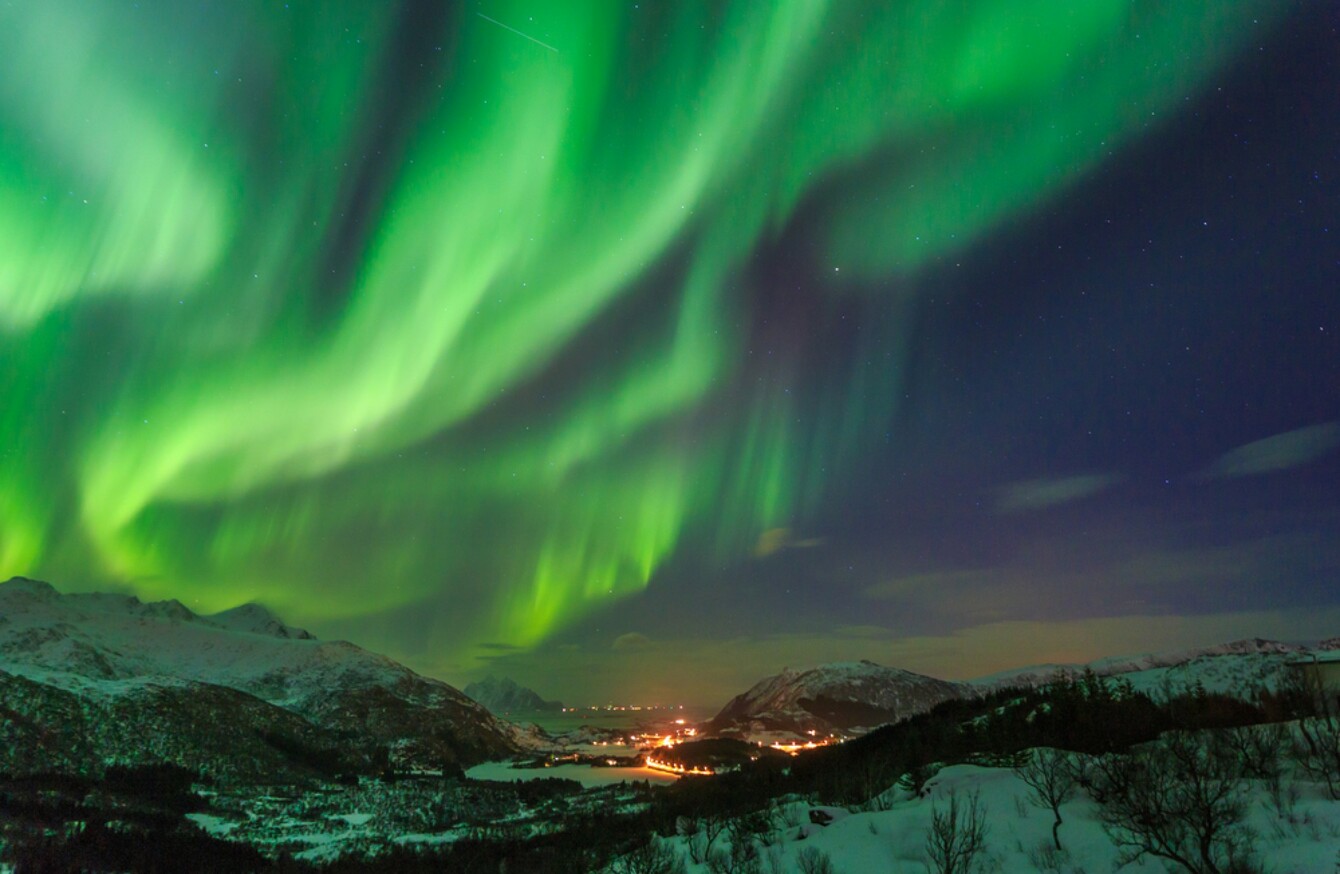 The Northern Lights. Keep an eye out for them. Maybe.
Image: Shutterstock/Stas Moroz
The Northern Lights. Keep an eye out for them. Maybe.
Image: Shutterstock/Stas Moroz
TEMPERATURES WILL DIP rapidly as darkness falls tonight, forecasters are warning.
A snow-ice warning has been issued for the country between the hours of 8pm this evening and midday tomorrow.
Here's the latest from Met Éireann:
Showers of snow are expected at times overnight and during Tuesday morning. Some accumulations are likely, 1 to 3 centimetres locally, but possibly more on hills and mountains in the western half of the country.
Some dangerous driving conditions can be expected as road temperatures are likely to be close to freezing or below.
Showers of hail and sleet are also likely.
It will remain very cold tomorrow with temperatures several degrees below average. It will be sunny at first, with some wintry showers later – turning eventually to rain. Temperatures will dip as low as minus four overnight tomorrow.
After a cold few days conditions will improve on Friday and into the weekend, according to the latest outlook.
Road conditions 
Motorists are being warned to take care on the roads this evening and tomorrow morning.
"Temperatures are likely to fall below freezing nationwide tonight and hazardous driving conditions should be expected," the Road Safety Authority said in a statement.
The RSA is asking road users to keep up to date with local weather and traffic conditions and be aware of the conditions before setting out on a trip.
Drivers are reminded to:
Watch out for "black ice." If the road looks polished or glossy it could be, black ice" one of winter's worst hazards: Black Ice is difficult to see! It is nearly transparent ice that often looks like a harmless puddle and can be easily overlooked. It can occur especially in sheltered / shaded areas on roads, under trees and adjacent to high walls.
Clear your windows and mirrors before you set out, carry a screen scraper and de-icer. Do not use hot water on the windscreen as it can crack the glass.
Remove ALL snow from your vehicle before commencing your journey.
In snow and icy conditions slow down, use all controls delicately and leave extra distance between you and the vehicle in front. Too much steering is bad and avoid harsh braking and harsh acceleration. Use the highest gear possible to avoid wheel spin. Select a low gear when travelling downhill especially if through bends.
Remember that heavy snowfall and rain reduce visibility. Use dipped headlights and decrease speed smoothly.
Watch out for vulnerable road users such as pedestrians, cyclists and motorcyclists and allow extra space.
Pedestrians and cyclists are being urged:
Be seen. Wear a high visibility jacket or reflective armband.
Many slips and falls happen in places people regard as safe and secure, typically outside their front door, on the doorstep, on the path or while getting out of the car. It is very possible that a thin sheet of snow or ice is covering your pathway can pose added risk.
When you approach a footpath or roadway that appears to be covered with snow/ice, always use extreme caution.