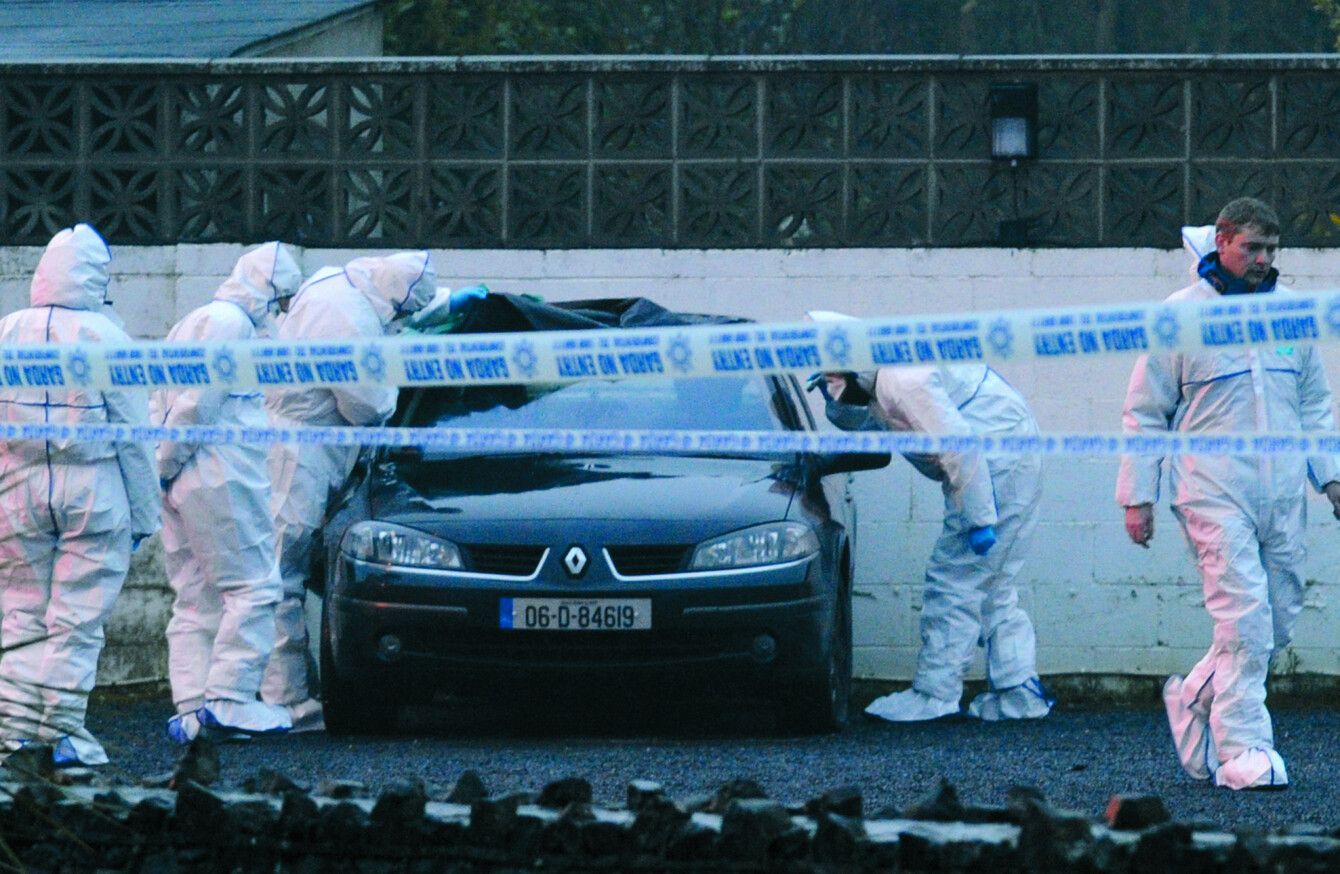 The scene of the murder of Peter Butterly in Gormanstown in Meath.
Image: Laura Hutton/Rollingnews.ie
The scene of the murder of Peter Butterly in Gormanstown in Meath.
Image: Laura Hutton/Rollingnews.ie
A MAN WHO was arrested in Spain after he failed to show up at his trial in Dublin for the murder of Peter Butterly pleaded guilty this morning at the Special Criminal Court.
Dean Evans (27), of Grange Park Rise, Raheny, Dublin was wearing a black, long-sleeve t-shirt for the brief arraignment.
He replied "guilty" when read the charge of murdering Butterly (35), who was shot dead outside The Huntsman Inn, Gormanstown, Co Meath on 6 March 2013.
Justice Isobel Kennedy remanded him in custody until a hearing on 31 July when he will be given the mandatory sentence of life imprisonment.
Evans is the third person facing a life sentence for Butterly's murder after the Special Criminal Court convicted 36-year-old Edward McGrath of Land Dale Lawns, Springfield, Tallaght, and 48-year-old Sharif Kelly of Pinewood Green Road, Balbriggan last year.
Three other men are due to go on trial later this year on the same charge.
They are Kevin Braney (43), with a last address at Glenshane Crescent, Tallaght, Michael McDermott (58), of Riverdale House, Garrymore, Ballinagh, Co. Cavan and Frank Murphy (58), of McDonough Caravan Park, Triton Road, Bettystown, Co. Meath.
Evans was due to go on trial in January 2017, but failed to show up, sparking a manhunt by gardaí.
He was arrested in Spain last April after Irish authorities issued a European Arrest Warrant. He consented to his surrender and was arrested on his arrival at Dublin Airport.
At the trial of McGrath and Kelly last year Justice Tony Hunt described Butterly's murder as "callous, brutal and premeditated".
During the 31-day trial the court heard that the car used in the shooting, a stolen silver Toyota Corolla, was being watched by members of the National Surveillance Unit.
Gardaí observed the Corolla drive past the Huntsman Inn before making a U-turn and returning to the pub, entering ​the​​ ​carpark.
The driver, McGrath, was wearing a black wig. Dean Evans was "crouched" in the back seat, behind McGrath. The window was rolled down.
Witnesses then reported hearing gunshots.
One woman, who lived opposite the pub, saw a man holding a small black handgun. A student waiting at a nearby bus-stop saw two people sprinting away from a car. One was chasing the other. The second man raised an arm and shot the first man.
The court was satisfied, Mr Justice Hunt said, that Butterly was "shot in the carpark by means of a gun fired by Dean Evans".
Evans, he added, was driven to and from the scene by McGrath.
"It was an ambush by people who expected Butterly would be present in the carpark," he said, adding that the shooting had required a "considerable degree of forethought".
Comments have been closed for legal reasons