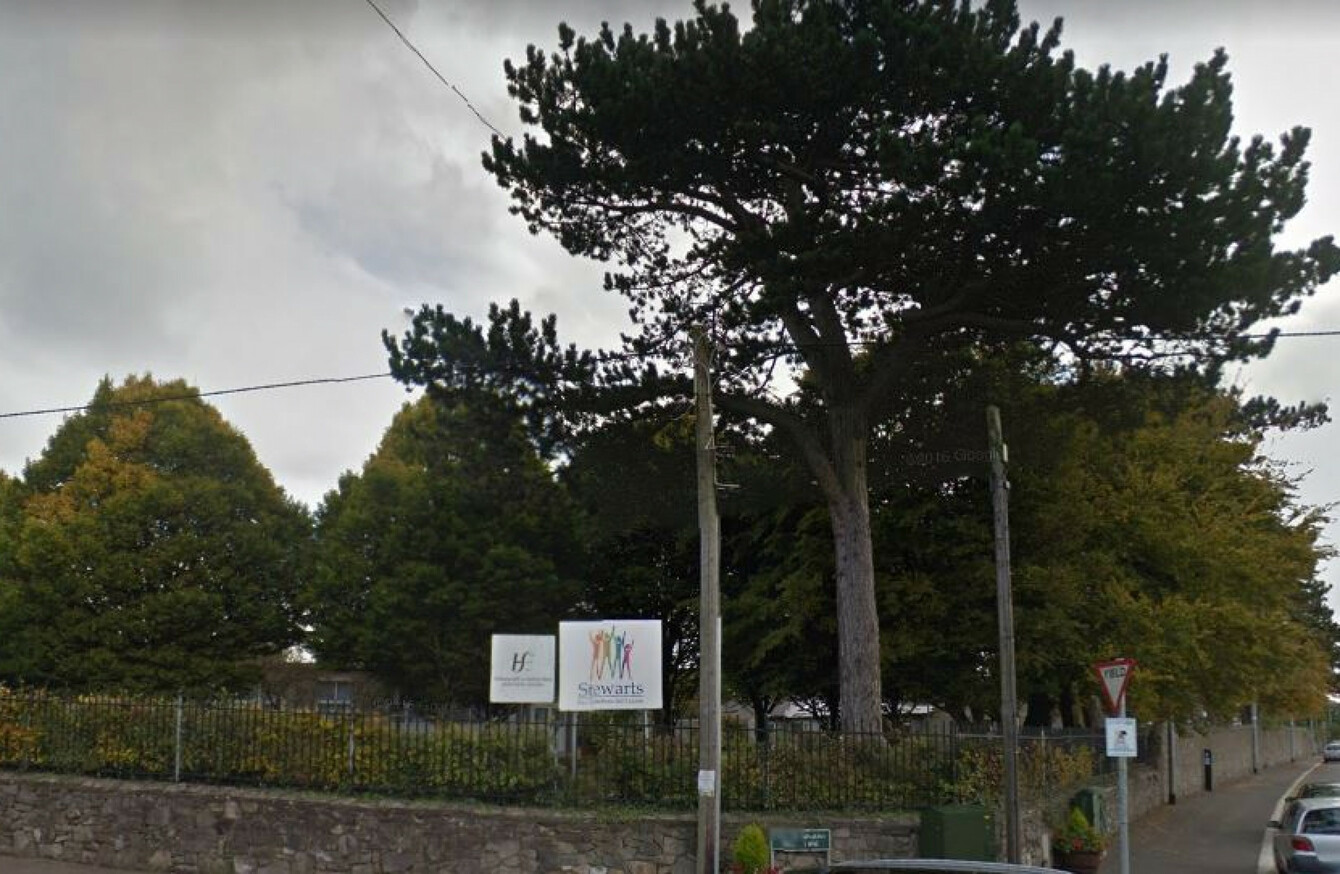 Stewarts Care in Palmerstown
Image: Google Maps
Stewarts Care in Palmerstown
Image: Google Maps
THE HEALTH INFORMATION and Quality Authority (HIQA) has again found cause for significant concern at a care centre run by Stewarts Care in Palmerstown, despite previously seeking to cancel its registration.
Hiqa conducted two unannounced inspections on Centres 1 and 5 on the Palmerstown campus on 19 October 2017. A total of 48 adults with disabilities were living in the centres at the time of the inspections.
Both centres had been previously inspected in July 2017 and poor levels of compliance were identified across all areas examined. This latest inspection – conducted in December 2017 – took place in Centre 6, which previously fared poorly in a previous inspection.
In August 2017, Stewarts Care Limited was issued with a notice of proposal to cancel the registration of the centres. In turn, the company had to submit a plan of action to Hiqa.
Hiqa inspectors found that there had been a failure to follow through on those actions to ensure the safety and quality of life for residents in a number of areas.
The inspectors noted: "Six outcomes were inspected against as part of this inspection and overall the inspectors observed a very high level of regulatory non-compliance.
In addition, of the 24 actions followed up on from the previous inspection, it was found that 15 had not been satisfactorily addressed by the provider. Significant concerns were identified at the time of this inspection in the areas of healthcare, medication management, fire safety, and safeguarding of residents.
Significant concerns
There was a "clear and substantial" absence of arrangements for the identifying, investigation and learning from serious incidents, which exposed residents to serious risk of injury and harm, Hiqa said.
It said: "Inspectors reviewed a sample of 34 incident reports relating to incidents which had occurred in the designated centre in September, October and November 2017.
Of these, inspectors found that 14 incidents related to allegations or suspicions of abuse. Six of these incidents were found not to have had appropriate follow-up in place.
Another seven were related to falls, trips or slips of residents. Six of these incidents did not have an appropriate follow-up.
Concerns were also raised over fire safety, where one staff member employed there three years said they'd never completed a fire drill.
In terms of care of residents, one case noted by the inspectors was of a resident who had a recommended daily fluid intake of 1,588 millilitres. Looking over a 10-day period, this intake wasn't achieved in seven of them. On one day, the resident only received a third (505 ml) of the recommended intake of fluid.
In another case, inspectors found a resident who was identified as experienced unexplained weight loss and had lost 10 kilogrammes in a 14-month period.
The person had been classed as "malnourished" on a recent assessment, but had not been seen by dietetics since October 2014.
Major issues of non-compliance were also found in medication management, and governance at the centre.
Hiqa has asked Stewarts to engage in a six-month improvement plan, and will monitor its implementation and its impact on the safety and quality of life of residents.
It added it is currently engaged in "escalated regulatory action with the provider".
'Accepts responsibility'
In a statement to TheJournal.ie, Stewarts Care said it accepts "fully its responsibility to resolved the shortcomings that [the] report has highlighted".
It said the board is currently overseeing a detailed programme of change to create the capacity and infrastructure to deal with the issues highlighted in Hiqa reports.
"This December report specifically highlights the need for need for urgent attention to dietetics, a situation the organisation was aware of and which has been addressed through the appointment in December of a registered dietitian at Stewarts Care," it said.
The scale of change required to modernise all areas of Stewarts Care residential services is substantial and requires investment beyond the resources ordinarily on hand to the organisation.