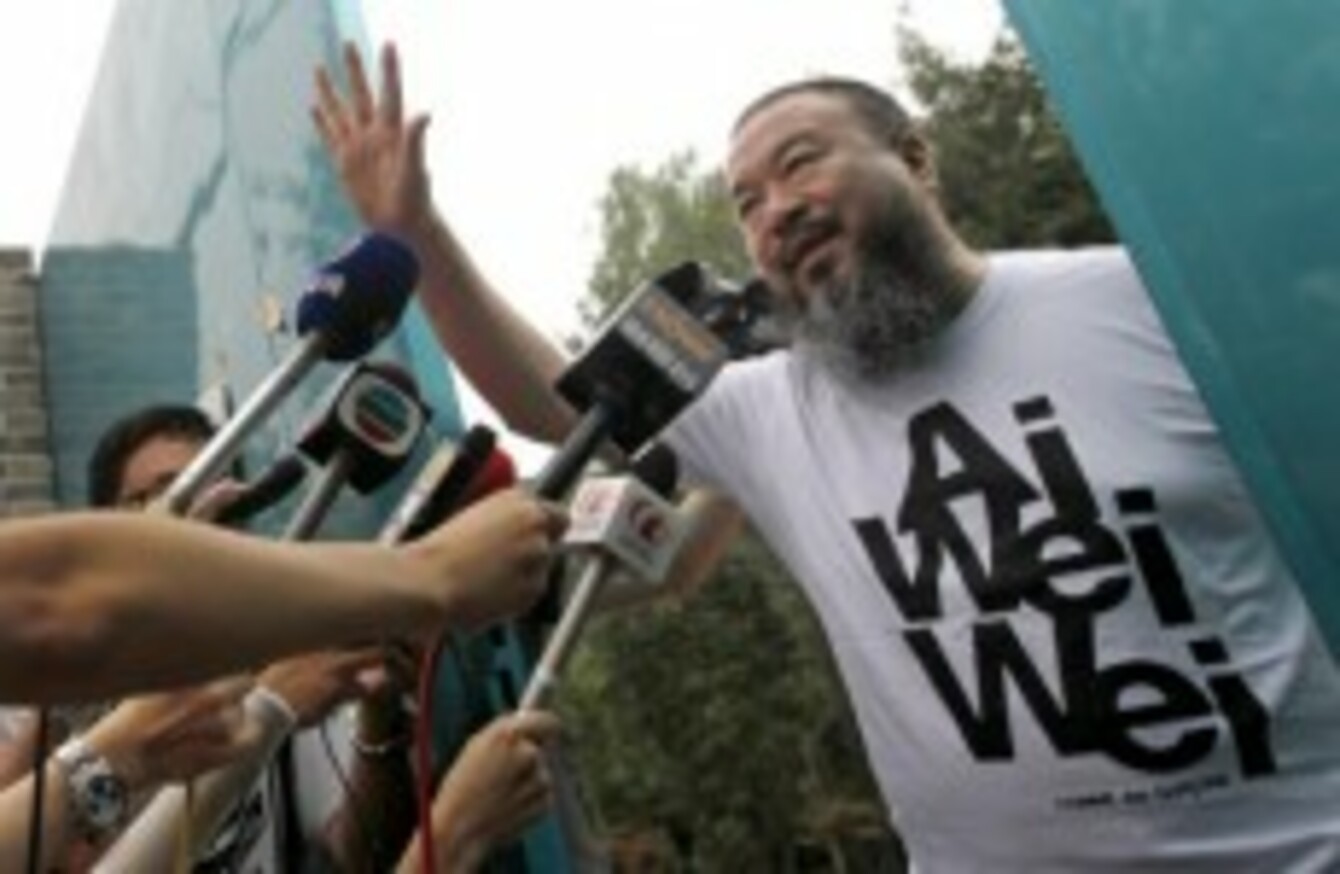 File photo of the artist outside his home in Beijing.
Image: AP Photo/Ng Han Guan/PA Images
File photo of the artist outside his home in Beijing.
Image: AP Photo/Ng Han Guan/PA Images
THOUSANDS OF people have sent more than €600,000 to Chinese dissident artist Ai Weiwei, some tossing cash folded into airplanes over his gate, to help him pay a tax bill they see as government harassment, he said today.
A state-run newspaper criticised the outpouring and warned it could be illegal.
The donation campaign — also in the form of wire transfers and cash stuffed in envelopes or wrapped around fruit that is thrown into his yard — is rare for Chinese dissidents because of the threat of retaliation that comes with supporting high-profile government critics.
Nearly 20,000 people have sent more than 5.3 million yuan (€607,000) since he announced a week ago that the Beijing tax bureau was demanding that he pay 15 million yuan (€1.7m) in back taxes and fines, Ai said.
"This shows that a group of people who want to express their views are using their money to cast their votes," Ai told The Associated Press. "It shows that in the Internet age, society will have its own judgment and its own values. People are using these methods to re-examine the accusation that I evaded taxes."
Ai, an internationally acclaimed conceptual artist, was detained for nearly three months earlier this year amid an overall crackdown on dissent, setting off concern well beyond the arts circles and civil rights community in which he is well known. The detention and subsequent claims of tax evasion have been interpreted by activists as a way to punish him for his often-outspoken criticism of the authoritarian government.
Ai said that he would not treat the money from supporters as donations, but as loans that he would repay.
Sunflower seed receipts
On Monday, staff and volunteers at Ai's Beijing Fake Cultural Development Ltd design company were sorting through hundreds of wire transfer receipts and sending off packets of sunflower seeds in return, a reference to Ai's past installation involving 100 million porcelain sunflower seeds at London's Tate Modern. Some donated bank notes were rolled into balls and others were folded into paper airplanes.
Volunteer Liu Yanping said many of the donations have been accompanied by messages of support, including "Brother, let me be your creditor," and "The whole family has been mobilised, everyone will be creditors," Liu said. Other messages were poetic: "Walk toward the light, the darkness will pass," wrote one supporter.
One person, feminist scholar Ai Xiaoming, described her donation as "a form of support as well as an appeal." She declined to reveal the size of her contribution.
"Everyone can clearly see how the whole process of accusing Ai Weiwei of tax evasion has not been transparent or fair," said Ai, who is based in the southern city of Guangzhou.
Ai the artist has demanded that police return the account books they seized from his studio when they detained him and that they allow him to meet with his former office manager and accountant.
Calls to the local tax bureau rang unanswered. In a commentary Monday, the state-run Global Times cited unnamed experts as saying Ai could be suspected of "illegal fundraising." It also said the movement did not represent the larger Chinese population.
"It is absolutely normal for a certain number of people to show their support for him with donations. But these people are an extremely small number when compared with China's total population," the commentary said. "Ai's political preference along with his supporters' cannot stand for the mainstream public, which is opposed to radical and confrontational political stances."
The newspaper also asked if Ai really needed to borrow money to pay off the tax bill. Ai has shown his work in London, New York and Berlin and has earned large sums selling his work at auctions and through galleries.
"Yes, I am very wealthy, but this is a separate issue," Ai said of the newspaper's criticism. "I have said that I will repay every cent of the loans. One person's innocence is tied together to a country's innocence. I'm not doing this to profit myself."