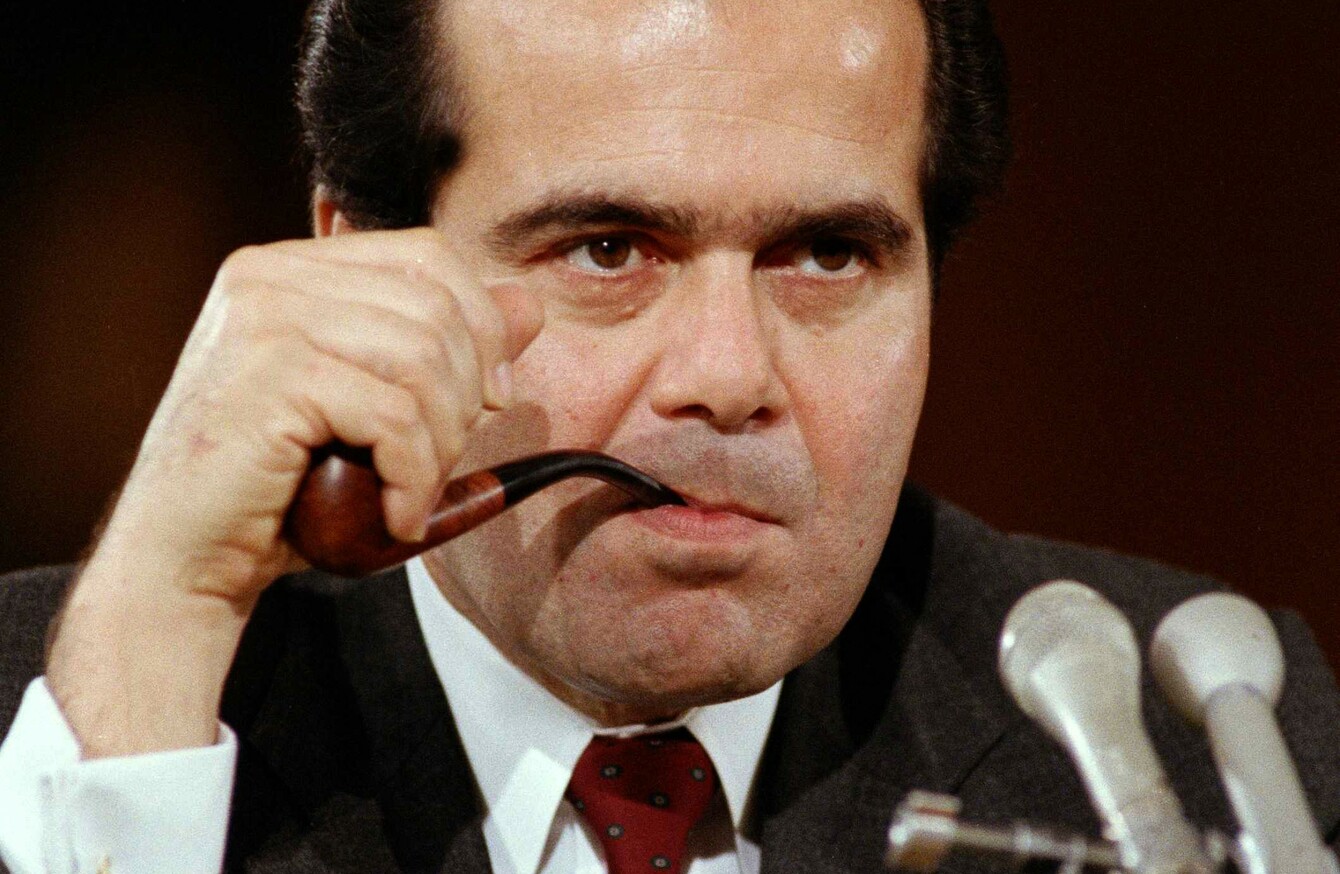 Antonin Scalia during confirmation hearings in 1986.
Image: Associated Press
Antonin Scalia during confirmation hearings in 1986.
Image: Associated Press
ANTONIN SCALIA, THE influential conservative and most provocative member of the Supreme Court, has died, leaving the high court without its conservative majority and setting up an ideological confrontation over his successor in the maelstrom of a presidential election year.
The 79 year old was found dead yesterday morning at private residence in the Big Bend area of West Texas, after he'd gone to his room the night before and did not appear for breakfast, said Donna Sellers, speaking for the US Marshals Service in Washington. The cause of death was not immediately known.
President Barack Obama made clear last night he would nominate a successor to Scalia, despite calls from Republicans to leave that choice — and the certain political struggle over it — to the next president. He promised to do so "in due time" while paying tribute to Scalia as "one of the towering legal figures of our time."
What does it mean?
Scalia's death most immediately means that that the justices could be split 4-4 in cases going to the heart of the some of the most divisive issues in the nation — over abortion, affirmative action, immigration policy and more.
Scalia was part of a 5-4 conservative majority — with one of the five, Anthony Kennedy, sometimes voting with liberals on the court.
Senate Majority Leader Mitch McConnell, as well as Republican presidential candidates Ted Cruz and Marco Rubio, said the nomination should fall to the next president.
Democrats were outraged at that idea, with Senator Harry Reid, the chamber's top Democrat, saying it would be "unprecedented in recent history" for the court to have a vacancy for a year.
Scalia's conservative views
Scalia used his keen intellect and missionary zeal in an unyielding attempt to move the court further to the right after his 1986 selection by President Ronald Reagan.
He also advocated tirelessly in favour of originalism, the method of constitutional interpretation that looks to the meaning of words and concepts as they were understood by the Founding Fathers.
Scalia's impact on the court was muted by his seeming disregard for moderating his views to help build consensus, although he was held in deep affection by his ideological opposites Ruth Bader Ginsburg and Elena Kagan.
His 2008 opinion for the court in favour of gun rights drew heavily on the history of the Second Amendment and was his crowning moment on the bench.
He could be a strong supporter of privacy in cases involving police searches and defendants' rights. Indeed, Scalia often said he should be the "poster child" for the criminal defence bar.
But he also voted consistently to let states outlaw abortions, to allow a closer relationship between government and religion, to permit executions and to limit lawsuits.
He was in the court's majority in the 2000 Bush v Gore decision, which effectively decided the presidential election for Republican George W. Bush. "Get over it," Scalia would famously say at speaking engagements in the ensuing years whenever the topic arose.
Scalia was passionate about the death penalty. He wrote for the court when in 1989 it allowed states to use capital punishment for killers who were 16 or 17 when they committed their crimes.
#Open journalism No news is bad news Support The Journal

Your contributions will help us continue to deliver the stories that are important to you

Support us now
What next?
President Obama now faces an epic battle to get a successor approved in the Senate.
Obama, who already has little goodwill on the Hill, faces stiff opposition from Republicans hungry for the chance to further tip the court to the right. A confirmation process often takes more than two months, but could be drawn out longer by the Republican-led Senate.
Senate Democrats made clear that they would work vigorously to keep Republicans from trying to run out the clock. They quickly offered counterarguments to Republican statements that the decision should rest with the next president.
"It would be unprecedented in recent history for the Supreme Court to go a year with a vacant seat," said Senate Minority Leader Harry Reid of Nevada. "Failing to fill this vacancy would be a shameful abdication of one of the Senate's most essential constitutional responsibilities."
The court faces a crowded docket of politically charged cases that are certain to resonate in the presidential campaign on issues such as immigration, abortion, affirmative action, climate change, labour unions and Obama's health care law.
Decisions were expected in late spring and early summer on whether the president could shield up to 5 million immigrants living in the United States illegally from deportation.
The immediate impact of Scalia death means that the justices will now be divided 4-4 in many of those cases. If there is a tie vote, then the lower court opinion remains in place.