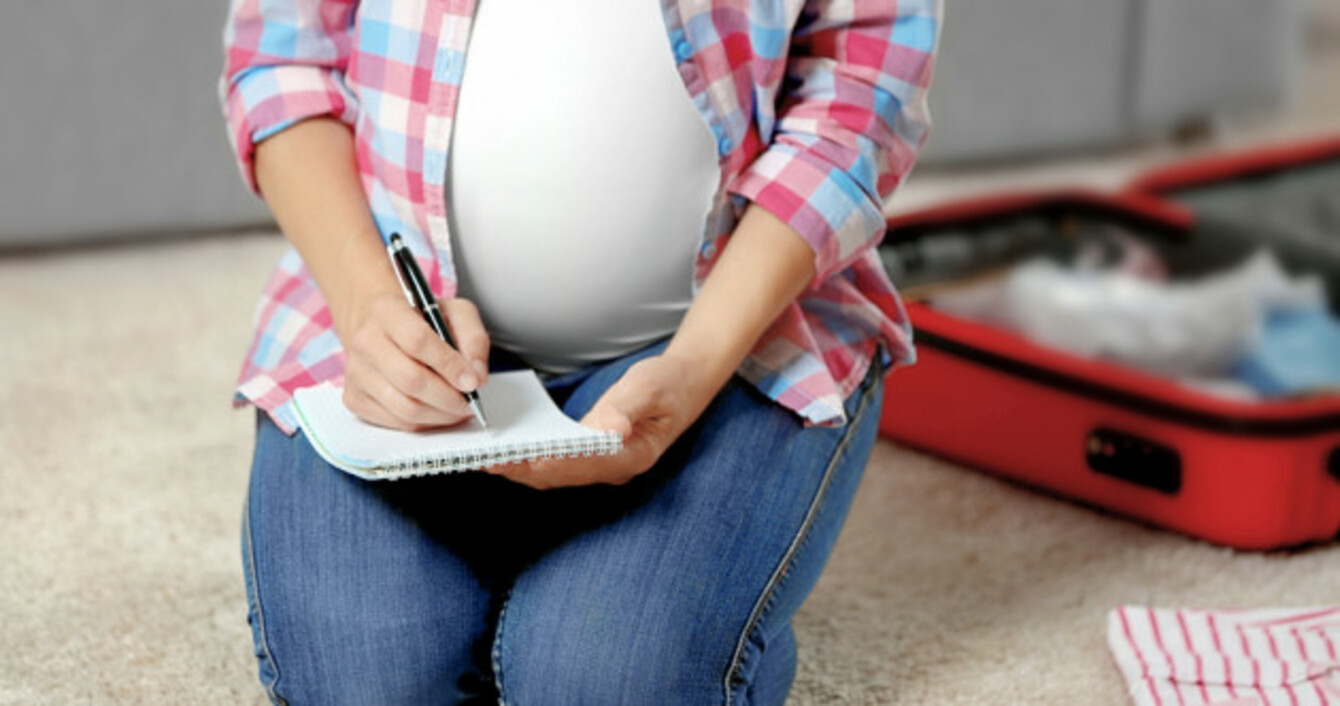 Image: Shutterstock
Image: Shutterstock
WITH MY DELIVERY date looming, all the antenatal guides say that now is the time to get the hospital bag packed and ready to go. But what to put inside?
From previous experience (and the expert advice of some fellow mums) I know there are plenty of must-haves that never make the usual 'what to pack' lists.
Here's what I'll be bringing, apart from the usuals…
1. Earplugs
If you haven't yet been in a maternity ward with ten women (and at least the same amount of newborns) here's a newsflash for you: it's loud. All through the night. Earplugs will muffle the sound slightly without blocking it out completely, so you'll still be able to hear your own little one if needed.
2. Flip-flops
Hospital communal showers can look like something off an episode of CSI so forget your washable foam footwear at your peril.
3. Stuff that makes you feel like 'you'
Nighties were the only form of sleepwear I packed with my first because a book told me to do it. I forgot of course that I never wear nighties at home. At a time when you're already feeling a bit like your body isn't your own, you just want something that feels 'normal'. This time I'll be packing my trusty old jammies and my own pillow.
4. Heating and cooling aids
With hormones raging, your body's thermostat can lose the run of itself completely. Bring socks for cold feet in the delivery room as well as a small fan and facial mist spray for sweaty faces. Thanks to the magic of labour, you could experience both extremities at once.
5. Hands-free paraphernalia
Yes, wireless headphones and a Bluetooth speaker to listen to birthing tracks or tunes in the delivery ward are essential. But also: straws for cups and an endless supply of hairbands to keep your greasy tresses out of your sweaty face.
6. Toilet essentials
Going to the loo after giving birth is a labour all of its own. For some cruel reason they don't tend to mention this fact in your antenatal classes – and your mates presumably think they're sparing you by not saying anything.
Pack a squirty bottle for cleaning down below (stitches + pee = stingy) and do your rear a massive favour by bringing your own quality loo roll, unfragranced wet wipes and haemorrhoid cream.
7. Healthy snacks
Dinner is early in hospital and the nights are long so it's a great idea to have a stash of breakfast biscuits and tasty, healthy treats in your bag, for yourself and for your birthing partner/hungry visitors.
8. Mood lighting
Plenty of mums I've talked to have sung the praises of battery-operated tea-light candles. They create a much nicer ambiance than the scary, harsh overhead lighting often used in hospitals. They're also better to use during the night to cause minimal disturbance for you and your little one.
9. Breast support
Start slathering on lanolin cream and using soothing compresses BEFORE any problems start. Even if you don't plan on breastfeeding, your boobs will need some attention. Soft, supportive bras and breast pads are a must.
10. Big bags, small bags, medium-sized bags…
Organisation is key here, so divide things up as you'll need them. Have a smaller bag for the labour ward and a larger one for the post-natal stuff. Use sandwich bags to keep tiny vests and babygros together so you're not frantically hunting around for bits of outfits. Plus, pack a couple of plastic or laundry bags for sending home dirty clothes. Things get soiled pretty fast.
For a much more thorough list of what to pack, I recommend this guide from Tracy Donegan, a fellow mum and the founder of GentleBirth.
Want to win a case of six wines for Spanish Wine Week? Enter here – and don't forget to like TheJournal.ie's Family Magazine on Facebook and Twitter!