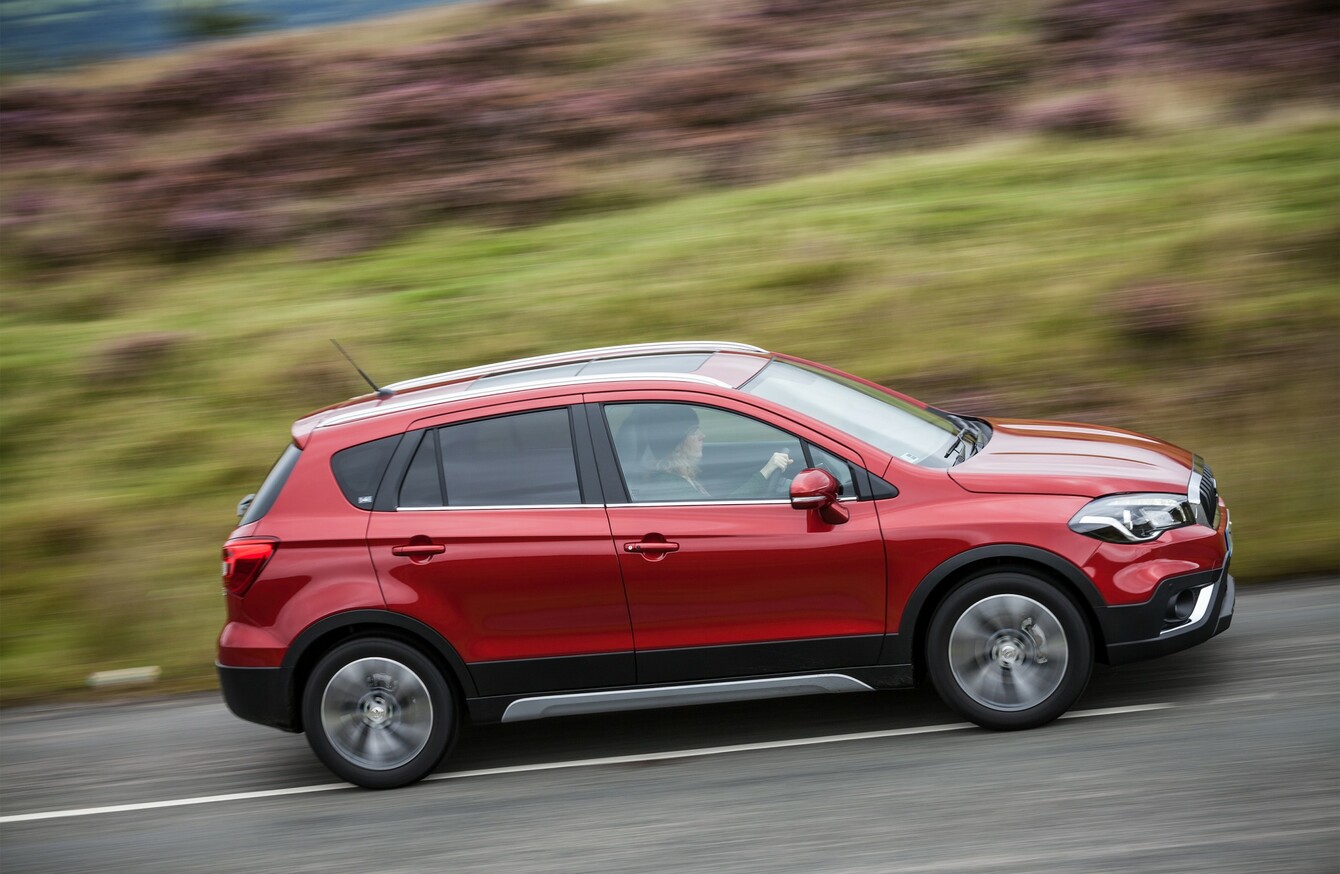 Image: Newspress
Image: Newspress
THIS IS THE Suzuki SX4 S-Cross, a five-door crossover with space for five passengers which aims to compete in the hard-fought C-Segment crossover market with the Nissan Qashqai – a perennial bestseller in Ireland.
In terms of filling the brief, the S-Cross ticks all the right crossover boxes. It has rugged exterior features like its bold front grille and clamshell bonnet, and lots of plastic cladding. The interior is quite roomy and there are lots of cubby holes and storage areas. And visibility is good all round apart from maybe a bit of a blind spot created by the A-pillar.
With the rear seats up, the boot is the same size as the Qashqai at 430 litres. The 'Allgrip' four-wheel-drive system is an option. And it scored a full five stars in the EuroNCAP safety tests.
However, there are some niggles. There is no space-saver spare wheel – just an emergency flat-tyre repair kit. The doors feel a little tinny when you open and close them, the cup holders are small, the cabin is a little dull and there is a lot of hard scratchy plastic. (That does mean that all surfaces are durable and hard wearing and there is a feeling that nothing will ever break.)
So, how does the Suzuki S-Cross differ from its rivals and why should you put it on your shopping list?
Well, the Suzuki S-Cross has a cracking 1.0-litre petrol engine and is great fun to drive, sporty even. Unlike many of its rivals, this car has plenty of personality when out on the road – and yet is still quite comfortable.
My test car was powered by the 112hp 1.0-litre Boosterjet engine mated to a five-speed manual gearbox, and it was such a pleasant surprise once I started the car up. It sounds brilliant, is super nippy and has the power to propel this 1,200kg car at a decent lick around the city. Even out on the motorway the car feels quick.
The engine is smooth and refined too. The manual gearbox feels nice and positive and I wasn't reaching for that invisible sixth-gear as much as I had done in other five-speed cars.
The car feels well weighted, with accurate steering. It is easy to manoeuvre and even without the Allgrip system there is plenty of grip and little in the way of body roll, which makes for confident cornering and good fun out on the windy roads of the Wicklow Way.
(On the flip side, this setup does mean that the ride can be a bit jarring on rougher road surfaces and over potholes, so you've got to take the rough with the smooth so to speak.)
But its decent ride is not the only reason that is should be on your shopping list. It comes in at a competitive price too, with entry-level models starting at €20,995.
Running costs are also low with the 1.0-litre engine emitting just 113g of CO2 meaning it's just €200 a year to tax and the claimed fuel economy figure is a decent 5.0 litres/100km (56.5mpg).
Overall, I really enjoyed my week behind the wheel of the Suzuki S-Cross. I felt it was better to drive than many of its rivals and it offers good value for money and has cheap enough running costs.