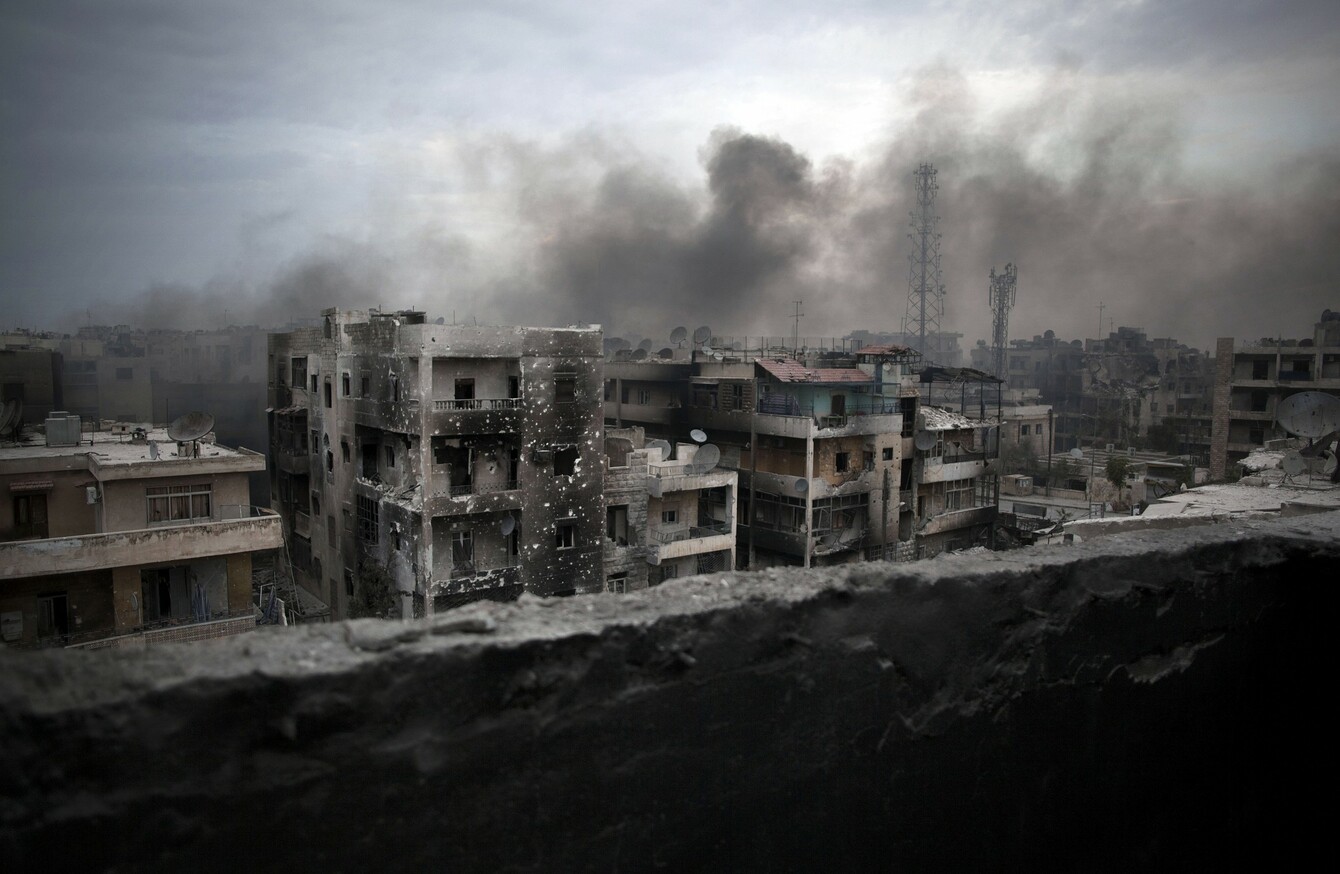 A file photo shows the devastation of Aleppo.
Image: Manu Brabo
A file photo shows the devastation of Aleppo.
Image: Manu Brabo
SYRIAN REBELS SAY they have broken a three-week government siege of second city Aleppo, turning the tables on Russian-backed regime forces who are now on the defensive.
To the northeast, a Western-backed alliance of Arab and Kurdish fighters scored a major victory against the Islamic State group in the town of Manbij after a fierce two-month battle.
The developments have rocked the key northern province of Aleppo, a microcosm of Syria's chaotic multi-front war that has killed more than 280,000 people.
Rebel and regime forces have fought for control of the provincial capital since mid-2012, transforming the former economic powerhouse into a divided, bombed-out city.
Opposition fighters, Islamists and jihadists have waged fierce assaults since July 31 to end the siege by government forces of some 250,000 people in Aleppo's eastern districts.
Rebel groups successfully broke the siege by opening a new route into the city from the southwest, opposition officials said.
"Rebels break Aleppo's siege," tweeted the Istanbul-based opposition National Coalition.
Ramussa
Islamist faction Ahrar al-Sham said rebels had seized control of Ramussa on the southwestern edges of the city and thereby "opened the route to Aleppo".
But state television said late Saturday the army had regained control of several key points in a military complex south of Aleppo that rebels overran earlier.
"Our armed forces took control of the part of the artillery school that had been seized by terrorists… while (rebel) groups withdrew from points in the armament school," it said, quoting a military source.
Al-Manar, the television station of the Lebanese group Hezbollah which is fighting alongside Syrian government forces, denied that Ramussa had fallen or that the siege had been broken.
The battle south of Aleppo has been accompanied by media campaigns often publishing conflicting information.
'A good omen'
Riad Hijab, head of the broad opposition body the High Negotiations Committee, tweeted: "The liberation of Ramussa and the breaking of the siege are a good omen for Syria's revolution."
An AFP journalist in eastern Aleppo city said residents were on the streets and shooting celebratory gunfire into the air.
"Days ago, I was only thinking about how to get a bite to eat," said Ahmad Adna, a 46-year-old resident of eastern Aleppo.
"Now I'm more optimistic after the (rebel) Army of Conquest's advance. I hope today will be the last day of the siege."
- © AFP 2016.