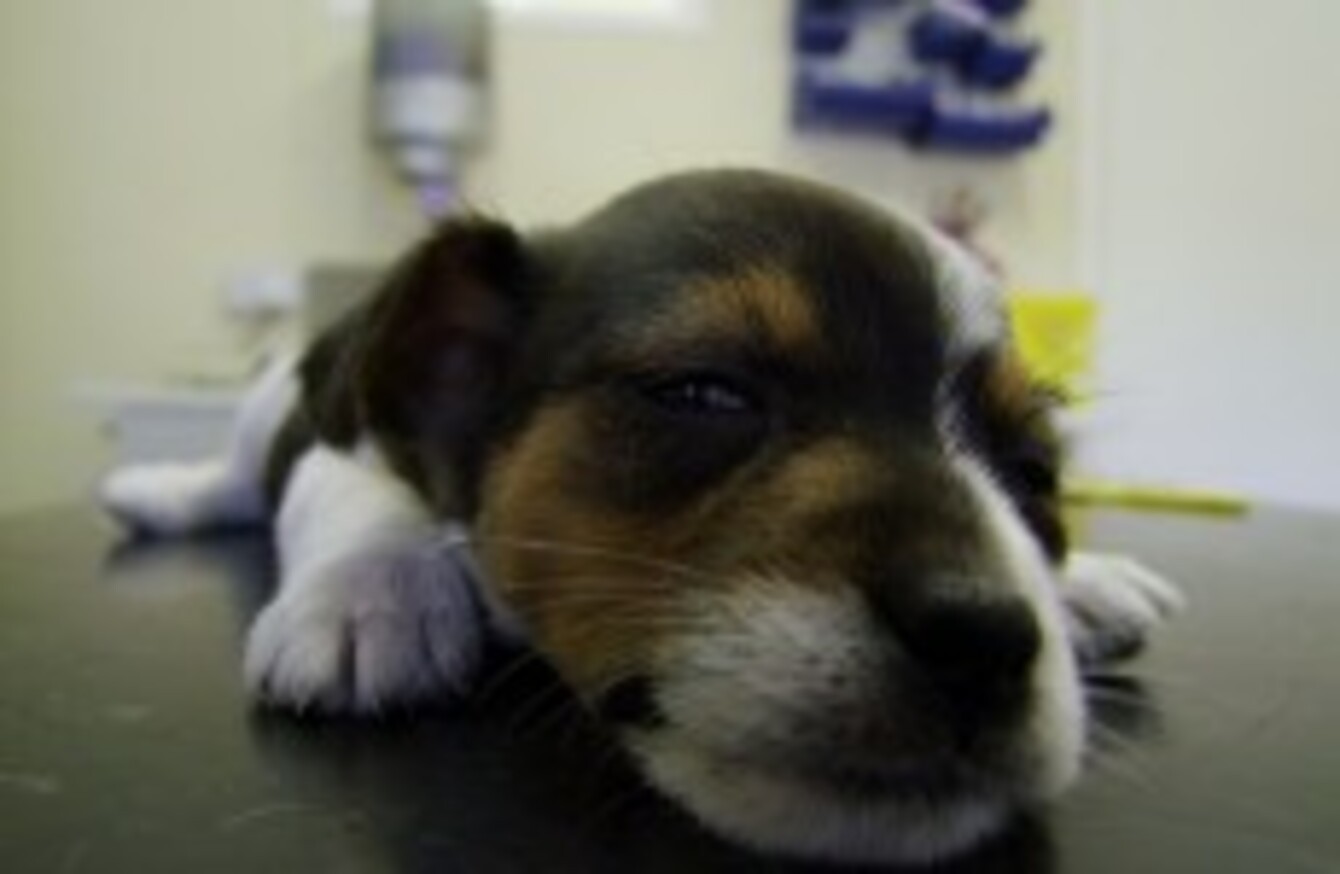 A puppy ill after having its tail docked.
Image: Pete Wedderburn
A puppy ill after having its tail docked.
Image: Pete Wedderburn
VETERINARIANS SAY THEY are shocked about proposed regulations under the Animal Health and Welfare Bill 2013 that would allow the docking – without anaesthetic – of the tails of puppies aged under four days.
Vet Pete Wedderburn of Bray Vet told TheJournal.ie that he has seen the injuries caused by people docking their dogs' tails, and that he can't understand why the Minister for Agriculture Simon Coveney would allow such a practice to continue.
He has been sharing his thoughts about the proposed legislation on his Facebook page.
"It completely shocked me," he said, pointing out that the legislation was carefully drafted and include wide consultation with a range of organisations.
"The new animal health and welfare bill was instructed to keep everybody happy and to comply with international norms of behaviour towards animals," he pointed out.
Though the act mentions banning surgical treatments such as docking, the regulations mean docking would still be allowed.
Europe
Wedderburn said that there some people who absolutely believe in tail docking, but "they are mistaken in this belief in my view". He said that the belief that tail docking prevents working dogs from getting injured "is not backed up by evidence".
Some people, said Wedderburn, simply prefer the look of dogs with docked tails, but docking does not necessarily have benefits for the dog's health.
He pointed out that tail docking is gradually being eradicated across Europe, and that the new regulations would mean that Ireland could not become the 23rd European state to ratify the Council of Europe's European Convention for the Protection of Pet Animals.
All of the animal welfare groups assumed the bill would be the opportunity for ireland to catch up – that is why everybody is shocked at the regulations.
Tail docking is often carried out without pain relief and Wedderburn believes that the issue reflects the country's urban-rural divide.
"We vets never liked doing it because it was obvious the animals were suffering in pain when we did this," he said. As a result, some vets approached the regulatory authorities on the issue, and Ireland's Veterinary Council decided it was unethical for vets to do it.
A vet who docks a dog's tail is at risk being of struck off if they are reported. Wedderburn described it as "bizarre" that the regulations would allow members of the public to carry out tail docking.
Just allowing the public to do it is just doubly bad. It's just going to cause more suffering. I would regularly see animals who have tails badly docked suffering from injuries that need treatment.
The Bray vet said that allowing tail docking "will really set back the case of animal welfare" in Ireland. For Wedderburn, it is a case of right and wrong, "it's clearly wrong to dock puppies' tails".
The vet acknowledges that some may see this as a small issue, but said it will have a wider impact on the country and its reputation abroad when it comes to animal welfare. "Ireland is already known as the puppy farm capital of Europe," he pointed out.
Wedderburn shared these photographs of a puppy recently brought into him after "a botched home-done tail docking". Be warned that some of these photographs may be distressing to view.
Ill dog

Source: Pete Wedderburn

Puppy after tail docking

Source: Pete Wedderburn

Docked tail wound

Source: Pete Wedderburn