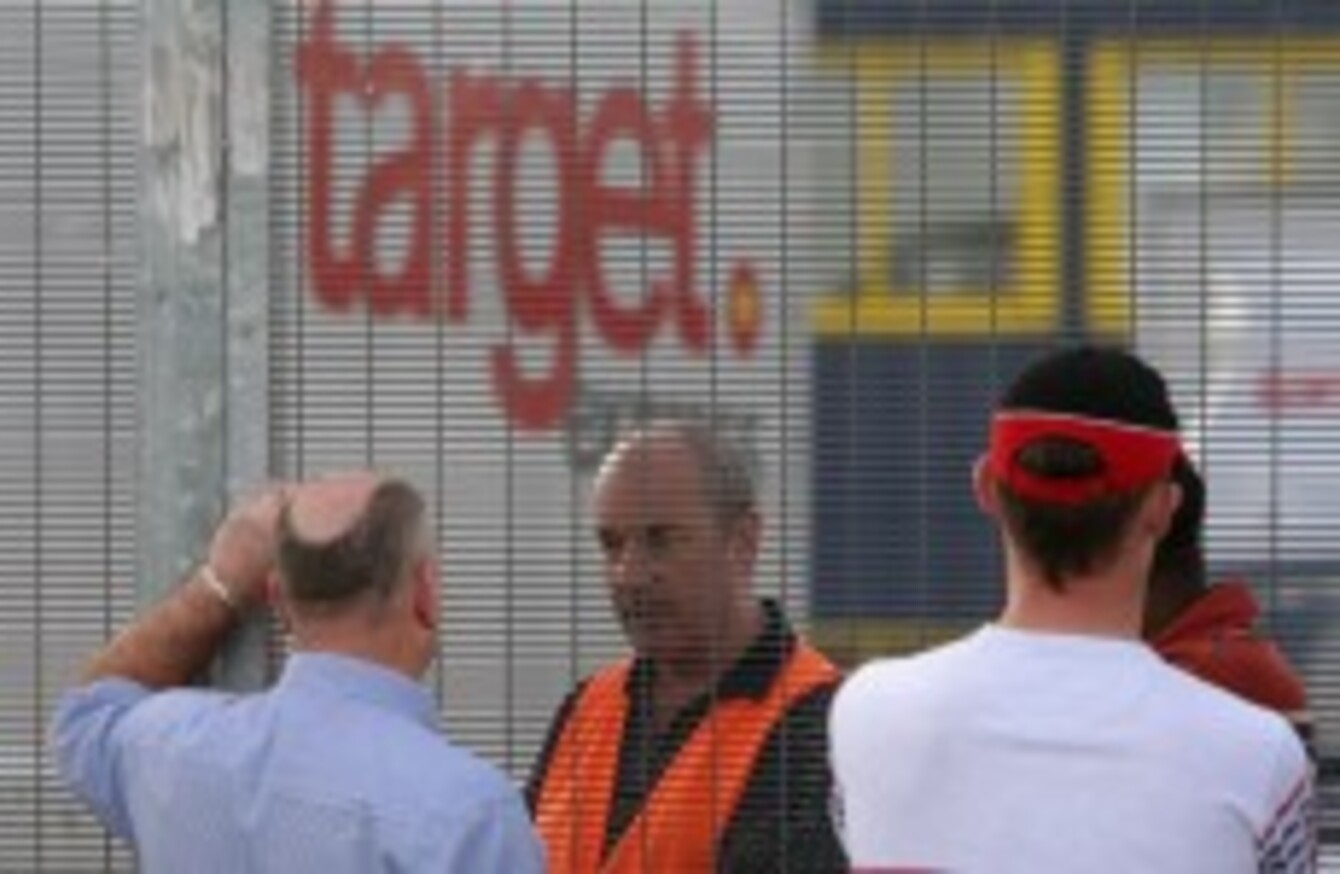 Sub-contractors block the entrance to the Target Express haulage company in west Dublin
Image: Niall Carson/PA Wire/Press Association Images
Sub-contractors block the entrance to the Target Express haulage company in west Dublin
Image: Niall Carson/PA Wire/Press Association Images
STAFF FROM TARGET Express are set to meet the company's provisional liquidators this morning.
Joint liquidators Steve Tennant and Michael McAteer of Grant Thornton have been appointed to the Target Express holding company College Freight Republic of Ireland.
This morning, Michael McAteer told Newstalk Breakfast that staff will get their entitlements that are protected the State, but it will take four – six months for them to be paid.
He said the company is "hopelessly insolvent" and there are "no funds available to pay any of the wages".
A petition presented to the High Court yesterday indicated that the company had a total liability of €600,447.
This includes a historical liability and taxes for July and August and the majority of the taxes are PAYE and PRSI.
After the staff are dealt with, the liquidators will deal with the security assets, and see if anyone can step in to save part of the business.
Liquidators
Last night, the provisional liquidators released a statement saying:
As part of this process the provisional liquidators will engage with staff of Target Express to ensure their terms and conditions of employment with regard to minimum notice period, documentation and redundancy are dealt with in line with statutory guidelines. The provisional liquidators are making arrangements to meet staff around the country as a matter of urgency tomorrow.
Employees at the Little Island branch of Target Express are continuing a sit-in. Sit-ins have also been taking place at depots in Cork and Galway.
Speaking to Newstalk Breakfast, employee Tom Cullen said that they are due to meet the liquidators at 10am. Cullen said he hoped the meeting was "a postitive step". He said:
This was a good company that we all worked for. We thought this was a viable company but it's now down to this, what we're doing today; what discussions we have today.
Target Express chief executive Seamus McBrien has previously criticised the Revenue Commissioners for the way it handled the company's case.
Revenue denies that its involvement has led to the loss of almost 400 jobs, but McBrien says that his company were ready to pay €80,000 of its debt by Friday of last week. The day before, an attachment order was placed on the company's bank accounts.
Yesterday, Labour TD Ciaran Lynch urged Target Express to engage with workers. He said:
"I visited the workers in the Target Express plant in Little Island today but they have been left completely in the dark about the current status of the company. Target express need to meet their workers immediately and explain fully to them the circumstances that led to revenue making the decision that they have and what position the company is currently in.
Cork-based employees have said they will occupy the premises until their pay and redundancy settlements are discharged by the company.
They will also not allow transportation of merchandise until this occurs and their demands are met.