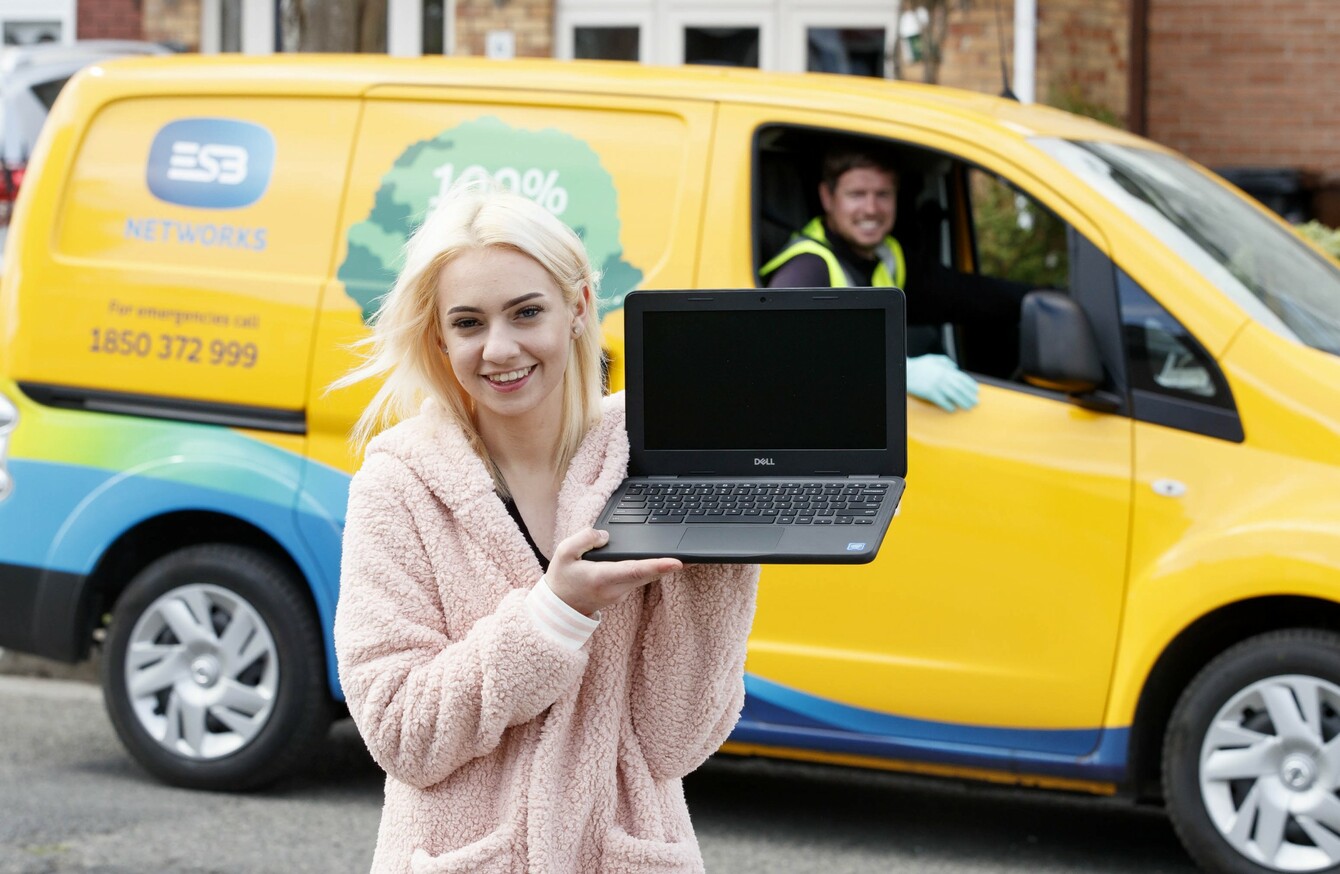 ESB volunteer Mark O'Donoghue and Tech2Students laptop recipient Karina Trzeciak.
Image: ESB
ESB volunteer Mark O'Donoghue and Tech2Students laptop recipient Karina Trzeciak.
Image: ESB
WITH SCHOOLS IN Ireland not set to reopen until September, and uncertain times ahead, online education for children and young people has never been more important. 
Over the past few months, homework, learning and studying has moved from being taught and assigned by teachers in busy classrooms to taking place on a rectangular screen on a laptop at home.
But what if you don't have a laptop? In fact, some 50% of DEIS (Delivering Equality of Opportunity in Schools) students in Ireland don't have access to a laptop they can use for schoolwork, according to Camara Ireland, a social enterprise with a mission to support and resource schools and youth settings with technology.
Michelle O'Kelly, principal of DEIS school Mercy Inchicore in Dublin, calls it "the digital divide" – and the current crisis has only highlighted it, she says. "Our students are now not only on an unequal playing field because of their DEIS status, but also because of the digital divide that has become compounded in this crisis as we tried to connect with our students in their homes." 
To combat this, Camara Ireland and Trinity Access, supported by ESB, launched the Tech2Students campaign in April. The campaign sought donations of disused laptops to DEIS school students with no access to technology at home. 
"It bridges the divide for people who don't have access to laptops," says Anthony Rafter, who is one of a team of more than 30 ESB volunteers picking up and delivering the donations. 
"Being essential workers, we're geared up for it anyway. We have the PPE and necessary sanitary ware. It's been really uplifting for some of the crew who have gotten involved."
After donors sign up to give a laptop, an ESB volunteer collects it from their home, while adhering to social distancing protocols. The laptops are then disinfected and restored to factory settings by Camara and Trinity Access volunteers, with all data securely erased. To prepare the devices for use, a fresh copy of the Windows operating system is installed.
Once each laptop is ready to go, an ESB volunteer delivers it to a student in need, allowing them to work and study online. ESB also donated €100,000 to support the purchase of laptops to help the appeal.
For some recipients, the impact was immediate. ESB volunteer Aisling Delaney delivered a laptop to one student who was "genuinely over the moon", she recalls.
"She was saying that she used to try and do everything on her phone, and she couldn't see all the materials. She really missed the teaching element," says Aisling.
She actually said, 'I can't wait to go inside and turn it on!'
Aisling continues: "It's been brilliant to be able to be involved in something like this, and actually give back. I've seen how much it means."
Her fellow volunteer Mark O'Donoghue, who works at ESB South Lotts Road, Dublin 4, agrees. "We couldn't not get involved," he says. "It was a no-brainer."
"Online education has never been more important, and so many students don't have access to laptops. Yet some of us never think of the old laptop lying in the corner of the room."
Even with this year's Leaving Cert being cancelled, having access to a laptop can positively impact a student for years to come, says Mark. "They can go on to use it for college applications, to study."
There are benefits in the future that we can't even think of.
Meanwhile, the focus of the campaign is now moving on to 5th class students and others for whom the digital divide will continue. 
#Open journalism No news is bad news Support The Journal

Your contributions will help us continue to deliver the stories that are important to you

Support us now
"We see the challenge as being much wider than the current Leaving Cert cohort," says Camara Ireland's CEO Marianne Checkley. "The digital divide looms large in the period ahead and we are working closely with schools so that devices get to the students who most need them."
For many of the volunteers, helping to get laptops to students in need has been a welcome lift among the worry and uncertainty being felt around the country. 
"A young lad came out to collect a laptop I was delivering a few weeks ago and he was absolutely thrilled," recalls Anthony. "I knew he was going to do something really good with it. It made my day." 
By next week, almost 1,000 laptops will have been delivered to students as part of the campaign. 
"Donating a laptop can make a massive difference to a student's life," says Mark. "It's a cliche, but with everyone's spirits being down during the crisis, it's brilliant to see people coming together while staying apart." 
Source: T2S YouTube/YouTube
Help bring a world of education to a student's home and register to donate a laptop to the Tech2Students campaign here. The Tech2Students campaign is a collaboration between Trinity Access and Camara Ireland, supported by ESB.