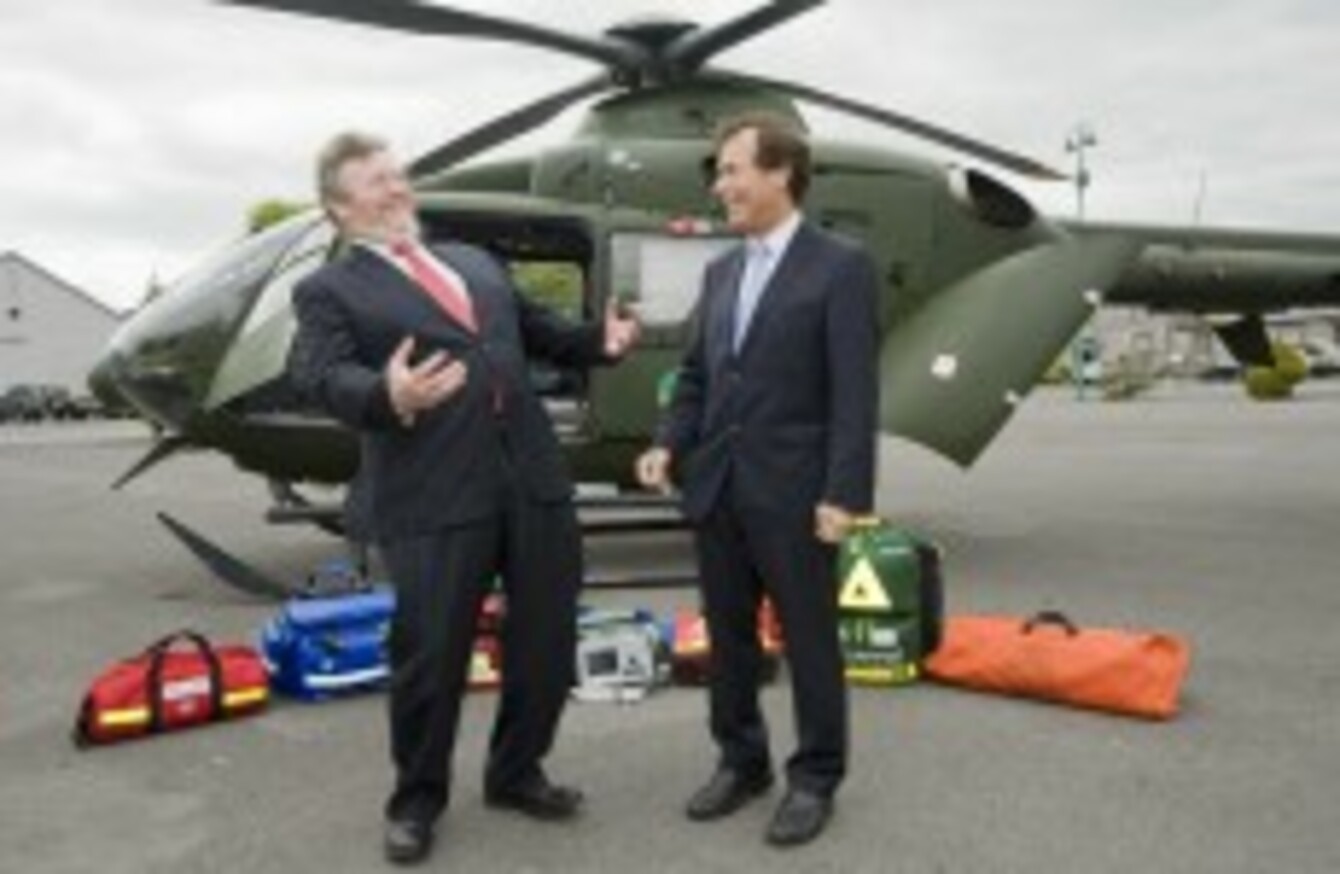 Ministers James Reilly and Alan Shatter launch the pilot Emergency Aeromedical Service today in Athlone
Image: Laura Hutton/Photocall Ireland
Ministers James Reilly and Alan Shatter launch the pilot Emergency Aeromedical Service today in Athlone
Image: Laura Hutton/Photocall Ireland
EVERY EVENING, TheJournal.ie brings you a round-up of the day's biggest news stories, as well as the bits and pieces you may have missed.
Declan Ganley has denied any conflict of interest over his involvement in a Swiss asset management company and his position on the Fiscal Treaty referendum. For all the day's developments, you can check out our Referendum Round-up. We'll also be running a liveblog of this evening's RTÉ Frontline referendum debate.
An investigation has been launched into the death of a 51-year-old woman in Dublin following an assault outside a fast food outlet at around 3.15am Sunday morning.
The ISPCC says that its Childline helpline for children has received a record number of calls about emotional abuse.
A prison in Mississippi is on lockdown today after a riot yesterday which resulted in the death of one guard and injuries to  19 other people.
A group of banks has been granted a €164 million judgment against the developer Seán Dunn over loans he was given to buy hotels in Ballsbridge, Dublin.
The department responsible for covering the costs of the Mahon Tribunal says that the estimated final cost for the 13-year-long inquiry will hit €196.3 million.
A suicide bomber has killed over 100 soldiers in an attack during a military parade in Yemen.
A paedophile dubbed the 'Monster of Riga' has been jailed for 18 years for the abuse of over 60 children in the Netherlands while he worked as a nursery school assistant and babysitter.
Meanwhile in Ireland, new legislation which would make it a criminal offence not to disclose information regarding the abuse of a child may not apply to priests.
Queen Masenate Mohato Seesio of Lesotho reacts with delight upon being presented with a gift as she and her husband King Letsie III visit Newbridge Silverware Factory.
Three climbers have died while returning from the summit of Mount Everest.
Bee Gee star Robin Gibb has died aged 62 following a long battle with cancer.
In this evening's Read Me, Fianna Fáil's Micheál Martin says it's time for political parties to work together on job creation.
Check out these amazing pictures of last night's annular solar eclipse.
Jamie Oliver is set to open a restaurant in Dublin. Jamie's Italian is set to open at Dundrum Town Centre this autumn.
In this week's Burning Question, we've been asking how you peel a banana. Seriously.
Have you seen Diarmuid Gavin's latest extraordinary creation? Gavin has constructed a pyramid-like garden for the Chelsea Flower Show.
Have you ever wondered what happens if the Olympic torch goes out during its relay ahead of the Games? Here you go:
(Video uploaded by millsy1804)