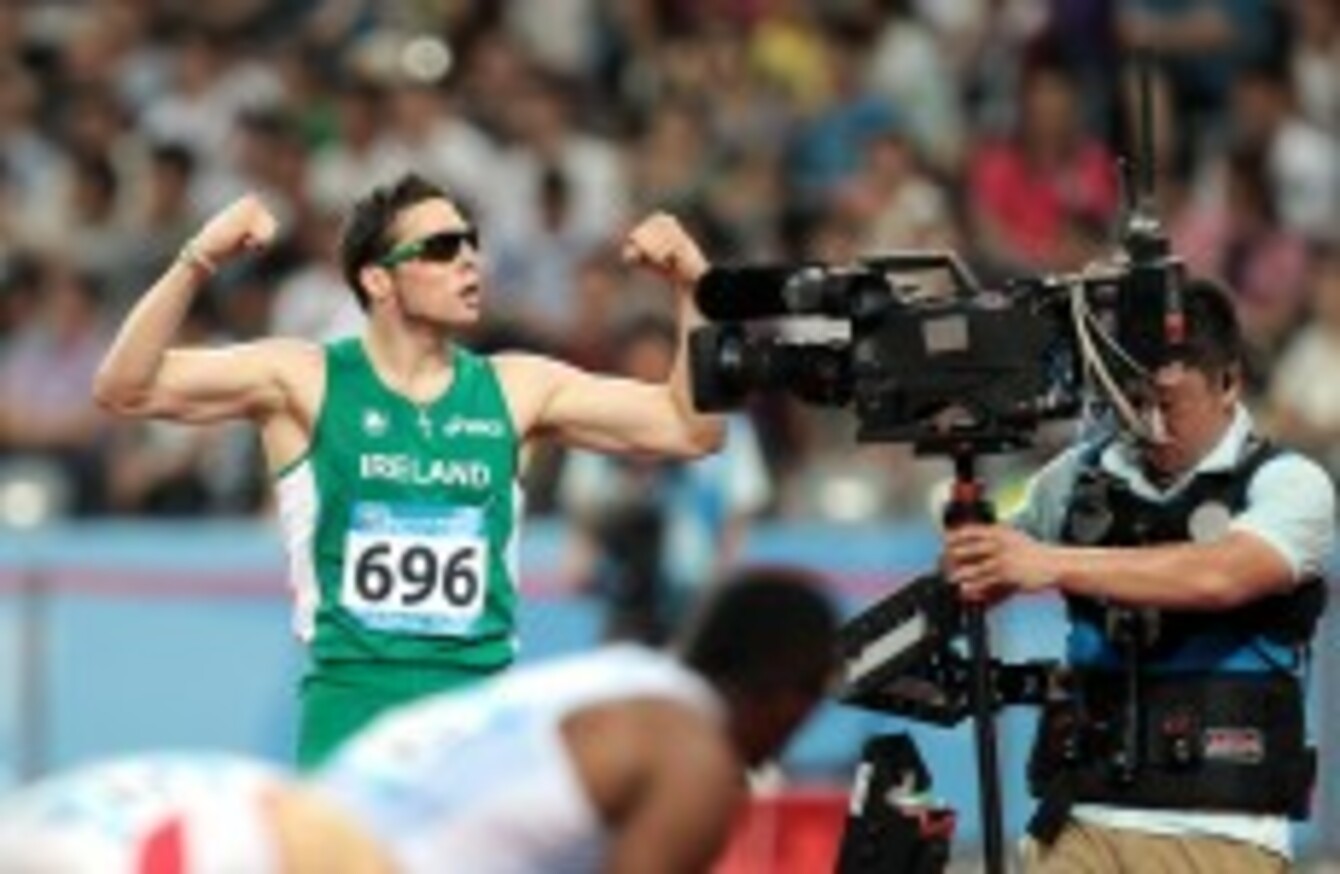 Ireland's Brian Gregan (DCU) celebrates after winning his semi-final in the Men's 400m at the World University Games in Shenzhen, China. He finished in a time of 46.00.
Image: INPHO/Cathal Noonan
Ireland's Brian Gregan (DCU) celebrates after winning his semi-final in the Men's 400m at the World University Games in Shenzhen, China. He finished in a time of 46.00.
Image: INPHO/Cathal Noonan
EVERY EVENING, TheJournal.ie brings you a round-up of the day's biggest news stories, as well as the bits and pieces you may have missed.
Education minister Ruairí Quinn has acknowledged that second-level teaching in Ireland needs reform, after today's Leaving Cert results showed a high failure rate in Maths – where one in 14 students failed to make the grade. Earlier, IBEC said maths and science results were not at the level that employers needed. Here's the day's Leaving Cert developments in pictures and in numbers.
Dublin Airport is to gain a 24-hour air ambulance service from tomorrow. The current provider, commissioned by Crumlin Children's Hospital in the aftermath of the Meadhbh McGivern affair, was based in Weston Airport – meaning it couldn't be used outside of daylight hours.
Dublin's Catholic families may soon be asked to pay a Church levy. That's according to the Irish Catholic, which has obtained a document given to the Archdiocese's Council of Priests – a document which warned that many parishes were on the brink of financial collapse.
A North Dublin family had an unusual scare earlier when a quantity of corroded grenades and artillery shells was found in their house during renovations. It's thought that the weapons, which have now been made safe, could date as far back as the War of Independence.
The photograph on this story may look like it's from a film set – but that's a real-life photo from New York City, where a man had to be rescued from the cab of a truck after it drove out a wall two storeys in the air. The salt truck had been taken in for repairs when it ploughed through the wall.
Someone in Cityjet has had a pretty lousy couple of days at work, having to clean up after Gerard Depardieu, who couldn't wait to use the toilet on a flight heading for Dublin last night…
The world's financial markets have had another topsy-turvy day – with some markets up, and some markets down, on the back of the Merkel-Sarkozy plans for a 'Eurozone financial government'. Michael Noonan has insisted, though, that the plans – which include the harmonisation of corporate tax rates in France and Germany – won't impact on Ireland's own rates.
British prime minister David Cameron has defended the tough sentences being handed down to people convicted of offences relating to last week's rioting and looting. Human rights groups have complained that harsh sentences – such as four-year terms for people trying to arrange riots through Facebook – were draconian.
The RNLI team from Baltimore, Co Cork, have sent us some photographs of their rescue of the Rambler 100 crew on Monday night. They're quite extraordinary. Check them out.
Spoiler alert: Good news for Irish reality-TV-talent-show fans: Derry teenager Damian McGinty, 19, is one of the last four in the running for a slot on the über-hit Glee. The finale of The Glee Project, which will reveal the winner, airs in the US on Sunday.
Bad news for (some) Irish reality-TV-talent-show fans: newspaper reports linking former X Factor judge Cheryl Cole to RTÉ's new series The Voice of Ireland have proven a little wide of the mark.
Is Martin Sheen among the candidates who become President of Ireland? Not yet. Might he be? His agent hasn't replied to us yet. If he doesn't run? Here are eight sports personalities who could give it a go.
This is a few days old, but… here's what former Green Party senator Dan Boyle's been getting up to for the last few months.
This one comes in via Graham Linehan's Twitter: if there's campaigns going for this year's Christmas number 1, we'd happily endorse this as a runner. It's Tom Waits doing a visual duet… with the Cookie Monster. Genius.
#Open journalism No news is bad news Support The Journal

Your contributions will help us continue to deliver the stories that are important to you

Support us now