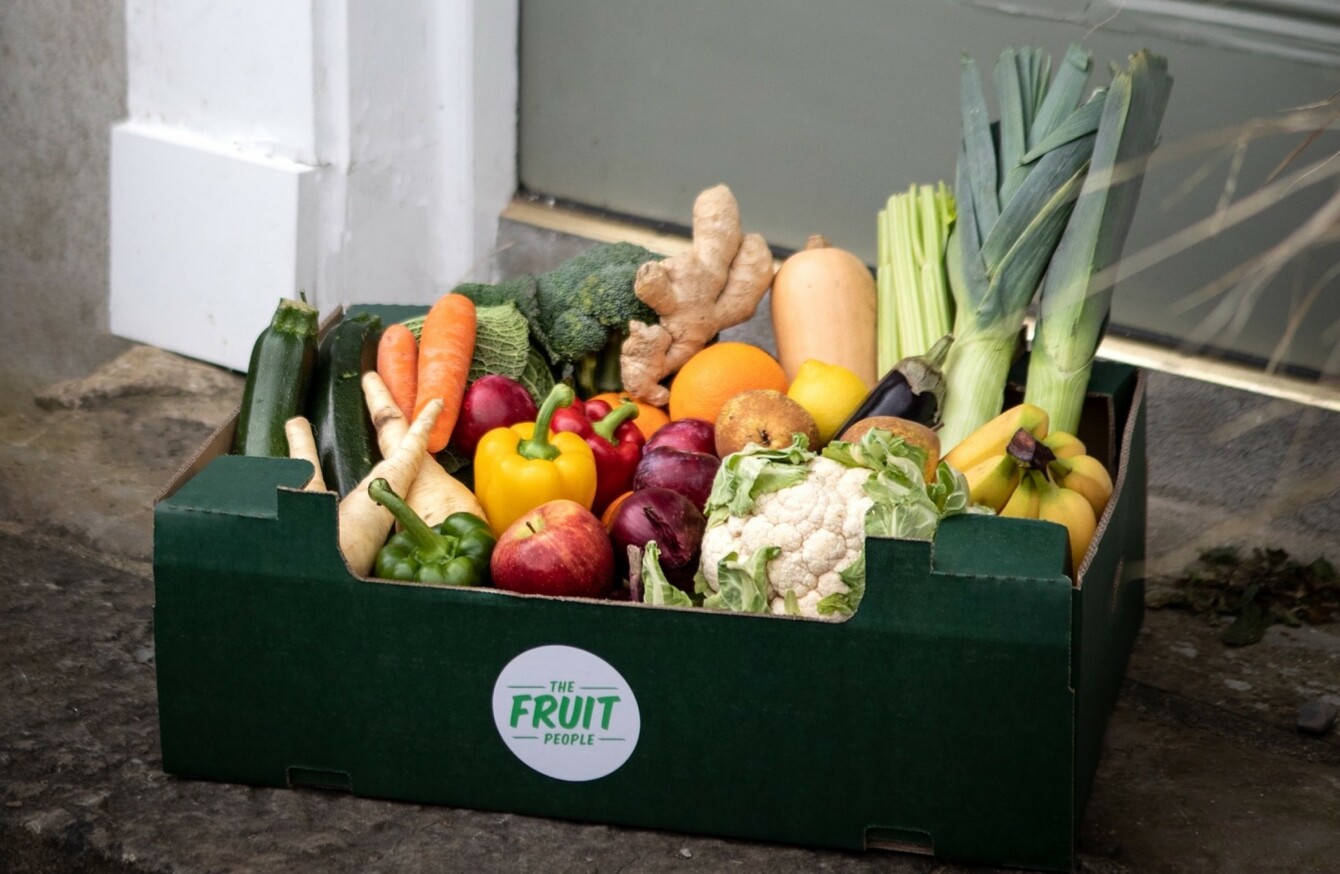 Customers can opt for regular or one-off deliveries from The Fruit People
Image: The Fruit People
Customers can opt for regular or one-off deliveries from The Fruit People
Image: The Fruit People
IN RECENT MONTHS, the Irish food industry has undergone an unpredictable transformation.
When shutters temporarily went down on all "non-essential" shops and services back in March due to coronavirus restrictions, small Irish businesses had to pivot quickly in order to survive. Over the last two months, the industry has slowly re-opened, but with a new face.
Café owners have launched brunch-delivery services, restaurants are offering cook-at-home meal kits, and small shops and delis have started selling online, some for the first time.
Delivery vans and bikes are becoming more frequent sights on residential streets and outside apartment complexes, with hungry households now able to order everything from fresh bread to freshly poured pints directly to their door.
For brothers Barry and Brian Dennis, co-founders of produce delivery service The Fruit People, the lockdown has shut one door temporarily, but it's opened a brand new one.
Since The Fruit People launched back in 2013, the primary market for the Dennis brothers has been almost exclusively workplaces, with a core team of up to 45 staff delivering hundreds of boxes of fresh fruit, milk and healthy snacks to offices around Dublin every day.
"Signing up for a fruit or snack delivery was an easy solution for companies who wanted to tick the 'workplace wellbeing' box," says Brian Dennis.
"We were saving time for employers and employees, and giving them produce that was of a much different standard to what you'd pick up in the supermarket. Things opened up really quickly for us."
But with most office buildings currently shut, the company has turned its offering to home deliveries – creating an expanded menu of products for home kitchens and pantries around the Dublin area.
You'll still find a wide range of seasonal fruit on offer, but now there are also locally-sourced vegetables and salads, Italian and Thai cooking kits, olive oil, balsamic vinegar, free range eggs, coffee beans, sourdough bread and nut butter, all delivered to your doorstep. 
"We have around fifteen to sixteen suppliers working with us at the moment, says Brian. We get strawberries from Simon Donnelly in Ratoath, salad leaves are from Garden of Eden in Rush, we work with Lilliput Trading Company for the olive oil and vinegar. Everyone we deal with is small and specialist."
Householders can choose a regular fruit or veg delivery, with the option to add in extra fridge and pantry essentials as needed, or they can build a box from scratch for a one-off order or gift. Deliveries take place throughout the week, with all staff following HSE safety and social distancing guidelines.
Logistically, the process of switching from from workplace deliveries to home deliveries has been a smooth one for the Dennis brothers. The key steps are the same, from sourcing produce to loading boxes to delivering the goods. Getting to know the needs and desires of a whole new customer base has been a bigger challenge – but a rewarding one.
"Our warehouse and delivery team were geared up and ready to go but we had to learn what people wanted," says Brian.
In an office it's easy to send in a box of different types of fruit for 30 or 40 people, because you know everyone will find something they like. But in a household with maybe four or five people, you can't make assumptions. You have to be quite particular and make sure you're including items people will actually want to eat.
#Open journalism No news is bad news Support The Journal

Your contributions will help us continue to deliver the stories that are important to you

Support us now
For every new order that's delivered, the team follow up with a call, asking householders what they liked about their box, what they didn't like so much, and what new items they'd like to see on site.
The response has been hugely positive. "We're getting a lot of referrals," says Brian. "Someone will make an order because a friend or family member has used the service and recommended us."
The Dennis brothers hope that the habit of getting in a weekly fruit, veg and pantry box will stick for householders, long beyond the re-opening of offices. They'd love to see a return to the way things were a few decades ago, when getting your milk or bread delivered to your door was the norm, rather than the exception. Brian explains:
"Supermarkets are able to provide convenience, and that's why those kinds of home deliveries became less common. But supermarket retailers were so focused on competing on price, that they pushed down the quality of what they were selling. The resurgence of home deliveries is based on a desire for quality, and our quality is what makes us stand out."
The proof is in the crunch, he adds.
Take an apple, for example. You might eat a red apple from the supermarket, but it's typically been in cold storage for a week or longer. The apples we send out were picked one or two days ago. People can taste the difference.
The Fruit People is premium delivery service bringing the freshest fruit, veg, and pantry products to Ireland's homes and offices. Plus, a selection of exclusive items from boutique grocers and cafés. Make your first order right here.