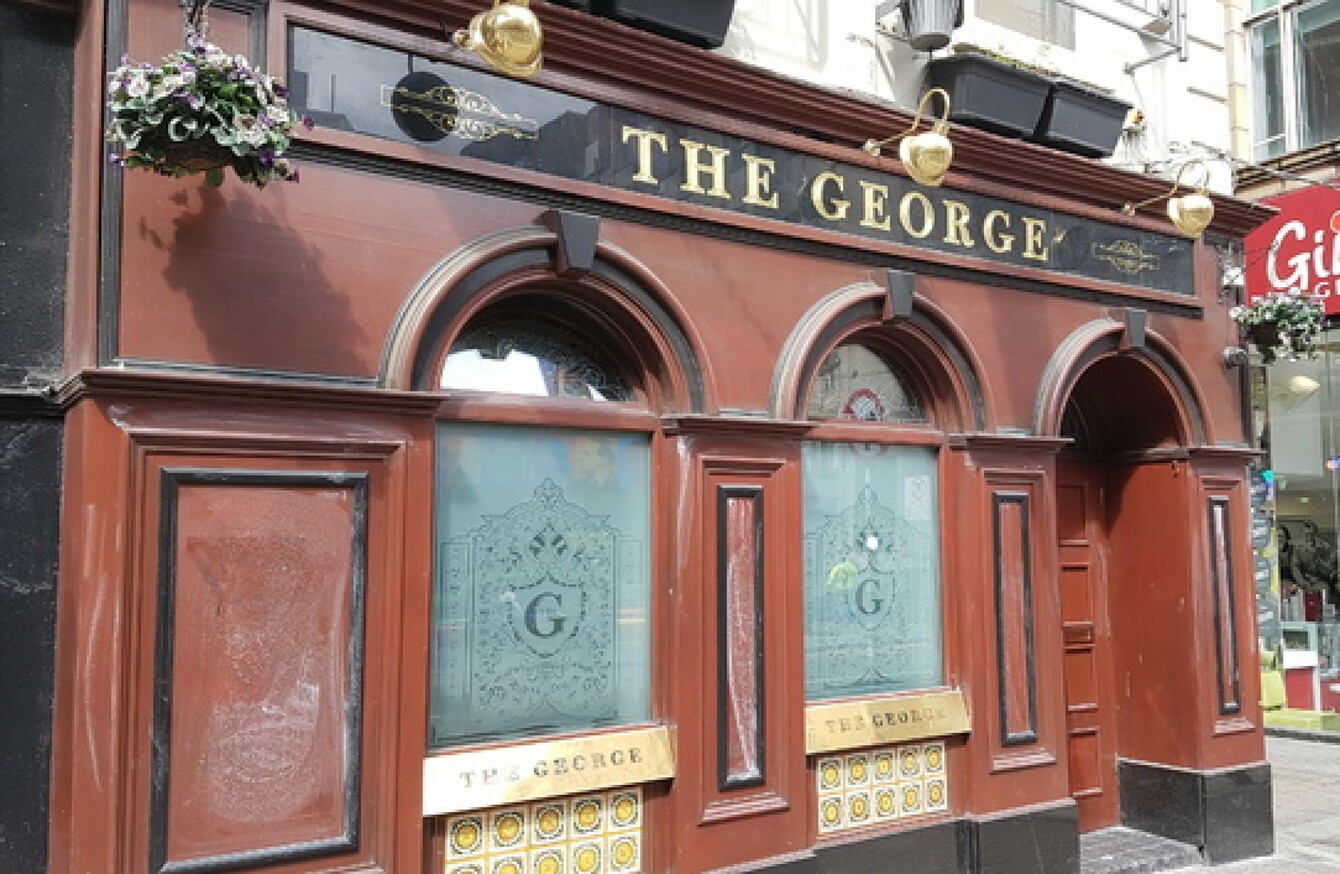 A 23-YEAR-OLD man has been granted bail with strict conditions after being charged over a homophobic graffiti attack at The George, one of Dublin's best known gay bars.
Eoin Berkeley was warned by Judge Deirdre Gearty that he risked being held in prison on remand if he broke the bail terms which compel him to stay away from the popular bar on Dublin's South Great George's Street.
Derogatory language and the Nazi swastika symbol were daubed in chalk in the early hours of Saturday morning but have since been removed from the pub's facade.
The 23-year-old, from Hampton Wood Way, Finglas, Dublin 11, was arrested over the weekend and detained for questioning. He was held overnight and appeared at Dublin District Court this morning charged with criminal damage to the facade and panels at the bar.
Dressed in a green hooded top, navy tracksuit bottoms and white runners, he remained seated during the brief hearing and has not yet indicated how he will plead.
Evidence of his arrest and being charged were given by means of a certificate furnished to the judge by the court garda sergeant.
A summary of the prosecution evidence was handed over in court to his solicitor Tony Collier before Judge Gearty was told that CCTV evidence will be disclosed at a later stage.
There was no objection to bail provided he obeyed six conditions: stay out of the Dublin 2 area, specifically remain away from The George, sign on daily at his local garda station, reside at his current address, notify gardaí of any change of address, and "be of sober habits and be of good behaviour".
Collier applied for free legal aid to be granted and explained that his client is in receipt of a €193 a week disability benefit.
His client's access to funds was limited and it was not believed that gardaí would be objecting, the solicitor said.
Judge Gearty granted legal aid and directed that the video evidence was to be handed over to the defence.
She remanded Berkeley on bail to appear again on 4 July. Directions need to be obtained from the DPP and that there is a possibility of further charges, she noted.
She ordered him to obey the bail terms and he replied "yeah" before she warned him that "if there is any breach, bail can be revoked by the court".