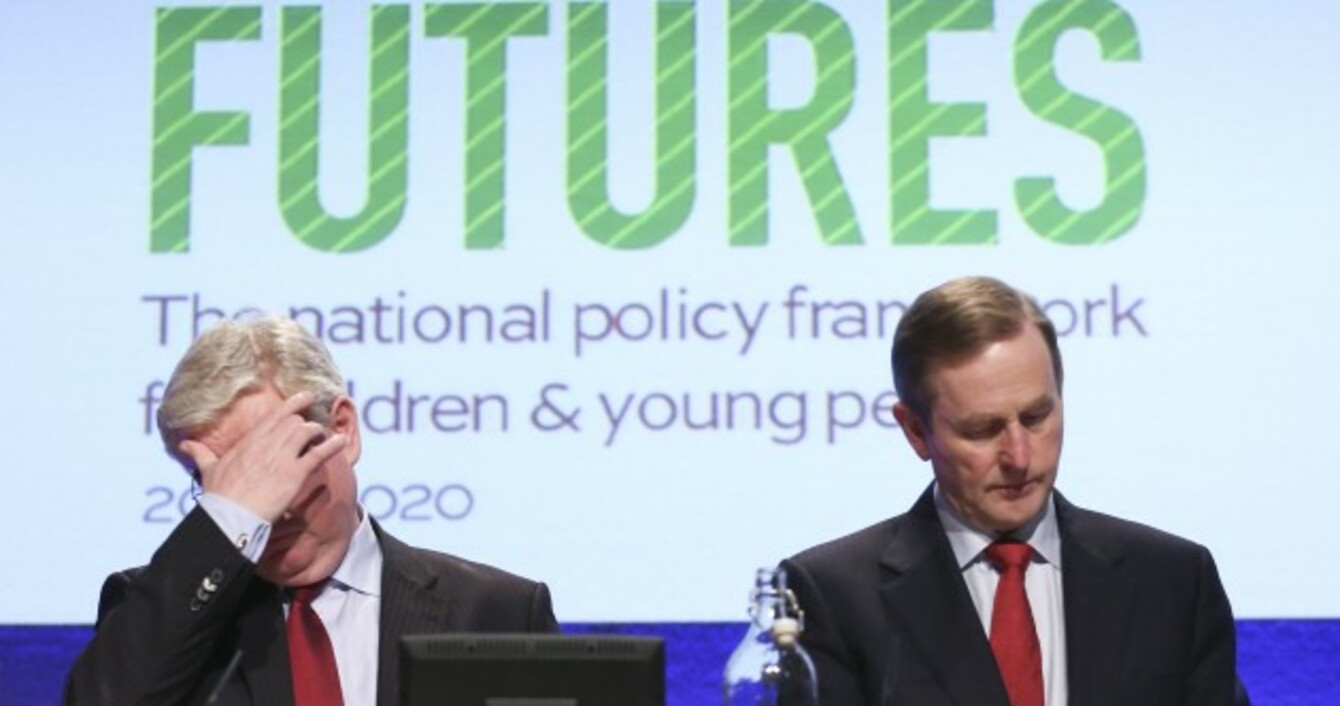 The Taoiseach and Tánaiste in Dublin Castle this week.
Image: Sam Boal/Photocall Ireland
The Taoiseach and Tánaiste in Dublin Castle this week.
Image: Sam Boal/Photocall Ireland
EVERY WEEK, TheJournal.ie casts its eye over events inside and outside Leinster House that have got people talking.
As the saying goes: 'You win some, you lose some.'
So here are our political winners and losers from the past seven days:
The 5 winners of the week are…
1. Eamonn Maloney 
Plenty of politicians have been quick to jump on the bandwagon of slamming the GAA for their controversial deal with Sky Sports, but the Labour TD was quick to congratulate officials who were grilled by an Oireachtas Committee this week. He made the point that this deal has a huge benefit for the diaspora. We like a politician who takes an alternative view that might not necessarily be popular but is at least principled.
2. Pylon and wind farm protestors 
There was a show of considerable force from the various community groups that formed in recent months as thousands gathered outside Leinster House this week to protest against wind turbines and electricity pylons.
From speaking to them we learned that this wasn't just about Nimbyism, they're arguing that there are alternatives which the government should probably take note of given the cancellation of a plan to export wind energy to the UK.
Source: Video TheJournal.ie/YouTube
3. James Reilly
The good news for the Health Minister this week is that there was no news really, which is always good for the embattled Reilly who is never far from controversy. Though there was some reporting around the HSE being unable to achieve Haddington Road savings Reilly avoided having to answer questions on it.
Even with the free GP care for under-6s legislation, which has caused much disquiet among doctors, it is Labour making all the running on this initiative meaning Reilly has stayed out of the limelight this week and will be hoping he can enjoy his Easter in peace.
4. Eamon Gilmore 
"I think there's one thing I can't be accused of and that is making decisions that court popularity," the Tánaiste said in the Dáil this week. It's not been a great week for Gilmore or Labour (more of which below) but this self-assessment is a welcome bit of honesty from the embattled Labour leader.
5. Joe Biden
Nice work from the US vice president as he tweeted an epic selfie this week:
We think Eamon and Enda, not averse to selfies themselves, should go next.
… and the 5  losers of the week are…
1. Labour
The party is grandstanding over water charges, choosing now, five weeks before an election, to kick up a fuss about a policy that has been in the offing for some time.
It's not hard to reach the conclusion that this is Labour attempting to save face ahead of what is sure to be a difficult election. The reality is that one way or another water charges are on the way, irrespective of Labour's public showing of unhappiness with Fine Gael – a story that matters little to voters.
2. Alan Shatter 
The water row has kept the Justice Minister out of the spotlight this week but he will have no doubt been disappointed (no, really) to learn that the Garda Representative Association won't be inviting him to their annual conference. It's the second year in a row the GRA has shunned the minister, not wishing to provide him with a "platform for spin".
3. The government and its Dáil reforms 
Reforms to the way TDs can ask questions of Ministers are not working as was demonstrated again this week when dozens of questions to the Jobs Minister Richard Bruton went unanswered – in the Dáil chamber at least – because the TDs weren't present.
Source: Hugh O'Connell/YouTube
Many blame the deputies, but it's actually the reform itself, in that it requires a TD to be there for their question to be answered. It's a reasonable expectation but not when other business is scheduled, as was the case this week with several deputies not in the chamber as they were in a committee room quizzing bank executives. This is not the first time this has happened and it's clear the government needs to take a second look at this particular reform.
4. Labour Youth
The youth wing of the Labour party had a smart retort to a Fianna Fáil's meeting about the 'cost of living crisis' this week, but unfortunately it was probably illegal. Not that the chair of Labour Youth was that bothered and nor was the party itself.
5. Fianna Fáil 
The party tabled an important Dáil motion on the ambulance service this week but unfortunately it had little in the way of a solution to the problem beyond the simplistic "more resources needed". Plenty would agree, but where are the policy-based solutions in this case? Of course they should come from government primarily but opposition have a responsibility to put forward their own proposals as well.