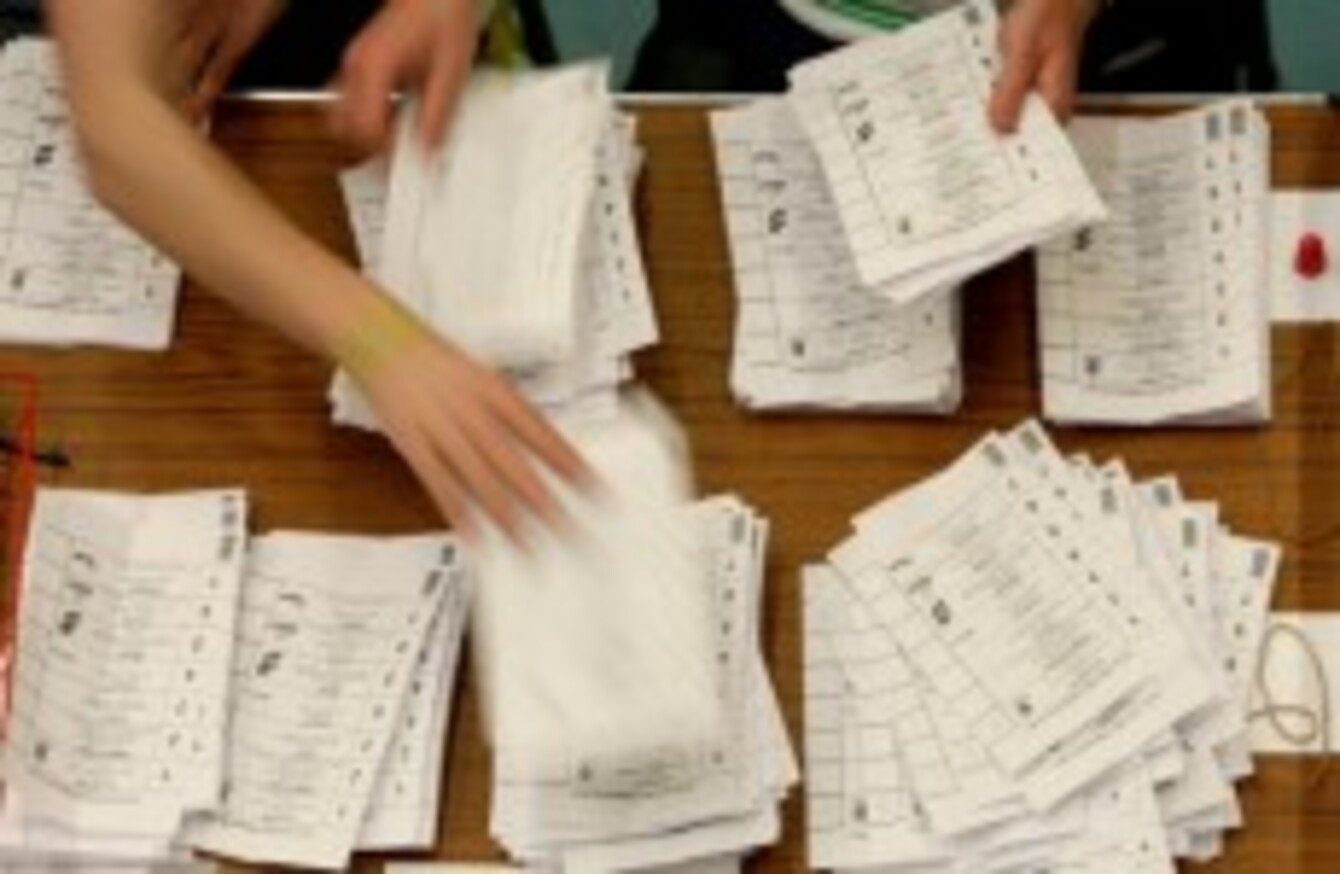 Image: Paul Faith/PA Wire
Image: Paul Faith/PA Wire
ELECTIONS FOR THE DÁIL are based on a model of proportional representation wherein each voter has one single transferable vote (PR-SVT).
This means each one vote has the potential to carry over through multiple counts, depending on the election or elimination of candidates.
This is how it works:
The voter marks their ballot card in order of preference. This means putting a number one beside your favourite candidate, then a two beside your second-favourite, and so on down the ballot. You do not have to fill in all of the spaces.
When it comes to counting, only one of your preferences is active at any one time. This starts with your number one.
If the candidate you have marked as your number one, or first preference, is eliminated or else is elected without needing your vote (ie, they have already met the quota, or minimum level of votes required), then attention turns to your second preference. The quota is calculated based on the number of seats and the number of valid votes cast in that constituency.
If the candidate is still running (ie has not been eliminated or elected yet), then your vote for them is counted.
If your second preference candidate has already been eliminated or elected before counting your vote, then attention turns to your third preference.
This continues down the line until all available seats in that constituency have been filled or all your preferences have been considered.
Dr Jane Suiter, politics lecturer in UCC, says it's important for people to vote for the candidates they want to be elected as their first and second choices on the ballot.
However, if you want to make sure your vote travels, she said, then in number one you need to put someone who is likely to be either eliminated quickly or elected quickly, so that their votes or surplus votes are transferred.
If you vote for somebody that's in the race for the last seat as your first preference, then your vote probably won't travel.
Spoiled votes
While votes can be intentionally spoiled by writing something on the ballot sheet other than numbers in the boxes, they are sometimes accidentally spoiled by voters who repeat numbers on the ballot; you can only give one number one, one number two, one number three etc.
Sending a message
It is important to note that how you fill in your preferences can also be used to send a message to the parties and candidates. If you want to ensure a candidate cannot possibly benefit from your vote, do not give them any preference.
Dr Jane Suiter told TheJournal.ie that if a voter wants to vote against somebody and indicate their dissatisfaction, they should put that candidate last.
"You're sending a clearer message than by not giving them a vote at all," she said, because tallymen will take note of how preferences have been distributed. "The tallymen notice what direction preferences are going in, even if that vote doesn't transfer."
If a voter puts Candidate 1 from Team A as their first preference, but marks Candidate 2 from Team A as their last preference, it could indicate that although the voter supports Team A, they do not support Candidate 2.
"You can also send a message about what coalition you want to see," Suiter said. If a voter wants a Team A-Team B coalition, they can put those candidates as the first and second preference, indicating that they support both.
Suiter said she believes the PR-SVT system is an effective and sophisticated method of voting:
I think it works very well; I think it gives voters a lot more control over who they're going to vote for. They can send very detailed messages through the system.

It's actually one of the systems that gives most voter choice and allows voters the most sophisticated means of sending a message.