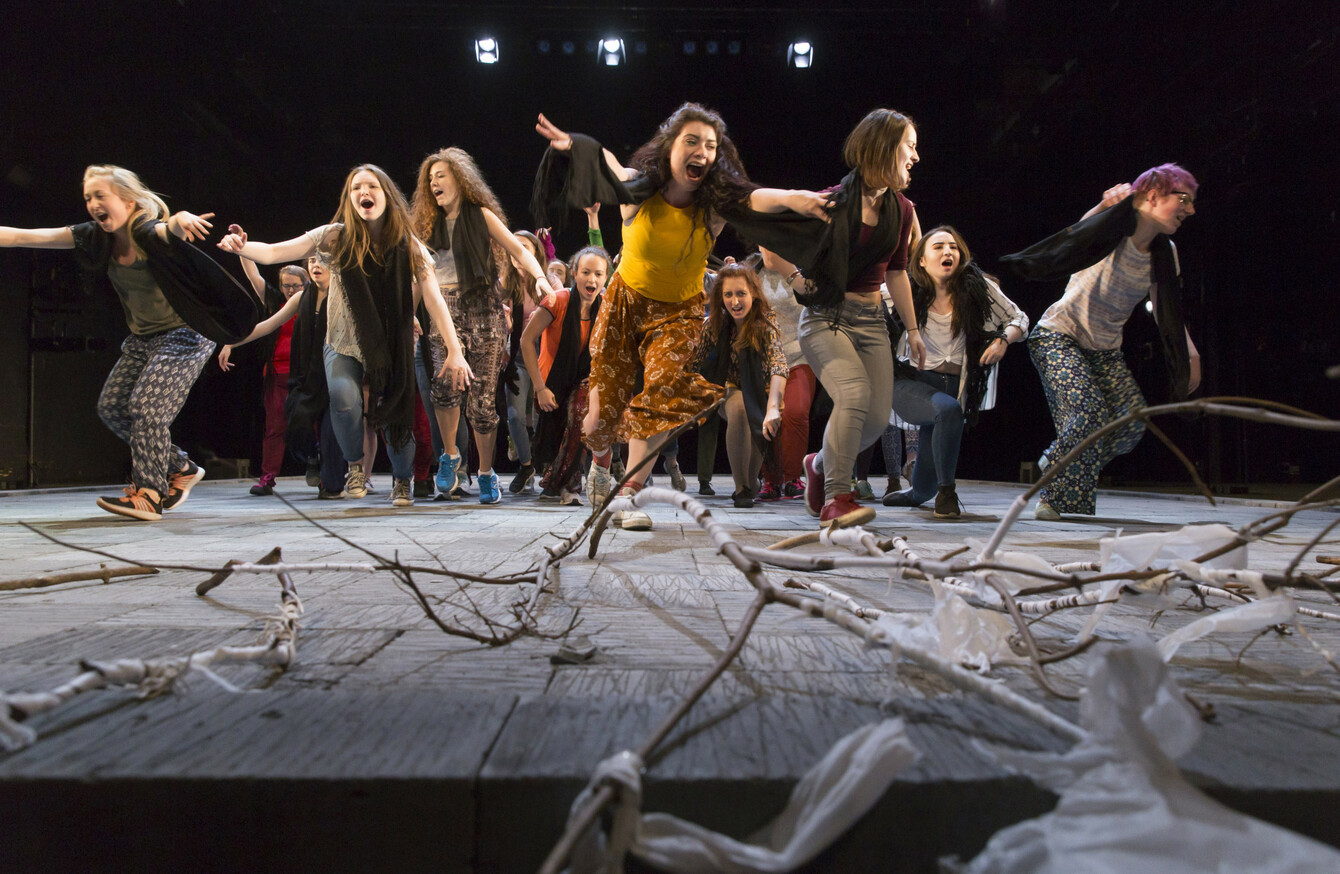 YOU WOULDN'T THINK that a 2,500-year-old play could reflect life in 2017, but The Suppliant Women, which features in this year's Dublin Theatre Festival, contains many startling echoes of life today.
The play, one of the flagship productions for this year's festival, was written originally by Aeschylus thousands of years ago. A new version has been penned by playwright David Greig. In the original text, the play featured 50 women fleeing across the Mediterranean to escape forced marriages.
They appeal for protection and asylum in Greece, putting their fates in the hands of the country's citizens. What makes this production even more interesting is that in each city where it is performed, a volunteer community cast makes up the chorus of local young women, who play the women fleeing to Greece. There are also roles for other locals in the play.
'It's relevant to women today'
Two of the actors taking part in the chorus of the Dublin production of The Suppliant Women are Rae Callan and Tara O'Connell.
Callan, who is a working actress, said the play appealed to her because of its links to the world today. "It's 2,500 years old but it's so relevant, especially with the refugee crisis and the fact it's women who are going to another country to ask for the help that they need – especially with what's going on with Repeal the 8th and all that, it's especially relevant to Irish women at this time," says Callan.
One scene in the play particularly stood out for her.
"We plead with the king at one point to stop rape and stand against rape and that's what women are fighting for today. The language in it is violent: there's no ambiguity about it, these men want to rape us. But it's beautiful in that there's no ambiguity. We don't wash over, it we say this is what's going on."
"It's about women who are fleeing a terrible situation and having to go ask for help. The whole play is about our plea, it's the plea for help and assistance and asylum."
She said that the experience of working with 30 other women on the chorus has been a hugely positive one. "There are some people in our chorus who have no acting experience, no musical theatre experience, and we all learnt it together. We became this one character together," she says.
"It's been this big rollercoaster but it's incredible because all the girls make it inclusive, and if one person messes up or has their footing wrong there's someone there to back them up and keep them right again."
'We're representing all women who are oppressed'
Tara O'Connell works full-time in digital marketing, but studied drama in UCD and was eager to return to the stage.
"We're representing all women who have been oppressed and had their basic rights taken away," she says of the play. "If you read the news in the last few years you would read all those stories and that's why it's so important to see."
You can turn off your TV, you can put down the newspaper. It's easy to turn a blind eye to suffering of people across the sea, but when you see the suffering of people, you can look into our eyes… We want the audience to leave the theatre talking about the play.
You could read the biopic of this play and think it was a news article, it's so relevant.
Callan said that the discussion of topics in the play has seeped into the rehearsal room.
"We've been looking at stories especially of refugees coming over to Greece. We've been talking about Repeal the 8th and how it is so relevant and how we're fighting for the same rights they are fighting for, just in a slightly different capacity," she says.
"We are really involved ourselves with women's rights," adds O'Connell. "We're collecting sanitary products and women's toiletries for homeless women. That's something we're already passionate about on our days off. A lot of us came because of the issues as well. You don't often get the chance to do this and put it on stage."
What particularly appealed to O'Connell is that within the chorus "there's no higher or lower people, we're all the same level". "It's nice not to feel that competitiveness," she says. "We're becoming good friends as well. We've become our own community of suppliant women."
#Open journalism No news is bad news Support The Journal

Your contributions will help us continue to deliver the stories that are important to you

Support us now
'We were inward-looking'
The Dublin Theatre Festival celebrates its 60th anniversary this year, leading its artistic director Willie White and the rest of the team to reflect on what has changed in Ireland over those decades.
"We were an inward-looking country 60 years ago," he said. "A lot of the theatre was about internal politics – this [play] appealed to me as a global issue. And there was the opportunity to recruit a local volunteer chorus to participate along with the professionals."
This opportunity "was really exciting and quite inspiring", says White, along with the fact that the audience are effectively playing the citizens of Greece.
It gives you a much less passive experience – you are playing the citizens, they are appealing to you to let them in.
"The festival – we're 60, that's great. But we're not looking backwards, we're looking forward, we're thinking who are the new audiences," he adds, saying that in putting the festival together they have to think of all sections of the audience – from those who have been going for decades to those who've never attended before.
"There is I believe something for most people, if not something for everyone," says White of this year's festival line-up. With productions including Nora, a new play written by Belinda McKeon and which comes after Henrik Ibsen's A Doll's House; On Blueberry Hill from Sebastian Barry; and plays from Japan and the US, there is definitely much to tempt audiences to this year's event.
The 60th Anniversary Dublin Theatre Festival will run from 28 September to 15 October in venues across Dublin city. For more details and to see the full line-up, visit www.dublintheatrefestival.com