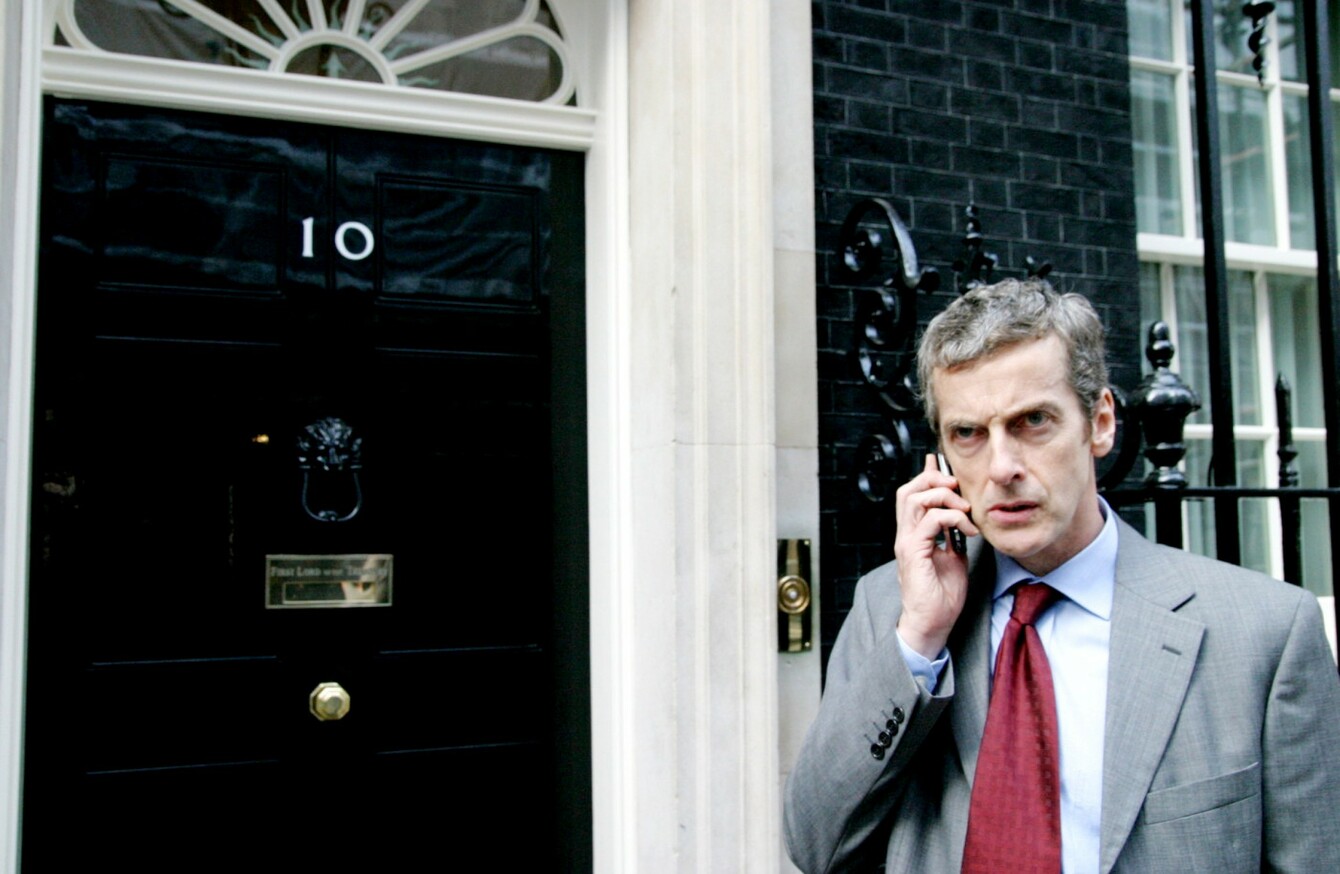 Image: BBC
Image: BBC
Your Next TV Binge is TheJournal.ie's new Friday feature, recommending a box set for you to get stuck into over the weekend. This week: The Thick Of It. 
BEFORE VEEP BECAME the comedic, critical darling of the world, its creator came up with something very similar, but with a much more British mentality.
Back in 2005, Armando Iannucci created a short series about the flailing and failings of the UK government. And in the centre of it all is Malcolm Tucker, the head of communications. Tucker is played by Peter Capaldi, perhaps now best known as one of the iterations of Doctor Who… but in the eyes of anyone who has ever watched The Thick Of It, Capaldi will always and forever be Malcolm.
There aren't enough superlatives in the English language to properly convey just how lasting a creation is Malcolm Tucker. His ability to forge new ways of cussing someone out is second to none. The writers of the show must have had an absolute field day coming up with the put-downs that Tucker throws at anyone foolish enough to get in his way.
Trying to find insults that aren't laced with expletives isn't easy, but here's a bit of taster of what you can expect from him:
"Who was it that did your media training, Myra Hindley? It's terrible. All these hands all over the place. You were like a sweaty octopus trying to unhook a bra."
"When I want your advice, I'll give you the special signal. Which is my being sectioned under the Mental Health Act."
"No, he's useless. He's absolutely useless. He's as useless as a marzipan dildo."
"I'd love to stop and chat to you but I'd rather have Type 2 diabetes."
"The guy is an epic f**k-up. He's so dense that light bends around him."
"I will tear your skin off, I will wear it to your mother's birthday party, and I will rub your nuts up and down her leg whilst whistling Bohemian Rhapsody."
Source: Barrack Obama/YouTube
Just about every episode has at least ten or fifteen one-liners that you will want to mentally store away to use against your mates. But you'll forget them almost immediately because the next zinger is only seconds later.
Of course, the whole show isn't just about Malcolm Tucker – no matter what fans will tell you – as there's a host of other characters involved in the day-to-day running/messing up of government.
Over the four seasons, different MPs come and go in different branches of government, with different ministers assigned to run different parts of the administration and country. It's made abundantly clear that very few of them have any idea what they're doing.
The few politicians who do seem to want to make the country a better place are caught up in daily scandals and mishaps: whether it is being drawn into a live argument on BBC radio about piercings; losing the USB key containing all recent immigration data for the entire nation; or accidentally firing off a sweary email to a nine-year-old girl named Glen Cullen… instead of a 60-year-old personal assistant named Glenn Cullen.
In this world of politics, everyone is the enemy, from the journalists waiting to swoop down on every minor (or generally in these cases, major) error, to fellow ministers hoping to gazump your position, to the general public who have nothing but disdain for anyone stupid enough to want to work in government in the first place.
Source: 2AM Ltd/YouTube
Iannucci has a lot of love for politics, having created The Thick Of It and its movie spin-off In The Loop (definitely worth checking out, if only for a great comedic performance by the late great James Gandolfini), as well as VEEP. But he clearly sees just how manic and chaotic that world can be, and he juices it for every joke he can get.
But if you're looking for a reason to watch? Even if you hate politics, there's still Malcolm Tucker.
So where can I watch it? All four seasons are available now on Netflix.